Editor's note: Since this article was published on Saturday, three of Brazil's biggest export markets – China, Chile and Egypt – have re-admitted Brazilian meat imports after imposing temporary bans last week. Brazil's Ministry of Agriculture made the announcement in Sunday, Australian time. The three countries were among more than a dozen that imposed restrictions on Brazil, following the March 17 announcement of a Federal Police investigation over alleged corruption involving 33 meat inspectors and 21 meat processing plants. Meat purchases from the processing plants under investigation will remain suspended, in line with a Brazilian government order. China resumed import access yesterday after receiving clarifications and technical information from the Brazilian government. Earlier South Korea became the first country to resume imports from Brazil on Wednesday, after a brief suspension.
More details to come.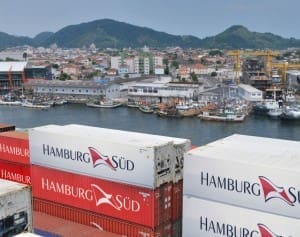 JBS has cut meat processing capacity in its Brazilian operations by up to 35 percent, in the latest washout from the country's meat inspection crisis this week.
In a notice to shareholders yesterday (issued in Portuguese, but translated by Beef Central into English using an online tool), the nation's largest processor advised that it has suspended the production of beef in 33 of its 36 processing facilities in Brazil for three days, beginning yesterday.
Next week, the company said it would operate in all of its Brazilian beef processing facilities at 65 percent of normal capacity.
These measures were aimed at adjusting production until a clearer picture emerged of the impact and duration of trade embargoes imposed by Brazilian beef importing countries, the company said.
JBS said it was committed to maintaining the employment of its 125,000 staff throughout Brazil.
The company's production cutback decision comes as up to 60pc of Brazil's export markets this week imposed either temporary suspensions, or greatly expanded product testing protocols on Brazilian beef, poultry and pork exports. The restrictions followed what appeared to be emotive and often wildly inaccurate global media attention about Brazil's investigation into corruption in meat inspection services.
The crisis also took off on social media around the world last week.
More than a dozen export customer countries currently have bans or restrictions in place on Brazilian meat, although one of those, South Korea has since lifted its suspension.
In the US market, for example, testing is now carried out on 100pc of Brazilian meat consignments, at considerable cost to the exporter.
Paralysing Brazilian meat industry
JBS yesterday said it was evaluating the market circumstances in Brazil, and would "take the necessary measures to adjust its volume of production to the market demand."
However unfairly, the international response from the episode is now showing signs of paralysing the Brazilian meat industry.
Last week, Brazil's Federal Police announced an operation to dismantle an alleged bribery scheme involving federal meat inspectors. A total of 33 federal sanitary inspectors and 21 meat processing plants were 'under investigation', but so far only four small second-tier processing facilities and a handful of inspectors have been suspended.
Since the investigations were announced last weekend, Brazil's daily meat exports fell from an average of $63 million/day before the probe was made public, to just US $74,000 on Tuesday.
Just four of the export markets which have imposed restrictions on Brazil – China, Hong Kong, Egypt and Chile – account for 53pc percent of Brazil's total beef exports.
The USDA's Food Safety and Inspection Service this week increased its testing on all shipments of raw beef and ready-to-eat products from Brazil, even though none of the four suspended slaughter or processing facilities implicated in the investigation have shipped product to the US.
Some US politicians have urged the USDA to suspend all imports of Brazilian meat for 120 days, until agency officials can guarantee that product is not adulterated, mislabelled or expired.
Recovery could take five years
The Brazilian government and meat industry associations have been working furiously to publicly assure importers and local consumers that Brazil's federal sanitary inspection system is sound, and that the investigations do not question the quality or safety of meat.
Agriculture Minister Blairo Maggi on Wednesday said the corruption investigation had badly damaged the reputation of Brazil's meatpacking industry and could wipe more than 10 percent off its global market share.
He said if the government did not take swift action to tamp-down the scandal, it could take Brazil up to five years to recoup the global market share it would lose.
His main concern was that China and Hong Kong had not yet taken a definitive stance on their bans of meat from Brazil. The two markets are the top two importers of Brazilian meats, last year buying nearly one-third of the $14 billion worth of meat that Latin America's largest economy exported.
"The investigation is not about the quality of the products, it is about the conduct of a few isolated people," Minister Maggi said.
In a joint statement, Brazil's Federal Police and Ministry of Agriculture said the investigation found irregularities relating to "deviations of professional conduct practiced by some individuals", but did not represent a "generalised malfunction of the Brazilian sanitary system."
Brazil's Minister of Agriculture visited Brazil Foods' poultry processing plant in Rio Verde on Thursday with TV crews from China, as part of the government's efforts to guarantee the quality of Brazilian meat and sanitary procedures.
Poor timing for IPOs
Brazil's crisis broke just weeks before the country's two largest food companies, JBS SA and BRF SA, are due to launch public floats of their foreign-based units, JBS Foods International and One Foods Holdings, Beef Central's monthly US columnist Steve Kay reported yesterday.
"The crisis is a huge blow to Brazil's two largest food companies. Both are within weeks of launching initial public offerings (IPOs) of their foreign-based units. Both companies are barely implicated in the allegations, and deny they sold any tainted meat," Mr Kay wrote.
One Foods Holdings is BRF's halal meats unit, and is not linked to the tainted meat allegations.
"Combined, the IPO deals could fetch a combined US$2.5 billion and help accelerate the companies' expansion outside Brazil," Mr Kay's US Cattle Buyers' Weekly reported.
While JBS and BRF had denied wrongdoing, the reputation of one of Brazil's flagship industries had been hard hit, analysts said.
People involved in the deals were saying JBS and BRF would press ahead with the IPOs, while seeking to shore-up investor confidence with a campaign arguing the police probe mis-stated facts, CBW reported.
JBS had no intention of delaying the $1 billion IPO of JBS Foods in New York, which it hopes to finalise in May or June, a source close to the deals told Reuters.
BRF continued to analyse selling a $1.5 billion stake in One Foods through a London IPO or private placement, another source told Reuters.
Australia, US exporters likely to benefit
Speculation continues to mount that beef exporters from the US and Australia are likely to benefit, if Brazil's suspension in international meat markets is prolonged.
Steiner Consulting's weekly imported US beef market report issued yesterday said the main concern on the part of US imported beef end-users was the impact that a Chinese ban on Brazilian beef may have on the products the US buys from Australia and New Zealand.
"At this point Chinese and Hong Kong officials have only suspended trade, as they plot their next steps. According to trade data from both countries, Brazil was the biggest supplier of beef in both China and Hong Kong last year. Chinese imports of Brazil beef in 2016 were around 171,000t, 30pc of all beef imports," Steiner said.
"Hong Kong imports of Brazilian beef a year ago were over 204,000t, 56pc of all Hong Kong beef imports. So we are talking about roughly 375,000t of beef that Brazil shipped to these two markets last year."
Steiner said it 'seriously doubted' that Brazil would be shut out of both these markets long-term, but it 'was a risk.'
"If that happens, it certainly will be very bullish for both US and Australian beef, as a flood of Chinese bids will likely lift prices in both US and Australia," it said.
Steiner said some of the biggest names in the Brazilian meat business had been mentioned in a series of articles in the popular press this week about the developing scandal.
"While the companies involved were quick and forceful in denying that they were running sub-standard operations, the news still created a lot of panic and uncertainty," it said.
Should Australia and New Zealand divert more beef to China, US beef exports might increase somewhat to Japan and South Korea, US Cattle Buyers Weekly said yesterday.
"The same might be true with Hong Kong, which was importing 13,000t per month of beef from Brazil, prior to the closure," CBW said.
Read Beef Central's extensive coverage of Brazil's meat crisis this week here: