Beef Central's earlier words, 'Gaining momentum' may have been an understatement. In hindsight, 'Avalanche' may have been a better descriptor.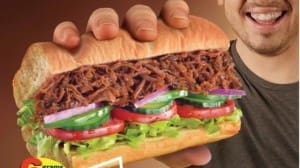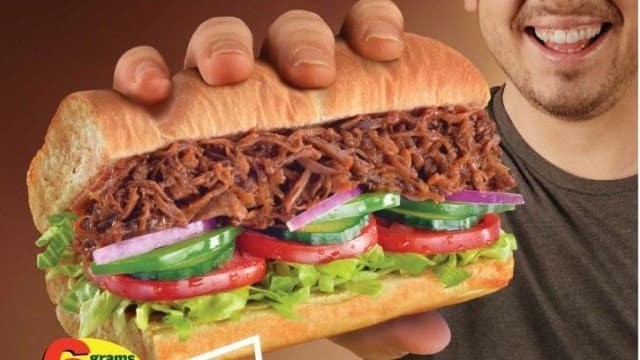 Since we published this item on the emergence of pulled meats on the Australian retail and food service market just a few weeks ago, there has been a rash of pulled meat adoptions and product launches, including items from some of the biggest food service operators in the country.
The national segment-leading Subway sandwich chain this week launched its "Smokey BBQ beef" menu item featuring "100pc Aussie shredded beef" and backed by a national marketing campaign on TV and print media.
Click here to view a youtube video of the TV ad.
Importantly, the campaign makes a 'low in fat' claim (8 grams of fat or less per serve), as the product is based on slow-cooked pulled lean brisket and knuckle meat.
The national roll-out followed a low-key trial in northern NSW Subway stores earlier.
Australia is the Subway brand's largest market outside North America, with more locations than any other chain. In March 2011, there were 1254 Subway outlets operating across the country. The most popular menu items are the steak and cheese, meatball, and sweet onion chicken teriyaki subs.
Also making a pulled meat product launch this week was Domino's, Australia's largest pizza chain, which launched three variations of pulled pork pizzas, with plans to duplicate that with pulled beef options soon.
Again the products will be heavily promoted through mainstream media.
Domino's has more than 600 stores across Australia and 1300 worldwide. It is now the fifth largest Quick Service Restaurant (QSR) chain in Australia by network store number, behind Subway, McDonald's, KFC and Red Rooster.
As described in Beef Central's earlier article, there are now at least five value-added items appearing on supermarket shelves offering pre-cooked pulled beef in chilled pre-pack form, ready to heat and serve.
The pulled beef trend applies even more pressure to a beef market segment – in secondary, lean cuts like briskets, knuckles, topsides and rounds – that is already under enormous pressure from unprecedented US 90CL export demand, compounded by high demand out of China and elsewhere.