IT'S been a huge food trend in the US retail and food service markets for years, but pulled meats are now rapidly gaining traction, also, in the Australian domestic market.
Linked mostly to Mexican, Texas barbecue or Hispanic cuisines, the terms 'pulled' or 'shredded' meat refers to secondary cuts like brisket or shoulder meat that are slow-cooked to the point where the muscle fibres can be easily pulled-apart with a fork.
The process can be applied equally to beef, pork or chicken. Their applications are endless, ranging from Mexican style dishes including tacos, burritos and enchiladas, to pizzas, sliders, sandwich wraps or stir frys.
To produce a tender pulled meat at home from scratch requires slow cooking of a secondary cut for anything up to eight hours, and this is where a growing catalogue of value-added retail and food service pulled meat products hitting the market see an opportunity.
Rapid growth being seen
MLA's domestic marketing manager Lachie Bowtell recognised the rapid growth trend in pulled meats, especially in food service, where they had become "very, very strong." "Pulled pork was seen first, but that's become a little boring, and operators are now extending into pulled lamb shoulder, seasoned pulled beef brisket and other items," he said.
"A lot of these non-loin cuts are becoming really popular for this reason." Given the time investment in producing it – a lamb shoulder can take 4-8 hours – pre-prepared pulled meats would inevitably become more popular in busy food service outlets, and increasingly in retail, Mr Bowtell said.
"It's adding an enormous amount of value to those non-loin cuts," he said. "It's absolutely on-trend, aligning with the Texas barbecue movement, which is huge in the US, and growing rapidly here." "Lamb shoulder and beef brisket are now the new pork belly – they're going crazy in the marketplace." "One it's cooked and ready to go, it's a no brainer, easy to prepare and serve, and there's potentially good margins in it for restaurants and hotels. It's increasing the value of the carcase, adding cache and romanced to the product," Mr Bowtell said.
New value added items hitting the market
Beef Central has already identified four or five value-added pulled beef items in the marketplace, most of which have emerged in the past three to six months. Some are food service oriented, while others are presented in smaller pack sizes, geared for retail use.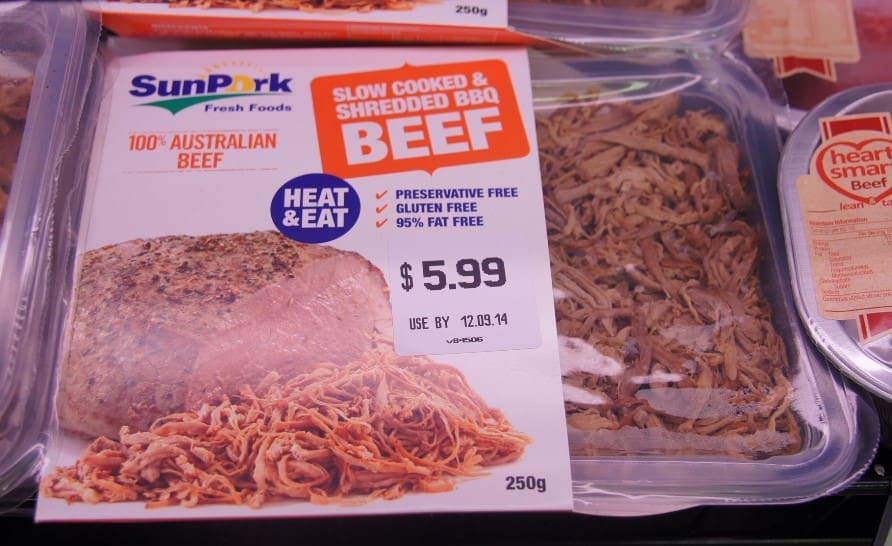 During a visit yesterday to Woolworths' new flagship 'Gasworks' store at Teneriffe, in Brisbane's inner north, we found newly-launched retail packs of value-added pulled beef, pork and chicken products produced by Sunpork Fresh Foods. Sunpork is linked to the large Swickers domestic and export pork abattoir and supply chain in Kingaroy, and the new shredded meats line is the company's first move into the pre-pack, value-added market. Sunpork's shredded Meats are stocked exclusively by Woolworths and cost $5.99 for a 250g vacuum pack. Using vacuum skin packaging (VSP), the products have a shelf life of about four weeks. The company says it did lots of research and market testing to determine the best application, before the product was launched. Other pre-cooked pulled meat products either in the market, or nearing launch include:
Creative Food Solutions' La Marcelleria pulled beef/pork. Creative Food Solutions is the value-added arm of Andrews Meats, which recently entered into a joint venture with JBS. Creative Foods worked with a North American packaging supplier to create sous vide cooking in a high-temperature bag that is also 'ovenable' for roasting/browning. The products have a chilled shelf-life of 42 days.
Hans Smallgoods has released the Hans pulled meats range, covering beef, pork and chicken. The pulled meats range is slow-cooked, pulled and packaged, designed to be used straight from the pack, either hot or cold. It can be used in multiple meal solutions from sandwiches to pizza or pasta recipes.
Food service sector sees opportunity
A large food service operator showing interest in the pulled-meats segment is Spirit Hotels, Coles' chain of more than 100 hotels across Queensland, NSW, WA and SA. National food manager Gary Johnson says the company has so far been 'experimenting' with pulled meat menu options in a few of its hotels, but sees considerable potential in the space.
"We've looked at a few samples of pre-prepared value added pulled meats, but a problem we see with some early versions is that they are just too lean. Healthiness issues aside, pulled meats, in our opinion, need to have a certain amount of fat to keep them moist, and add flavour," he said.
One of the value-added pulled beef products identified on the market by Beef Central makes a 95CL claim, which for some applications, may be a little too lean. Mr Johnson said there were only certain meat cuts that 'pulled well', such as briskets, shoulder meat, and collar butts in the case of pork.
He sees definite opportunity to move into pulled meats on hotel menus, mainly because of the growing interest in 'Texas barbecue' style cooking trend. "I'm talking about that sticky, smokey sweet, bourbon/maple glazed item," he said. Spirit Hotels is planning a master-class for its hotel chefs soon, which will showcase these Texas barbecue trends, strongly influenced by pulled meats. An overseas-based chef specialising in this type of cuisine, who has worked with Gordon Ramsay, will deliver the master-class.
Mr Johnson said for his company's application, pre-cooked pulled meat had attraction, rather than trying to produce the product from scratch on each individual site. "Best of all would be a pre-cooked primal item that we could pull ourselves," he said. "It's such an easy process. Yes, it's trendy, but there still a lack of knowledge about what to do with a pre-prepared pulled product, bought in the supermarket." He said the best way to prepare pulled meat from scratch was to slow braise the brisket, let it cool in the flavoured cooking liquid, and gently flake it off with a fork, to be served with a nice sticky sauce. Margin on an item like a pulled beef or pork meal could potentially be significantly greater than on a steak item, for example, because it was all made from cheaper, secondary cuts.