McDonald's has delivered one of its worst quarterly financial performances on record, driven equally by the slowdown in economic growth in some regions, and consumer backlash associated with the widely-publicised food safety breakdowns in products manufactured for the company in China.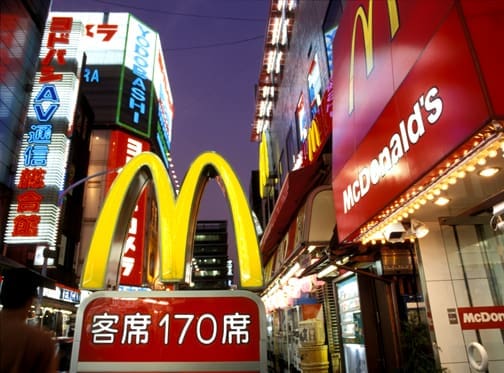 The food service giant reported global sales down 3.3 percent compared with the same quarter ended September 30 last year, consolidated revenues down 5pc and operating income back 14pc.
While all three of the company's operating regions across the world were affected, it was the Asia- Pacific, Middle East and Africa region (including Australia) which suffered most, with third quarter comparable sales decreasing 9.9pc and operating income declining a calamitous 55pc.
That was due squarely to the much-publicised food safety breakdown discovered in a Chinese factory producing meat protein products for McDonald's, operated by one of its major global suppliers, OSI.
See earlier Beef Central article here: "OSI issues apology over China food safety scandal."
The incident led to a consumer backlash across China, Japan and several other large markets serviced by McDonald's, severely damaging last quarter's financial performance.
"The Asia Pacific Middle East Africa region is diligently working to restore consumer trust and confidence in McDonald's brand and strengthen the segment's financial results to continue driving the long-term potential of this segment,"  McDonald's chief executive officer Don Thompson said, in a statement to the market.
"Globally, McDonald's third quarter results reflect a significant decline versus a year ago, with our business and financial performance pressured by a variety of factors – from a higher effective tax rate, to unusual events in the operating environments in Asia and Europe, to under-performance in the US, our largest geographic segment," Mr Thompson said.
"By all measures our performance fell short of our expectations."
"We recognise that we must demonstrate to our customers and the entire McDonald's System that we understand the problems we face, and are taking decisive action to fundamentally change the way we approach our business," he said.
Third quarter results by region included:
The company's US division saw third quarter comparable sales decrease 3.3pc driven by negative guest traffic amid sustained competitive activity in the Quick Service Restaurant category.
Operating income for the quarter declined 10pc as initiatives to address the current market dynamics did not translate into improved financial results. McDonald's said its US division was moving quickly to implement new initiatives designed to deliver a flatter, more nimble organisation that ensured key business decisions are made closer to the customer, by people with local market expertise. A revamped marketing approach would link national messaging around food quality, brand transparency and people initiatives.
The company's Europe division recorded a third quarter comparable sales decline of 1.4pc and operating income down 2pc. While consumer confidence and other issues related to the operating environment in Russia and Ukraine and ongoing weakness in Germany negatively impacted the region's quarterly results, the UK delivered positive comparable sales and operating income performance. Temporary store closures in Russia and the Ukraine associated with the recent embargo did not help.
The Asia Pacific Middle East Africa region's third quarter comparable sales decreased 9.9pc and operating income declined 55pc due primarily to the impact of the supplier issue on sales and profitability in China, Japan and certain other markets.
Mr Thompson said McDonald's began 2014 mindful of the challenges it faced in driving sales and profitability.
"The internal factors and external headwinds have proven more formidable than expected and will continue into the fourth quarter, with global comparable sales for October expected to be negative," he said.
"These significant challenges call for equally significant changes in the way we do business. In the US, we are driving decision-making from headquarters back into the field, where our restaurants serve the daily needs of our customers in their local communities."
"In our international markets, we are taking action to restore customer trust and regain business momentum. We understand the depth of the challenges and we are responding with the sense of urgency required to improve our performance."
McDonald's Australia chief executive Andrew Gregory told this week's National Farmers Federation Congress in Canberra that the company now exported more than 40,000 tonnes of  Australian made beef patties each year, mainly for use in company restaurants in the United States, South Korea and Japan. He told the congress that the company had listened to its customers who wanted more transparency about what was in McDonald's food and where and how it was produced – and they were interested in animal welfare and sustainability. Mr Gregory said the company wanted to buy its beef from sustainable production systems, and was committed to working with producers to accurately define what 'sustainable' meant.