OVER the past five years, rising health consciousness has forced companies within the Australian fast-food industry to use digital platforms to leverage on convenience and maintain their share of a maturing market, says business analyst, IBISWorld.
McDonald's and Dominos are two of the most prolific in this digital revolution, and have used new technology to attract and retain a younger audience while implementing co-creation, or consumer collaboration.
Despite this trend, during the two years through 2011-2012, fast-food retail sales across Australia declined, due to consumer preference shifting to healthier food options.
While burgers accounts for the largest share of the fast-food market, and pizzas the third-largest, these segments have shrunk over the past five years due to strong industry competition, IBISWorld says.
"Traditional fast-food retailers like McDonald's have had to counter lower demand, as increasing health consciousness has caused consumers' preferences to shift to healthier and more premium choices," it said.
Despite these factors, traditional fast-food retailer McDonald's Australia, a subsidiary of the US-based McDonald's Corporation, is still a dominant force among Australian fast-food retailers, with a 16pc market share.
However, McDonald's sales revenue decreased by 7.4pc in December 2014. Nevertheless, in August 2014, the company launched a home delivery service, named McDelivery, to increase the company's competitive advantage and leverage on convenience.
Trend in meal order platforms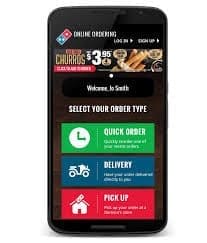 In July 2015, McDonald's Australia launched its co-creation initiative, which gave consumers the option to create their own burgers instore via touch screens. These initiatives aimed to counter shifting customer preferences by allowing greater choice.
Although Domino's Pizza is outside the top four major players in the fast food industry, the company is considered an industry leader in meal-order platforms.
Domino's operates more than 600 stores in Australia and New Zealand. In mid-2013, the company established a website and app platform (see image at left) that enables consumers to order and customise their pizzas from their phone, tablet or computer.
As a result of its digital initiatives, Domino's sales revenue growth increased by 140pc in 2014. Today, more than 60pc of the company's total sales originate from their online platform, clearly demonstrating the success of Domino's digital implementations.
IBISWorld suggests the fast-food services industry will continue to change as the digital age progresses, particularly due to the growing presence of online and mobile ordering systems and platforms. These new platforms are expected to appeal to a younger demographic and enable fast-food companies to capitalise on convenience.
"Online apps and social media have changed the nature of the relationship between fast-food retailers and customers," the analyst said.
"By allowing customers to participate in food creation, fast-food retailers have attempted to enhance customer loyalty. Moreover, online platforms target a particularly young audience, which is the industry's core demographic. Both McDonald's and Dominos are pursuing business strategies aimed at attracting and retaining consumers who are more health conscious, by allowing them to design their own meals."
While fast food industry revenue is expected to remain relatively flat over the next five years, IBISWorld expects more companies to adopt similar platforms or develop further technological initiatives to re-engage consumers.
Source: IBISWorld