WHILE it's not really being seen yet in A$ terms because of currency movements, last week's US beef quota management triggering event has impacted on prices paid for lean Australian grinding beef into the US, in local currency.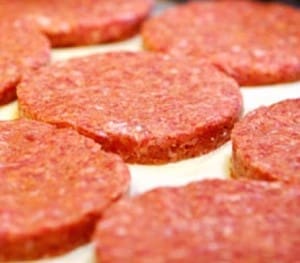 As reported last week on Beef Central, Australia last week reached the 85 percent quota threshold for 2015 trade into the US, triggering a quota management process, which has added to uncertainty in the marketplace, US analysts say.
Imported manufacturing beef prices continued to decline in the US last week, as end-users sat on the sidelines following sharply lower prices for cattle in the US market and ongoing uncertainty in equity markets.
Analysts said demand for grinding beef appeared to have slowed down, as the 76CL meat block value was now down 20 percent compared to a year ago, while at the same time domestic grinding beef supplies remain lower than in 2014.
"In the very near term, US imported grinding beef markets have been negatively impacted by a softening in demand and also overall uncertainty that a possible financial crisis in Asia will negatively impact beef prices,"  Steiner Consulting said in its weekly imported beef market report prepared for MLA.
"Grinding beef supplies remained limited, however, and the decline in Australian slaughter assures that Australian beef availability in 2016 will be an issue," Steiner said.
"The expectation is that while prices will ease lower, it may be too premature to forecast prices returning to levels seen in 2011 and 2012," last week's report said.
With Australian eastern states slaughter now down 8pc compared to this time last year, fears were held that supply into the US could go much lower, once Queensland, the largest beef-producing state, slowed down further.
Prices trend lower in US$ terms, as food service demand wanes
Steiner's latest weekly imported beef report says imported beef prices in the US were lower last week on limited volume, lower offerings from New Zealand and some uncertainty as to market direction now that the 85pc quota threshold has been reached.
MLA this week quotes 90CL imported cow beef at US233.5c/lb, down 3.5c on the previous week, and in A$ terms, at 727c, down marginally on the previous week.
To provide an illustration of the effect that currency has on value, the August average imported 90CL price in US$ was US241.5c/lb. This time last year, it was worth 275.5c/lb – a 12.3pc decline.
In contrast, imported 90CL in Australian currency in August was worth 728c/kg, while in August last year it was fetching 645.9c – an 11.3pc increase.
Steiner's current report makes the observation that demand for grinding beef at the US food service level appeared to be notably weaker than a year ago.
"One can argue that last year was a bit of an aberration as a combination of panic and sharply higher fed cattle prices caused end-users to push-up the price of both domestic and imported lean beef," the report said.
"We are now 12 months later, and end-users have had time to adjust to the reality of higher prices."
The report used a comparison of the implied price of a 76CL meat block (the ideal fat/lean ratio to produce a typical burger pattie) made with a combination of domestic and imported beef. Last week, the 76CL meat block value stood at US$190.87/cwt, down 20.4pc compared to a year ago.
"Have grinding beef supplies increased enough to justify this kind of decline?" Steiner's report asks.
"To us it appears that supplies are just as tight as they were last year. While there is more imported beef in freezers, and that certainly has had an impact, US domestic fed beef and non-fed beef production is actually lower than a year ago," it said.
US steer and heifer slaughter had been averaging around 440,000 head per week in July and August compared to around 475,000 last year – a 7pc decline. Some of that reduction was offset by heavier cattle coming to market, which tends to disproportionately impact the supply of fat trim available.
Still, domestic supplies of grinding beef had been lower than a year ago for all of this year, particularly during the recent northern hemisphere summer.
As for non-fed US slaughter, weekly numbers had been running under 100,000 per week in recent months, down 10pc on this time last year.
Beef imports have increased, particularly imports from Australia.
However, the increase in imports of grinding beef had been sufficient to fill some of the gap created by the lack of domestic supply.
"The increase in imports, in our view, is not sufficient to explain a 20pc reduction in the value of the meatblock," Steiner said.
"Rather, we think that demand has declined, at least in the short term, likely due to lower prices for competing meats and also a result of the adjustments that normally take place after a rapid increase in price."
Short term supply factors
Steiner's report said there had been a "lot of discussion" among US market participants as to the possible implications of Australia reaching the 85pc quota threshold.
"Market participants we contacted have taken a wait-and-see approach," it said.
"In part this is because their Australian countertparts are doing the same. For the ten days after the threshold was reached (Monday last week) those that have quota available are able to trade it and until that has been sorted out market participants are in a holding pattern."
"It is not clear at this point what the value of that quota will be, but it is likely we will see a two-tier market develop for beef that will deliver before the end of the year, and meat that will deliver after the end of the year. Some end-users appear confident that they have enough meat in storage as well as enough meat booked for the final quarter."
For traders, however, the situation could prove to be more complicated, especially if they have been well-sold and need to bid on new product.
Fears over declining Australian production
With Australian slaughter cattle supplies declining, there was a fear that should weather conditions improve in Queensland, the US market might see a rapid decline in the number of cattle coming to market, and hence available meat supply to the US.
For week ending August 28 slaughter in the five eastern Australian states was 155,968 head, down 7.7pc from a year ago. A return to a more normal weekly slaughter of around 140,000 head per week (or even less) would imply a much more dramatic tightening of grinding beef supplies available to the US market, Steiner said.
"This is more a concern, in our view, for 2016," last week's report suggested.
"For 2015, there is already very limited quota left and it should not be an issue to cover the needed volume, roughly 5200t per week through the end of November. For US end-users, the hope is that NZ slaughter starts the year heavy, due to the push there to liquidate some of the dairy herd. Also, there is the hope that more beef will become available from Brazil once/when FSIS completes its assessment of Brazilian plants."
US Congressional action remained a wild card in this, however.