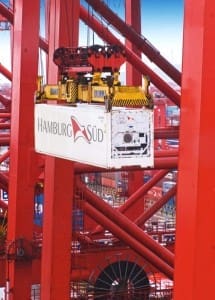 AUSTRALIA'S chilled and frozen beef exports for July have surged yet again, reaching unheard of levels, driven squarely by the sustained record beef kills fuelled by prolonged drought.
Total beef and veal exports last month hit an unprecedented 121,524 tonnes – soaring a breathtaking 17.7 percent higher than June, and 13,400t, or 12.4pc higher than the previous monthly record set back in May.
It's a reflection of the relentless drought-driven surge in beef slaughter over the past 18 months, which has seen nine consecutive in-month shipment records broken, on top of the overall 2013-14 fiscal year export beef tally which hit 1.18 million tonnes.
Females continue to account for an unsustainable proportion of the weekly kills recorded in Queensland and NSW, the two states where gender records are logged.
The only extenuating factor separating the past two months of trading performance is the fact that July contained 22 working days, while June had only 19. But public holidays tend to be spread across remaining business days during a shipment month, past records show.
The accumulation of extreme high weekly beef kills is also pushing progressive yearly tallies into uncharted territory.
Calendar year-to-date, covering the seven months January-July, Australia has now exported 706,223t of beef – a clear 100,000t margin over the same period last year, which in itself was an extremely heavy kill period. That's a 16.6pc increase in volume.
All that sounds alarm bells for Australia's ability to respond and continue to service current high export beef demand, once the seasonal cycle starts to turn again.
Meat & Livestock Australia managing director Richard Norton told a beef producer field day audience at Yulgilbar in the NSW Northern Rivers district on Friday that while there were quite a few factors impacting farmgate prices in Australia at present, one of these was that there had been 990,000 more cattle killed in 2013 that the previous year.
"That's the highest number of cattle killed in Australia since 1978, and the way things are shaping, it's going to be the same this year," he said
"We're nearly in a market failure situation, if it was not for the very strong global demand that we are currently experiencing for our beef," Mr Norton said.
The question which continues to surface is, just how long can this extraordinary turnoff period last?
One of the issues that has surfaced among some large export processors is that the basis position may in fact have been higher than the industry suspected. Essentially, there's a suspicion that the herd size after the two very wet years 2011-12 may have expanded significantly more than industry estimates suggested. If that's true, it may been providing a 'buffer' against the extreme high rates of kill that have been seen since. This in turn may partly explain how the industry has managed to continue to record such high, prolonged rates of slaughter.
But that can't last forever, and there is now common agreement that the industry must be within sight of the end of this extreme turnoff event.
US, China big drivers for growth
So where has July's huge abundance of beef production been going?
Trade statistics released by DAFF on Friday show it is a combination of big increases into the US and China, supported by smaller, but incremental growth into a basket of other markets.
Exports to the US during July reached 36,799 tonnes, the highest monthly volume in close to ten years. To put the figure into context, it is more than 6600t or 22pc higher than the previous month, June, and a whopping 19,000t higher than July last year (+108pc), during a period when US slaughter was still at high levels due to drought, and US imported beef buyers were being outgunned by other Australian export customers.
That's changed dramatically this year, though. Lured by all-time high returns for imported manufacturing beef in the US, Australian shipments to the US for the first seven months of the 2014 calendar year have reached 190,600t. Compare this with the same period a year ago (118,245t) and it represents a rise of 72,300t or 61pc rise, year-on-year. For the entire 2013 calendar year, exports to the US reached only 212,000t.
Beef Central has written extensively about the reasons for this growth in trade to the US over the past six months (click here to view an earlier story) but strong demand from certain food service segments in the US is part of the broader story.
For example steakhouse chains in the US have recorded strong sales, outperforming full-service restaurant chains in 2013 and they appear to be doing the same this year. Nor have the historically high US beef prices apparently put a dent in chains' strong growth.
US steakhouse restaurant sales in 2013 increased 6.2pc from 2012, versus a 2.4pc increase for full-service restaurant chains. It's estimated that the top ten US steakhouse chains last year had combined sales of US$8.03 billion. The largest chain, Outback Steakhouse, alone accounted sales of $2.46b.
China regains momentum
Australia's export beef trade into China during July grew about 20pc over trade levels in May and June, reaching 10,950t for the month. The figure is still about 5000t below trade in July last year, however, when the China beef phenomenon was perhaps at its zenith. Keep in mind though, that many Australian exporters took a cautious approach to China during May and June, the first months after China re-emphasised its policies and protocols regarding presence of HGP in beef.
Calendar year to the end of July, exports to China have now reached almost 79,000t, virtually unchanged from 77,500t for the same period last year. It begs the question: has the China export growth curve now run its course, and found a level of trade equilibrium, or is it simply that US importers have now gained the upper hand in bidding for Australian beef, given current domestic US beef prices?
Perhaps the most significant aspect of Australia's July beef export trade to China was the return of a small, but symbolically important chilled beef component. That followed the re-opening of a chilled protocol for a sub-set of Australian exporters (click here to view Beef Central's earlier story).
The total of 82t of chilled beef during July was insignificant, in the overall context, but that figure will only grow in coming months, and the trade is likely to be additional to, rather than in place of frozen exports.
Another point worth noting is that close to 20pc of all Australian exports to China in July were in carcase or bone-in quarter form, providing work for Chinese boning rooms set up earlier, which have since struggled to find local domestic beef on which to base their business.
 Japan softens
July's export results show that the US has now supplanted Japan as Australia's largest beef trade partner for the sixth month in a row – a sequence that has not happened since 2004.
Our exports to Japan last month reached 26,284t, up about 6pc on June, but still down about 17pc on July last year, due partly to heavy US single-cut competitive export pressure for items like shortrib.
For the calendar year to date, Australian exports to Japan have passed 158,000t, down from about 173,000t for the same period last year.
Korea strength continues
Korea continues to perform strongly as an export destination for Australian beef, accounting for 13,100t in July, up about 2pc on June trade and July last year, respectively.
Year to date, Korea has taken 86,000t of Australian beef, compared with 74,300t for the same period a year ago.
The result comes despite an increasingly onerous tariff on Australian beef imports since January 1, relative to our US export competitors operating under the US/Korea Free Trade Deal. The tariff difference being paid by Australia and the US now stands at more than 8pc, and will continue at that level, at least until Australia's own FTA with Korea is fully-ratified by both governments.
Other markets contribute
A basket of smaller Australian export markets have all performed well during July.
Indonesia continues to gather pace, taking 5920t in July, a solid 69pc increase on June when volumes were curtailed because many Indonesian feedlots were full. This time a year ago, July exports were only 3400t, suggesting that Indonesia's earlier access restrictions are a thing of the past.
For the calendar year to the end of July, exports have now reached 33,151t, a striking 76pc increase in trade, due to access changes. At current rates, beef trade to Indonesia this year could easily top 55,000t, which would be the best result since 2006-7, when exports peaked at about 70,000t.
In other Asian markets, Taiwan took 3528t in July, virtually unchanged from the previous month, while the Philippines accounted for 3388t, up about 80pc on this time last year. Hong Kong took 2550t, up about 25pc on June, and +75pc on this time last year.
Middle East solid performer
The Middle East region continues to be a strong export success story for Australian beef, taking another 6500t of beef in July, up 20pc on June figures and almost as strong as this time last year. For the calendar year to date, volumes have exceeded 38,000t, with Saudi accounting for more than half of that, and Dubai next on 4600t.
European Union, Russia
Exports to the EU member nations last month reached 2639t, up about 29pc on July last year, while calendar year to July numbers have reached 14,663t, a solid 32pc rise on the same seven-month period last year, as the expanding high quality grainfed opportunity gains momentum.
Russia's suspension of Australian chilled and frozen beef in early April over alleged trenbolone growth promotant breaches has virtually wiped out exports to the former CIS Soviet States, with July's trade totalling just 177t.
Russia had been an important market for Australian beef previously, taking about 14,000t for the seven months ended July last year, but that has fallen to just 1780t for the corresponding period this year.
MLA forecasts that export momentum from high slaughter levels is likely to continue over the coming months, before a contraction in the final quarter – provided there is an improvement in northern pasture and water conditions.