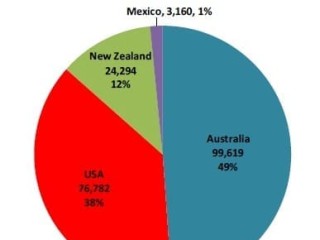 Australia runs the risk of being disadvantaged in beef trade with South Korea unless it can reach an accord over establishment of a Free Trade Agreement along the lines of that agreed to by the US last week.
Backed by strong Republican support, the US Congress on Thursday ratified an FTA with Korea, paving the way for a significantly expanded US beef trade into the country in coming years.
The only remaining requirements for the US/Korea FTA to start taking effect are a signature from US President Obama and ratification in the Korean National Assembly. Once that bill is implemented, the agreement could come into effect as soon as January 2012, one US source said on Friday.
Under the agreement, US beef shipments up to a maximum of 270,000 tonnes could enter the Korean market under a declining duty level (2.7pc each year over 15 years), eventually becoming duty-free (see red line in graph below)
Currently all US (and Australian) beef entering Korea attracts a 40 percent tariff.
"The removal of this tariff will make US beef significantly cheaper and thus more competitive," Chicago Mercantile Exchange's Len Steiner said in a Daily Livestock Report commentary on Friday.
It was reasonable to expect that the lower price would allow Korean consumers to purchase more US beef in the coming year, he said. For US consumers, however, the agreement was likely mean higher beef prices, particularly as US beef supplies were expected to decline in 2012 and 2013.
Under the agreement, any additional US beef over the specified 270,000t trigger-level would be subject to a safeguard duty of 40pc. That trigger-level, however, will increase by 6000t each year for the following 15 years. After year five, the safeguard duty will reduce from 40pc to 30pc and in year ten, to 24pc. After year 15, all US beef shipments to Korea will enter duty free.
Annual exports could grow to $1.8b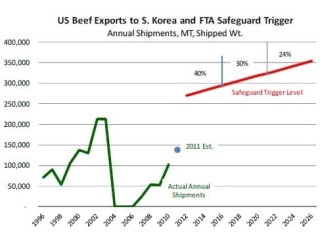 Citing US International Trade Commission data, the US National Cattlemen's Beef Association said annual exports of US beef to Korea were expected to increase as much as $1.8 billion once the agreement was fully implemented.
That would start with $15m worth of tariff benefits in the first year of the agreement and about $325m in tariff reductions annually once fully implemented, NCBA sources told Cattle Buyers Weekly on Friday.
The US Meat Export Federation said the agreement would boost US beef export value to more than $1b per year over the 15-year period, up from $518m in 2010.
American Meat Institute president Patrick Boyle described the passage of the FTA as a major victory for the US agricultural sector, the meat industry and the economy.
For the first eight months of 2011 the US sold just less than 100,000t of beef to Korea, and anticipates total sales this year at about 140,000t. That's still a long way short of trade levels seen prior to the arrival of BSE in North America in late 2003, when the US typically shipped about 220,000t of beef to Korea each year.
About half of that was made up of grainfed bone-in shortrib, highly-prized in Korean cooking.
The devastating impact of an FMD outbreak in Korea last northern hemisphere spring, leading to significant reduction in the domestic pork production capacity, has also contributing to great pork, and beef imports this year.
Once the US/Korea trade agreement had entered into force, the USDA plans to press ahead with a challenge over the existing beef protocol with South Korea. For BSE safety reasons, US exports are currently restricted to boneless beef from animals less than 30 months of age, containing no Specified Risk Materials. The FTA agreement and the US/Korea beef import protocol are separate, unrelated agreements which cannot be traded-off against each other.
In anticipation of the arrival of the FTA, the USDA several months ago awarded an additional $1m to the US Meat Export Federation for ongoing beef promotion work in Korea. USDA also welcomed USMEF's creation of a five-year, $10m initiative to promote US beef in Korea during the early stages of the agreement.
The NCBA suggested the agreement with Korea could now act as a model for FTAs with other existing or potential meat trading partners, including China and Japan. Japan currently only allowed entry of US beef younger than 20 months of age.