CHINA'S recent clampdown on so-called grey-trade beef arriving in the country without taxes or tariffs from neighbouring countries like Vietnam, Cambodia and Hong Kong is already being reflected in sharply lower export volumes out of export countries like the US.
Beef Central discussed the Chinese Government's recent hard-line on grey trade beef in this article yesterday (click here to view).
Australia is one of a small basket of beef producing countries which can conduct legitimate trade into China, while beef from large export competitors like the US and Brazil must be smuggled into the country across national or provincial borders.
US-based Steiner Consulting's Daily Livestock Report this morning points to the sharp decline in US beef exports to Hong Kong, which it says has taken a toll on overall US beef export volume.
Hong Kong (as distinct from mainland China) emerged as a major market for US beef in the last couple of years, accounting for about 17pc of shipments on a product weight basis.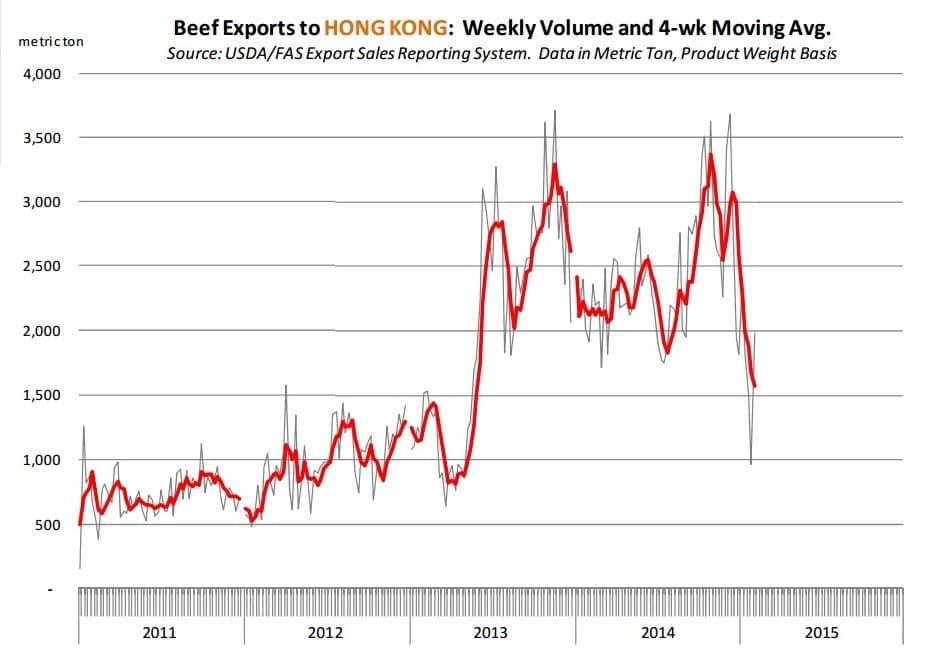 In 2011, Hong Kong was just 5pc of US beef and veal exports. In the last four weeks, as illustrated in DLR's graph published here, US beef exports to Hong Kong were down 28pc, accounting for about 40pc of the overall recent reduction in US export volume.
While the Daily Livestock Report points to the strengthening US$ as a factor in sliding exports, it also identified recent Chinese Government actions as a contributor.
"We do not think the situation (prolonged industrial action) in the US West Coast ports is why exports to Hong Kong are down," this morning's DLR said.
"After all, beef exports to Japan are at levels similar to a year ago. Rather, the decline appears to reflect internal policy decisions (in China) and some seasonal influences around the end of Chinese New Year."
"It remains to be seen if exports to Hong Kong will recover, or if this is a sign of a much more stringent import policy regime in China."