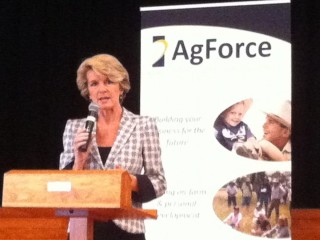 A Tony Abbott led Government would make a priority of concluding Free Trade Agreements with key trading partners such as Japan, South Korea and China if elected to power later this year, deputy opposition leader Julie Bishop told an Agforce forum in western Queensland on Wednesday.
Market access is seen as the single biggest issue facing Australia's export-dependent beef industry, particularly as export competitors continue to steal valuable competitive ground by signing Free Trade Agreements with key markets that the Australian Government has been either unable or unwilling to match.
The debilitating impact that rival FTA's are having on the competitiveness of Australian beef in vital export markets was vividly illustrated in an address to Wednesday's AgForce forum by Meat & Livestock Australia managing director Scott Hansen.
Mr Hansen said the US now holds a 5.23pc tariff advantage over Australian product in South Korea thanks to an FTA secured between the two countries last year, a benefit that increases to 8pc from January 1 next year.
With no FTA of its own, Australia continues to pay a 40pc tariff on beef exports to South Korea, while the US will gradually move towards paying no tariffs at all by 2026.
Despite ongoing negotiations lasting several years Australia still appears no closer to closing an FTA with South Korea, Australia's third largest export market for beef.
Modelling by the Centre for International Economics, commissioned by MLA, shows that ongoing costs to Australia's beef industry will exceed $1.25 billion if Australia fails to secure an FTA in the market.
Mr Hansen said Australia had a 'once in a generation' opportunity to secure further growth into its key export beef markets of Japan and Korea, and said signing them should be a priority of the federal government.
"These opportunities, these alignments between political will in both importing countries and exporting countries, don't come around too often," he said.
"And they have got to be seized when the opportunity comes."
Pre-election promises may not amount to guaranteed trade breakthroughs, but pledges by the Coalition to prioritise the signing of strategically-imperiative FTAs should it win Government in September will be enthusiastically greeted by Australia's beef cattle sector.
Ms Bishop told the meeting of around 100 primary producers in Roma that it would be a priority of an Abbott Government to conclude "as soon as possible" FTAs with China, South Korea and Japan, India, Hong Kong, Indonesia, the Gulf countries and Russia.
She said the Gillard Government had "absolutely no excuse" for having failed to conclude FTAs with South Korea and China in recent years, and blamed the lack of action on the Government's "ideological fixation with investor state dispute settlement clauses".
"And this all comes about because they're paranoid that a tobacco company will use a South Korean Free Trade Agreement with Australia to pursue proceedings against the government of Australia against its plain packaging legislation that went through the parliament," she told the audience.
"In other words this Parliament is putting its interests ahead of Australian exporters and that is a disgrace.
"I have had discussions with the South Koreans, I've had discussion with experts, I am confident that the coalition would be able to negotiate an agreement that overcame this problem with the ISDS clauses."