AUSTRALIAN entries blitzed the first World Steak Challenge held in London on Thursday, earning the coveted title of World's Best Steak, and picking up four of eleven gold medals awarded in the competition along the way.
The competition was a true United Nations event, attracting 70 entries from the United States, Japan, Canada, Scotland, England, Northern Ireland, Wales, Germany, New Zealand, the Netherlands and Uruguay, as well as Australia.
The result clearly tags Australia as the dominant country-of-origin in global high-end beef production.
Crowned World's Best Steak was an F2 crossbred Wagyu entry sourced out of Australia by German-based meat importer and wholesaler, Albers gmbH, based in Dusseldorf.
The event organisers on their website did not nominate the exact source of Albers gmbH's winning entry, only tagging its country of origin as 'Australia, Wagyu F2+ 75pc'.
However examination of the Albers gmbH website clearly identifies its sole source of imported Australian Wagyu beef as David, Phillip and Patrick Warmoll's Jack's Creek Wagyu operations, based out of northern New South Wales.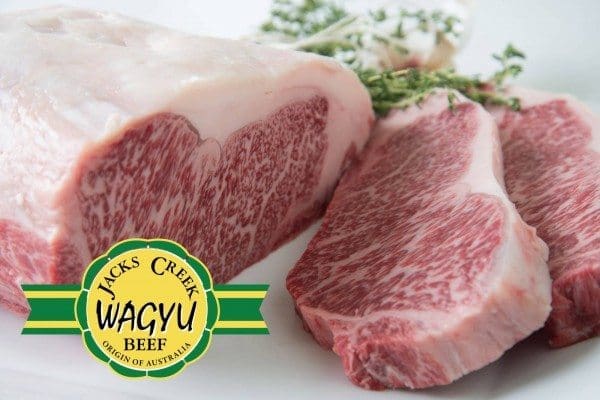 The Warmolls started crossing high-marbling Tajima Wagyu bulls over an Angus herd in 1991 on their properties near Breeza and Willow Tree in NSW.
They have since developed a successful vertically-integrated crossbred Wagyu beef business, breeding, growing, grainfeeding, processing and marketing Wagyu beef around the world.
The company gets a service kill done at the Northern Cooperative Meat Co plant at Casino.
Since 1995, Jack's Creek has fed its cattle at Geoff Willett's Maydan specialist Wagyu feedlot outside Warwick, Queensland.
The winning entry, fed 400-450 days, started on a wheat-based ration (including some corm homily), before graduating over the last 100 days onto a corn and corn homily-based ration, giving a unique flavour profile and optimising marbling. Most Wagyu fed in Australia receive wheat/barley based rations.
The championship-winning entry displayed a marbling score of 8.
Jack's Creek produces a range of F1-F4 Wagyu cattle, carrying strong Tajima genetic influence.
Today, the company ships to more than 20 destinations worldwide including China, Indonesia, Russia, Japan, Germany, Canada, Thailand, United Kingdom, South Korea, Hong Kong, Spain, Saudi Arabia, Belgium, United Arab Emirates, Switzerland, Norway, Denmark, Singapore, Vietnam, Kuwait, Bahrain, Lebanon and Qatar.
"We supply our premium products to reliable importers and distributors throughout the world and carefully align our company with organisations who share the same passion for providing the world's best beef products with unmatched customer service," the company says.
Website: http://www.jackscreek.com.au/
Four gold medal wins to Australia
The Jack's Creek Wagyu entry was one of four gold medal winners representing Australia, with 11 gold medals awarded in total.
The result clearly tags Australia as the dominant country-of-origin in the competition. Australia's other gold medal recipients included:
Australian Agricultural Co – Darling Downs F1 Wagyu: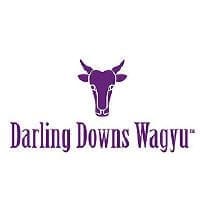 THE Australian Agricultural Co earned a gold medal with a Wagyu crossbred sirloin representing the company's Darling Downs crossbred Wagyu brand.
The steak came from an F1 calf born and raised at AA Co's remote Avon Downs station in the Northern Territory and finished on grain for 300 days at the company's Goonoo feedlot in Central Queensland.
It is the latest of a string of wins for AA Co's Darling Downs brand, including being named grand champion branded beef entry at the Royal Queensland Food and Wine Show and Champion Wagyu at the Sydney Royal Spring Food and Wine Show.
AA Co managing director Jason Strong said the award came amidst intense competition from around the world.
"Our premium Wagyu beef is already served in some of finest restaurants around the world and this confirms that the taste and quality really is among the best, on a global scale. It's continuing the tradition of excellence built up over more than 190 years of AA Co's heritage in Australia," he said.
AA Co is Australia's largest integrated beef and cattle producer and the oldest continuously operating company in Australia.
Company entries have won seven gold medals at Australian and global branded beef and food competitions this year. The company's flagship Master Kobe Fullblood Wagyu brand was named grand champion beef at the World Wagyu forum as well as gold medals at the Royal Sydney and Royal Brisbane shows.
Website: www.aaco.com.au
Rangers Valley – Premium Marble Reserve: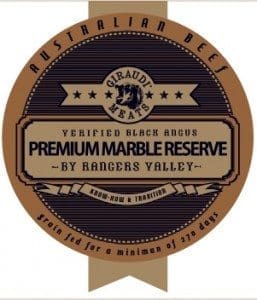 RANGERS Valley Cattle Station and feedlot at Glen Innes has a reputation for producing some of the world's finest Angus beef, and that tag was further reinforced with a Gold Medal in Thursday's World Steak Challenge.
The business is unique in the world, being the only grainfeeding operation of any size to focus its Angus operations exclusively on 270-300 day longfed programs designed to optimise marbling performance. Click here to view the Rangers Valley profile in Beef Central's recent Top 25 Lotfeeders feature.
Rangers Valley's product destined for the specialised European Union market is sold under the Premium Marble Reserve, by Rangers Valley brand, carrying a minimum marbling score of 3.
The product is imported and distributed through the EU through Giradui Meats. Rangers Valley currently sells into some of the most discerning beef markets in the world including Japan, Korea, Taiwan, Australia, Thailand, the Philippines, Singapore, USA, Indonesia, Dubai, Lebanon, Hong Kong, Macau and Russia.
Website: http://www.rangersvalley.com.au/
1788 Platinum (NH Foods):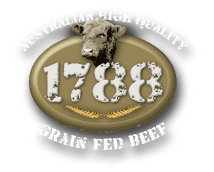 Readers please note: This reference has been updated since this item was first posted, as more information has come to hand.
NETHERLANDS-based beef importer and distributor Jan Zandbergen scored a Gold medal for its 1788 Platinum brand, using all-Australian beef.
1788 is an 'importer' brand, rather than an 'exporter' brand, like those mentioned above.
Company spokesman Marco de Kleer said 1788 was produced solely by NH Foods, out of its Australian operations. Cattle entering the program are sourced out of New South Wales and southern Queensland, fed under no-HGP EU-accredited programs at NH Foods' Whyalla feedlot near Texas, and processed at Oakey abattoir in southern Queensland.
"Our entry was a special program of 200-day grainfed Angus  that I have carefully designed together with Andrew McDonald and the experts from Whyalla feedlot," Mr de Kleer told Beef Central.
"It goes under the brand name, 1788 Platinum, and is an exclusive range. The quality of the product is phenomenal so being rewarded with a gold medal is the crown on the hard work put in by many."
"As a true believer in quality produce, I am delighted to see that nearly 25 percent of the gold medallists in the World Steak Challenge competition were of Australian origin. It just shows that Australian producers nailed the spot on the EU market, and I hope that we can all continue doing so for many years to come together with the help of farmers, feedlots, processors and the tremendous effort of the MLA."
"MLA to my humble opinion deserves a mention, because they do a fabulous job putting AUS BEEF on the European map by supporting, advising and organising," Mr de Kleer said.
Website: http://www.1788beef.com/en/1788-beef-australian-high-quality-grain-fed-beef/
Angus dominate overall award winners
In total, 28 entries in the World Steak Challenge received either a gold or silver medal, with Angus the dominant contributor to genetics, figuring in 16 of the medal-winning entries. Next best was Wagyu, identified in four entries, followed by Charolais with three (all crossbred entries) and Limousin and Dexter (two each).
The World Steak Challenge was based on sirloin entries, judged in both raw and cooked form by an expert panel of judges, against internationally agreed criteria.
Judges for the blind tasting included top UK, European and Australian chefs, butchers, food writers and authors, meat scientists and trader personnel.
The challenge is designed to provide a platform for countries and steak producers to benchmark their steak production against international competitors and use the publicity and recognition that it generates to promote their exports on the world stage.
Organisers said it will also provide an opportunity to engage with consumers to celebrate the joy and benefits of eating steak as part of a healthy balanced diet and highlight the quality and standards of steak production around the globe.
Click here to view a list of all Gold Medal winners.
Click here to view a list of all Silver Medal winners.