Location: Glen Innes, NSW
Capacity: 33,250 head
2014 cattle turnoff: 43,000 head
2003 Top 25 position: 12 (24,000 head capacity)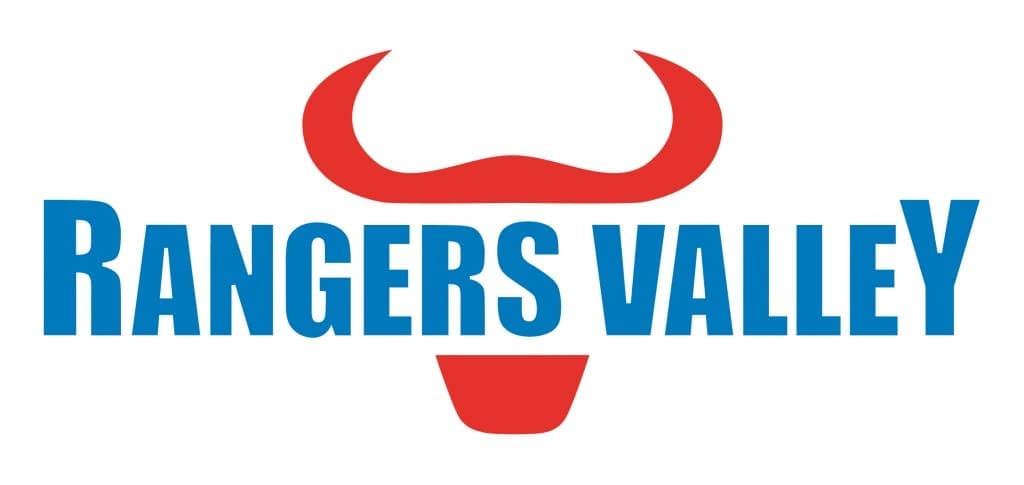 RANGERS Valley is arguably the only substantial feedlot in the world that specialises in longfed Angus cattle, producing the abundance of marbling that is highly sought-after in premium international beef markets.
While the feedlot also manages a large F1 Wagyu longfed program out to +350 days, it can be argued that it is in its unique Angus 270-day longfed programs that the Rangers Valley brand has forged its strong international reputation over the past 25 years.
The yard saw annual turnover last year of 21,000 purebred longfed Angus cattle, plus 11,000 Wagyu, and an additional 11,000 100-day Angus cattle produced for a 'Coles Finest' supply contract.
With 100pc of the yard's conventional 'non Wagyu' cattle being straight Angus genetics, Rangers Valley may also be unique in its dedicated single-breed focus. There would certainly be feedlots in the US with as many or more Angus cattle on feed, but they are inevitably shandied-in with broken faces, crossbreds and other breeds.
Today, the best of Rangers' longfed purebred Angus cattle consistently hit marbling score 5s and better, and are segmented into their own elite brand category called Black Market Beef. The next tier down, the Black Onyx Angus brand, includes marbling scores 3-4.
The Wagyu F1s have their own brand identity under the Rangers Valley Wagyu flag.
The company has developed a vast performance database on suppliers' cattle and bloodlines, which has underpinned and improved meat quality performance across both Angus and Wagyu over time.
Like most other feedlots in our Top 25 profile, Rangers has operated at, or close to capacity over the past 12 months.
Following the completion of an additional five pens in recent weeks, the yard's current one-time capacity is 33,250 head. The site is currently licensed for 50,000 head, and holds approval for 40,000 head, although there are no immediate plans for further expansion.
Rangers is currently in the middle of a $6 million site upgrade, including a new mill and boiler, plus extensive other work, expected to be completed in July.
Like circumstances in a lot of other older Australian feedlots, the original Japanese-manufactured Satake steamflake mill at Rangers has been in place for 25 years or more, and is being replaced by a new, much larger and more efficient R&R roller mill, to join a second existing R&R unit.
The yard uses primarily white grains, in addition to about 40,000 tonnes of corn silage grown locally each year.
Further development work is happening on the surrounding Rangers Valley cattle station to boost backgrounding capacity. The majority of feeders entering the yard come either direct from the station itself, or other nearby backgrounding properties, often walked into the feeding pens.
When Rangers Valley was bought by its current owners, Japanese meat trading company Marubeni in 1988, it had an operating capacity of just 4000 head, but like most other yards on this Top 25 list, it has grown in stages over subsequent years. By the time Malcolm Foster was appointed general manager in 1992 it had grown to 12,000 head, around the time of market liberalisation in Japan.
Firstly under Malcolm's stewardship, and since 2009 by his successor, Don Mackay, the yard has expanded further to 25,000 head, 32,000 head and today's figure of 33,250 head.
Ten or 15 years ago, virtually all of Rangers Valley's beef production was directed into Japan, via Marubeni's trading arm. That has gradually changed over time, with high quality food service and retail custom being established in more than 20 other markets including Korea, China Taiwan and the Middle East.
The Japanese owners at first struggled to see the sense in such a move, but it proved of critical importance when Japan was hit by BSE in 2001, allowing the business to find alternate markets for its specialised, high-value product after Japanese demand for beef declined substantially.
About 10pc of the longfed Wagyu beef stays in Australia, in addition to 100pc of the Coles Finest contract cattle.
Top 25 notes on foreign ownership:
Rangers Valley is one of three Japanese-owned entities on our Top 25 list. The others are NH Foods' (formerly Nippon Meat Packers Australia) Whyalla feedlot near Texas, and the Aeon owned Tasmania feedlot, which supplies Aeon's Jusco Supermarkets.
While we're on the subject of foreign ownership, the other entities wholly or partially-owned by offshore interests include Brazil's JBS (five Australian yards) and the Teys Australia joint venture (three), which includes a 50pc stake held by Cargill.
A portion of shares in publicly-listed AA Co and privately-owned North Australian Pastoral Co, both featuring on our list, are also held by offshore interests.
Back in 2003 when the last Top 25 was researched, there were five foreign-owned entities, including the top three entries – Australia Meat Holdings , then owned by US company, Swift; Oakey Holdings (Whyalla); and Rockdale Beef (owned by Japan's Itoham).
This feature is brought to you by Lallemand Animal Nutrition.
Click here to return to Top 25 Lotfeeders table.
Click here to return to Top 25 Lotfeeders introductory article.