RIDING the foodie trend that's evident across the Australian consumer landscape, well known Melbourne chef and restaurateur Andrew McConnell is collaborating with experienced retail butcher Troy Wheeler to create a new wholesale/retail concept in Melbourne's trendy Fitzroy district.
Messrs McConnell and Wheeler (pictured below), both passionate about skilled butchery and the use of quality meat proteins backed by provenance, have joined forces to share this passion with both the wholesale restaurant trade, and the general public.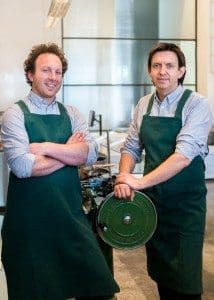 Driven by successful TV shows like Masterchef, a growing number of red meat consumers have a thirst for greater knowledge about cut selection, presentation, and creative cooking execution. The pairing at the new Meatsmith Specialty Butcher & Wine Merchant outlet is all about addressing that growing need, as well as providing advice and support for the area's many restaurants and food service operators.
Meatsmith opened to the public on Fitzroy's Smith Street yesterday,  in the heart of Melbourne's exciting food and cultural precinct. It follows the establishment of the business's wholesale trade in August.
Both aspects of the business are inspired by the pair's shared vision, with a focus on partnering with dedicated producers that raise "ethically-reared livestock to produce meats that deserve to be celebrated."
"We believe that with Andrew's vast knowledge of food and my passion for real butchery, this place will be something unlike anything else," Mr Wheeler said.
The pair say they will offer choice and service not currently seen in the wholesale or retail landscape in Melbourne, specialising in on-site butchery to individual customer specification, drawing on Mr Wheeler's 17 years of experience in the quality retail butchery trade.
The shop's retail butchery offerings will focus on provenance and quality, alongside a range of premium cooked and cured meats, and artisanal smallgoods and charcuterie. A novel feature in the store will be an imported antique meat slicer, both sculptural and practical in equal part – fully restored to its former glory in Italy.
On-trend items like smoked briskets and dry-aged beef will feature, such as these ten week dry-aged grassfed rib-eyes.
'De-mystifying' the art of butchery
The pair aim to try to 'de-mystify' the art of butchery with customers, both wholesale and retail, through informed and helpful service.
In addition to meat and poultry, the new Meatsmith outlet also houses a 'foodie pantry' for quality larder essentials including premium oils, salts, spices and house-made sauces.
Other items made in-house will include lines like slow-roasted lamb shoulder and on-trend smoked brisket (pre-cooked for take-home heat and serve), produced out of Andrew McConnell's neighbouring catering and restaurant business, Cumulus Inc, and house-made foie gras and terrine.
Customers will be able to pair a nice boutique Australian or imported wine with their beef purchase – advised by Andrew and Troy if required – from a diverse selection.  Andrew suggests a nice bottle of Spanish Rioja red to accompany a dry-aged rib eye steak.
Award-winning architectural and design practice Herbert & Mason created Meatsmith's fresh and original retailing space, featuring marble, pale timber and polished cement floors, where products can be showcased simply and effectively.
The Meatsmith outlet will be jointly managed and directed by the pair, who met three years ago during the renovation of Mr McConnell's nearby Builders Arms Hotel in Fitzroy.
Since that time, Mr Wheeler has managed butchery operations for the Builders Arms and has conducted extensive training and butchery demonstrations for chefs employed in Andrew McConnell's five restaurants (see details below).
Troy Wheeler began as a butcher more than seventeen years ago and has managed one of Melbourne's best known butcheries, Peter Bouchier Meats, for the past eleven years.
Andrew McConnell operates as executive chef and owner of five Melbourne restaurants situated in diverse districts, each with their own distinct character: Cumulus Inc (Flinders Lane); Cutler & Co (Fitzroy); the Builders Arms Hotel and its dining room Moon Under Water (Fitzroy); and his most recent ventures, Supernormal (Flinders Lane) and Luxembourg Bar & Bistro (St. Kilda). Each is designed with distinctive culinary and architectural experiences, and the new Meatsmith wholesale/retail store takes many of its design and marketing cues from the other venues in the portfolio.
For red meat industry stakeholders wanting to take a look, Meatsmith Specialty Butcher & Wine Merchant can be found at 273 Smith Street, Fitzroy, in Melbourne inner north-east.
Click here to access one of Beef Central's earlier retail showcase articles.