FOR the first time in history both major Australian supermarket groups will have a pasturefed offer as part of their premium beef range, following an announcement by Coles this afternoon.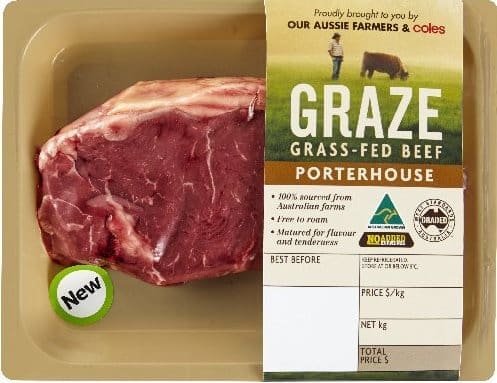 A press statement issued a few minutes ago says up to 180 Victorian and NSW cattle producers will supply Coles' new grassfed beef range.
The retailer joins Woolworths, which launched its own trail-blazing pasturefed offer in June. Click here to view Beef Central's earlier article.
Coles' new grassfed beef range, branded Graze, is already stocked this week in more than 70 Coles supermarkets in Victoria and 200 outlets in NSW.
An estimated 18,000 cattle a year will be sourced from around 180 producers in the first year, with the aim to increase volumes and distribution based on sales.
The product range will include porterhouse, scotch fillet, rib-eye, eye fillet, rump, schnitzel, lean mince, roasts, stir fry, casserole and ribs. Aligned with Coles' broader beef offer, the program will also be HGP-free.
To clear up any ambiguity surrounding the Coles announcement, the new program was developed based on Pasturefed Cattle Assurance System principles, but is not part of the PCAS program, for reasons explained below. For example it will not include an annual third party audit of suppliers, but apparently a random audit will apply.
The launch comes 12 months after Coles established a working group with eight grassfed cattle producers representing the different regions and growing conditions where Coles buys its cattle.
The working group provided feedback on supply, so Coles could understand the seasonal challenges and opportunities in each region. The group also provided feedback on Coles' quality assurance standard to ensure it could be practically delivered, on-farm.
Coles meat production general manager Allister Watson said the new Graze grassfed range resulted from lengthy discussions with industry leaders and producers.
"We believe we have set a new standard in working directly with industry groups to support farmers, and at the same time meet consumer demand for a grassfed beef product," Mr Watson said.
"We're working closely with producers to ensure the prices we pay reflect any additional costs required with this scheme. Our research shows that many customers want to buy grassfed beef because they believe it tastes great and comes from cattle which are raised as nature intended."
Beef Central asked Coles why its grassfed program was not directly aligned with PCAS.
Beef and veal retail category manager Tom Richardson said while the program closely followed PCAS on feeding regime requirements, Coles wanted to add some additional elements that PCAS was unable to deliver. These included animal welfare and environmental management, that Coles' market research suggested were important to consumers.
"We wanted to build the program for the future," Mr Richardson said. "It's not because of any underlying lack of belief in the PCAS process, just that we wanted to do more."
No specific brand claims will be made at this point about environmental or animal welfare integrity, but on the back of each pack will be detail including statements about the producers Coles is working with in the program, and the independently verified standards to which they operate in the animal welfare and environmental management space.
"We are making claims, but it is not a part of the front-of-pack brand message, as yet," Mr Richardson said.
Twenty percent of the 180 producers will be new suppliers to Coles, mainly because the retailer is expanding into the central western area of NSW to source cattle. As part of Coles' focus on sourcing from this region, it has appointed a new regionally-based full time cattle buyer.
Coles said Meat and Livestock Australia had supported the establishment of the Graze grassfed program, which is underpinned by the Meat Standards Australia eating quality grading system.
Accredited producers will supply beef for Graze according to the principles behind the Pasturefed Cattle Assurance System developed two years ago under a Cattle Council of Australia initiative. Woolworths' equivalent pasturefed offer, supplied through Teys Australia, is directly PCAS-certified.
While Coles will accept PCAS-certified cattle into its Graze program (producers will need to do an additional online component to cover the additional elements), as described above, supply is not limited to PCAS cattle.
Slaughter will take place at the JBS Brooklyn plant near Melbourne, and Hunter Valley Quality Meats at Scone. A kill out of ACC Brisbane was not part of current plans, but depending on consumer uptake, might come into calculations later, Mr Richardson said.
Producer reaction
Second generation Guyra cattle producers Bill and Jacqui Mitchell, who made the change to grassfed cattle three years ago, welcomed the establishment of Coles new grassfed brand.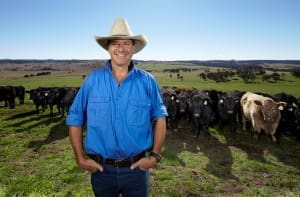 "We've been tailoring our production in this direction for the past three years and it's great to see Coles launch a grassfed product," Bill said.
"I'm very passionate about grassfed beef – not only is it a great tasting product but there's also a good story behind how it's grown."
Mr Mitchell, who has been supplying Coles for almost five years, said he was pleased to be part of the Coles working group involved in the establishment of Graze.
"Working with Coles has taught me a lot about the meat supply chain and meeting consumer demands – and this has helped us to deliver a better quality product," he said.
Fourth generation Mansfield cattle producer Mark Ritchie and his wife, Fenella, also welcomed the establishment of the new grassfed brand, and supply chain.
"My family and I are passionate about farming grassfed cattle and it's great to see this passion recognised in Coles' new Graze range," Mr Ritchie said.
He believes the secret of producing quality grassfed beef was a combination of many factors.
"Producing quality grassfed beef is not determined by any one factor but many elements that complete the package. It involves caring for the animals and looking after their health, growing the correct grasses and providing them with access to fresh, clean water."
"I get a great deal of satisfaction seeing my animals healthy and happy and I know consumers will appreciate it too."