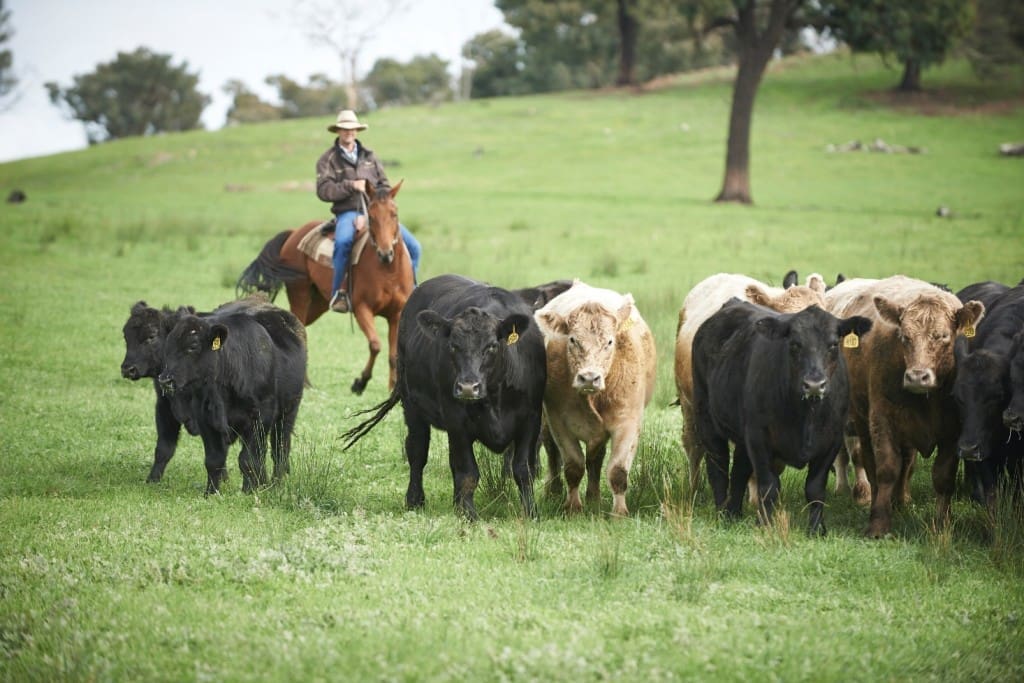 It's not that long ago that a sample of beef labelled 'pasturefed' in any Australian supermarket chilled cabinet would have been regarded with suspicion by most customers – seeing it as a cheaper, less consistent purchase option.
But times change. Consumers' priorities have shifted and fragmented over time, some driven by a desire to eat food that they see as better for them, better for the environment and better for the animal from which it came.
Roll forward to this week, and for the first time in history, a major Australian supermarket operator is introducing a certified pasturefed beef offer, retailing at a distinct premium over its everyday 60-70 day grainfed beef.
Woolworths stores across Australia from later this week are starting to stock their chilled cabinets with pasturefed beef produced under the industry's Pasturefed Cattle Assurance System (PCAS), supplied under a recently-struck agreement with processor Teys Australia. Ultimately the new Grasslands beef offer will appear in all stores nationwide, with WA scheduled for final uptake by the end of June.
Initially the product will appear under Teys' own Grasslands brand, underpinned by the PCAS-standard (click here to learn more about PCAS), but that will migrate in coming months across to a Woolworths-owned pasturefed label to sit under the company's Macro brand. Macro is Woolworths' 'health and wellness' master-brand and includes the company's certified Organic beef offer, as well as free-range poultry and other items. It is currently the fastest growing brand segment in the Woolworths meat case.
Once the new product migrates across to the Macro-branded phase, Woolworths has plans for a broader marketing campaign around its PCAS pasturefed beef offer. Some of that will be done through print media (newspapers and lifestyle publications and Woolies catalogues) or the online channel, where the company is now gaining considerable traction.
Woolworths' national head of meat trade, Andrew Goudie, told Beef Central that the company plans to engage with customers about the significance of the PCAS-backed beef offer in various ways.
Significant information will be included on labels on each pre-pack, front and back, as pictured in the gallery at the bottom of this page. Mr Goudie said this will include:
the product's pasturefed and 'natural' credentials, including freedom from HGP and antibiotics
animal welfare, delivered through the industry's Animal Welfare Certified System (click here to read more). This may be the first use of the AAWCS logo at retail level in Australia
a comprehensive sustainability claim, and
MSA identity, which remains important from a meat quality affirmation perspective.
"In our view, a lot of customers appreciate the value of an industry standard like this, but are not that interested in the detail behind it. They just want to know that it is certified by a relevant third party," Mr Goudie said.
Beef Central asked where Woolworths' PCAS-backed pasturefed beef would sit in terms of price point, between the company's conventional beef offer, and its Certified Organic beef.
"Depending on the cut, it will carry somewhere between a 10 percent and a 25 percent premium over the equivalent cut in a conventional Woolworths beef pack," Mr Goudie said.
While pricing in Certified Organic beef can be impacted more heavily by drought, equivalent cuts of Certified Organic sold in Woolworths can range from 15pc above conventional (in the case of trim) through to +30pc on some steak cuts.
Mr Goudie said initially, stores would be stocked with PCAS-certified ground beef and steak cuts ranging from scotch fillet to porterhouse or eye fillet. Depending on demand from customers, the range may expand over time into other items, including value-added lines like burger patties or sausages.
"We're anticipating that there will be quite strong demand for the pasturefed product," he said.
"It's very important that we listen to our customers, and aim to fulfil their requirements. A pasturefed offer is part of that. A sub-set of customers are looking for a free-range item, across all meat protein species, and we now have it across beef, chicken, pork and lamb. We're obviously trying to fulfil those customer demands where we see fit, and work closely with the industries involved to do it."
"In the case of beef, Woolworths has worked really closely with Teys Australia and the Cattle Council of Australia, which has developed the PCAS standard over the past 18 months. It's good for the industry, and it's good for the consumer, when we can stock a quality product like this endorsed by the industry."
"If it means there are better returns to producers, and a bigger range that better suits consumer requirements, then it's a good thing."
The PCAS logo itself will feature prominently on the front panel of the retail pack label.
Greater selection trend
It's conceivable that many Woolworths stores across Australia could from this week stock up to five different variations of the same cut, such as a striploin, for example. These could include a conventionally-produced striploin steak, a Certified Organic item, a budget line, a PCAS-certified pasturefed line, and a 100-day 'Woolworths Gold' grainfed premium striploin steak.
"We're moving to a point where the consumer has a lot of choice, even within the one particular steak cut," Mr Goudie said.
"We're conscious of that (the risk of confusion), but it's because consumers are increasingly looking for different values in their meat purchase. Different customers are looking for different products for different occasions. Even the same customer might buy one steak on a Tuesday, but another version on a Saturday morning, driven by the occasion, or lifestyle or convenience points of view."
Teys Australia started processing eligible for the Woolworths PCAS program in early May. The company's current sizeable grid premiums for PCAS-eligible MSA cattle include:
410c/kg for June delivery (heifer 5c less)
420c/kg for July delivery
430c/kg for August delivery
420c/kg for September delivery.
Beef Central will host a second PCAS webinar later this month, as part of the BeefConnect series. The webinar will be held at lunchtime on Thursday, June 26. More details on Beef Central next week.
Click here to see this morning's separate story and video with Woolworths national general manager, supermarket operations, Pat McEntee, featuring his views on the new PCAS pasturefed beef program.