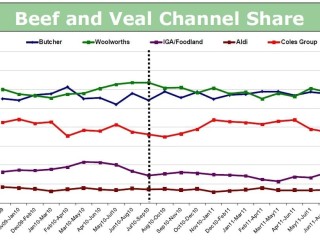 Independent butchers and Woolworths appear to have won retail market share against Coles in the latest retail survey data covering sales to end of September.
The monthly Roy Morgan Australian Meat Purchasing Data report issued this week suggests that for the first reporting period since June, independent butchers have got their nose in front in their neck-a-neck battle for national retail beef market share with major retailer, Woolworths.
Butchers accounted for 30.7 percent of total beef sales for the rolling three-month period ended September 30, the Roy Morgan data shows, with Woolworths pushed into second place on 30.2pc. Both showed a solid rise on the rolling three-month average reported a month earlier.
Butchers have covered more ground in the past 12 months however, rising 3.6pc from the same July-September period last year when they recorded a share of 27.1pc.
Woolworths slipped 1.2pc in the same year-to-year comparison.
Figures used here reflect rolling three-month averages, which analysts say are more reliable in indicating market trends than single-month data. When scrutinising the Roy Morgan survey data of claimed household consumption, the exact level of peaks and troughs cannot be determined with certainty, however analysts claim the dataset is indicative of the general trends.
The biggest recent adjustment in market share came in figures for Coles, which fell to 16.9pc retail beef share in the latest reporting period ended September 30.
According to the Roy Morgan dataset, Coles has shown a sustained decline over the past four reporting periods, after hitting a peak of about 22pc in the April-June rolling quarter. This time last year, Coles recorded an 18.1pc beef market share.
Immediately after the company launched its price discount strategy last December, followed by the non-HGP strategy in January, Coles enjoyed a six-month period of higher beef sales, but the Roy Morgan data suggests that has now slipped away, back to more 'long-term' patterns.
Also picking up a little ground – apparently at Coles' expense – was the Aldi supermarket group, which lifted to 4.3pc of beef market share for the July-September rolling average, compared with 3.6pc for the same period last year.
The independently owned IGA/Foodland group was steady at 7.3pc share, the same as last year.
The 'market/deli/other' category showed a significant decline, slipping from 9.4pc share last year to 7.8pc this year, possibly explained by supermarket beef price wars.
Category sales:
After a slow August, total fresh meat (beef, lamb, pork and chicken) retail volumes rebounded in September to hit 142 million serves/week across Australia. Beef's share of that market remains strong at 39.7pc over the quarter, 0.7 share points higher than 12 months ago
That share increase has come mostly at the expense of lamb, which captured only 15.8pc share in the most recent quarter, down from 16.3pc a year ago.
Lamb maintained its recently-gained position as the mostly costly of all meat protein options, averaging $15.73/kg for the rolling three months July-September, up from $14.69 last year. That's close to a 10pc rise.
Influenced strongly by major supermarket price discounting and the generally flat domestic consumer sentiment, beef fell from $16.23/kg average price this time last year to $15.40/kg this year, a 5.11pc decline.
Retail pork prices fell 10.31pc year on year to reach their lowest level in four years.

Click on the image here for a cleaer view of the beef market share graph