THE announcement yesterday that China will start accepting US beef from July 16 has US industry leaders applauding the Trump administration, but the US has only recently started to consider the long list of constraints that are likely to be applied to the trade.
The US Commerce Secretary on Friday announced a new trade deal that from July 16 will allow US beef exports to flow directly to China for the first time since 2003, while the US will take steps to authorise imports of Chinese cooked poultry.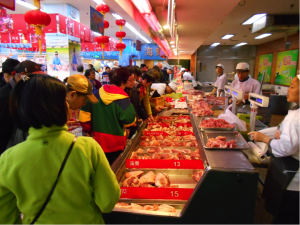 As Beef Central has reported earlier, while the US beef industry has enthusiastically welcomed the prospect of front-door beef export access to the China market since an agreement-in-principle was first reached last September, what's been odd is that it has only in the past month started publicly scrutinising some of the 'fine print' conditions for entry.
As recently as yesterday, US stakeholders in media reports were proclaiming trade with China as a potential $2.6 billion market for US beef.
But the US has largely ignored the significant barriers to beef trade into China that currently exist – many of which are particularly relevant for US production systems.
"Yesterday's announcement gives no hint of what China's requirements for US beef will be," Cattle Buyers Weekly's Steve Kay reported yesterday.
"The two countries have one more round of technical consultations planned. China's requirements might emerge after that. Only then will the US industry be able to gauge how much of the beef it produces is even eligible for export to China."
The key access issues will be:
The use of synthetic growth promotants (HGPs)
The use of ractopamine (Optaflexx) in feedlot finishing. China does not allow US pork produced with ractopamine so it will not make an exception for beef, analysts say, and
Traceability.
China requires other countries, including Australia, that currently supply beef to verify that only naturally-occurring implants are used, that the beef is ractopamine-free and traceability is from a calf's birth to slaughter.
In sharp contrast with this, almost all US fed cattle receive HGPs, most are administered beta agonists like ractopamine, and few carry whole-of-life traceability. On top of that, China has tight restrictions on the number of beef processing plants eligible to supply chilled beef, and to a lesser extent, frozen access.
"It is most unlikely that China will relax its current beef import requirements for US beef," Steve Kay said.
The three-step process for resuming US beef trade into China trade includes first lifting the ban on US beef, after which export protocol conditions have to be negotiated, including a discussion of traceability requirements. The last step is an audit of these protocols.
Questions of traceability and use of beta agonists and other technologies were likely to factor into US access to Chinese beef markets, prominent commentator Derrell Peel from Oklahoma State University told Drovers Cattle Network three weeks ago, as the US industry started to examine the fine-print.
"Still, there is significant hope and anticipation relative to the opening of the China marketplace. There are a lot of potential customers for US beef in China," Mr Peel said. "Prompt US access to the market may well be the most important component of expanded US beef export potential in the coming years."
Few US cattle in non-HGP programs
CBW's Steve Kay was the first to start applying scrutiny to qualifications for entry. He reported earlier that while USDA's Non Hormone Treated Cattle (NHTC) program has been in existence since 1999, it appeared that only a tiny percentage of the 30 million cattle slaughtered in the US in 2016 went through the program.
"Little data is available on the amount of NHTC beef produced and sold in the US, but beef exports to the European Union in 2016, which all must be NHTC beef, totalled only 23,500t, worth about $245,000," he said.
"This was just 9pc of the amount to beef shipped to Japan, the US's largest market, in 2016, and just 2pc of total US exports of beef and beef variety meats. The US only half-filled its 45,000t tariff-free quota to the EU last year. Only 13 US entities are currently approved sources of NHTC, and all but one are small businesses."
"The tiny production of NHTC beef is important to consider when looking at prospective exports of US beef to China," Mr Kay said.
China has had a long-standing policy against synthetic HGP implants (essentially trenbolone acetate). It imposed its rule on Australian beef in May 2014. Naturally-occurring hormone implants based on estrogen were deemed acceptable, but the Australian industry and authorities were worried about producers' ability to make distinctions between the two, Beef Central pointed out in this 2014 article.
Producers might accidently tick the wrong box when making vendor declarations, especially in combo-implants that contain both natural and synthetic compounds. As a result, Australia put a self-imposed ban on all HGPs for beef exports to China. It was a brand new market and Australia did not want to make a mistake.
China will likely put in place the same HGP requirements for US beef, and the US industry may take the same cautious approach that Australia did in avoiding all implants, observers have said.
Beta agonists, traceability other hurdles
Two other huge hurdles would severely limit the amount of eligible beef for China, CBW reported earlier.
The first is China's restrictions on the use beta-agonists; the second is its traceability requirements.
"Nearly all news stories about China taking US beef have ignored these," CBW said.
A notable exception was the Daily Livestock Report, which noted in April that China insists that all beef going into the country conform to its traceability requirements. Australia, Brazil, Uruguay, New Zealand and Argentina have mandatory traceability systems for their cattle but at this point, this is not the case for the US.
China also has a very strict policy with regard to hormones, it says. A Chinese notice to the trade said any detection of a synthetic hormone, or a detection of a naturally-occurring hormone at levels higher than normal physiological levels will result in rejection of the consignment and possible de-listment of the plant.
Product is tested at the port of entry and exporters run significant financial risk, which will likely limit the amount of beef the US can ship into China, the DLR said.
To reinforce the point, the DLR notes the details of the Chinese reopening to Canadian beef announced by the Canadian Food Inspection Agency in October last year. Specifically, the announcement said China required that the beef exported from Canada to China must be produced under the Canadian Beta-Agonist Free Beef Certification Program developed by the Canadian beef industry.
Further, the cattle from which the beef is derived for export to China must meet several requirements, importantly each animal has a unique identity, the farm of origin (place of birth) can be traced, and the cattle should be slaughtered at less than 30 months of age, said CFIA's announcement.
"Any talk that China could be a $100-200 million market for US beef, at least for now, is a fantasy," CBW reported observers as saying recently.
"The bottom line is, only a tiny percentage of cattle slaughtered in the US might be eligible for export to China. That beef is likely to come from a tiny number of fed cattle never given synthetic implants or beta-agonists. Restrictions on cattle age eliminate cows as a possible beef source."
The US National Cattlemens Beef Association yesterday said that while details of the protocol for access to China were yet unknown, the industry was confident that it had convinced China of the complexity and safety of US beef production. A spokesman noted that China's main concern was over BSE, a case of which in 2003 prompted China's ban on US beef, and that America's negligible risk status addresses that concern.
The industry believed that a voluntary traceability system in the US would work, in that there was plenty of economic incentive for US beef producers to address China's growing appetite for protein.
The USDA recently estimated combined beef imports (front-door and grey trade) for China/Hong Kong for 2017 at 1.425 million tonnes, a seven-fold increase from just six years ago.