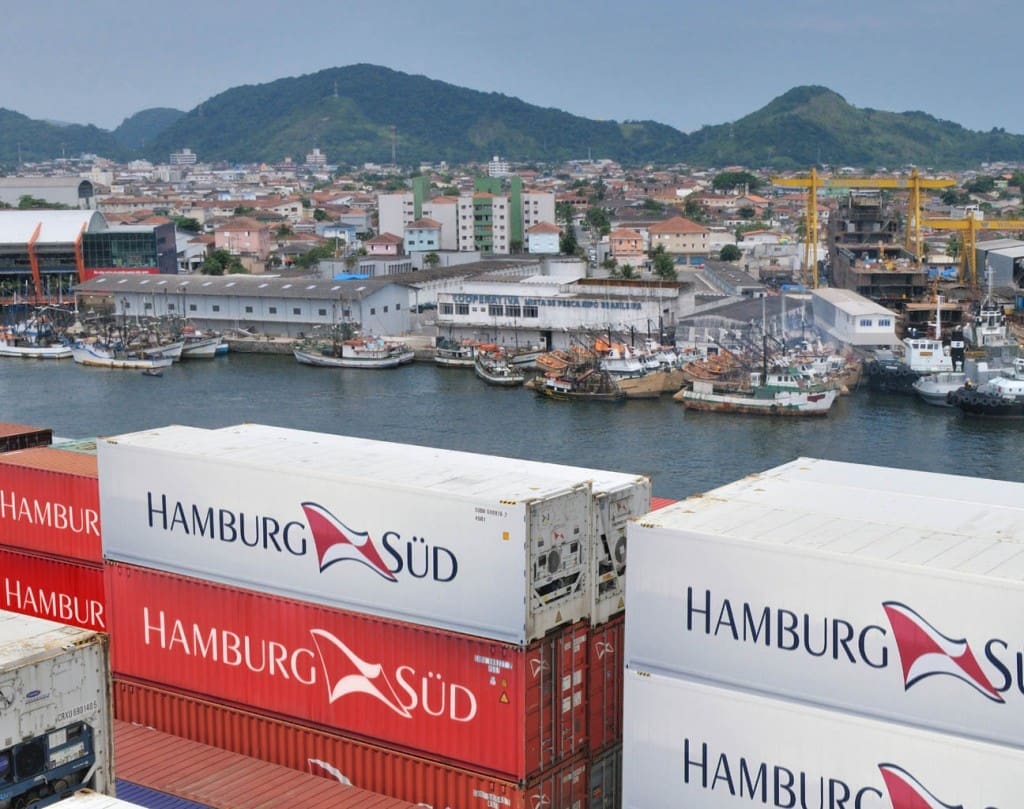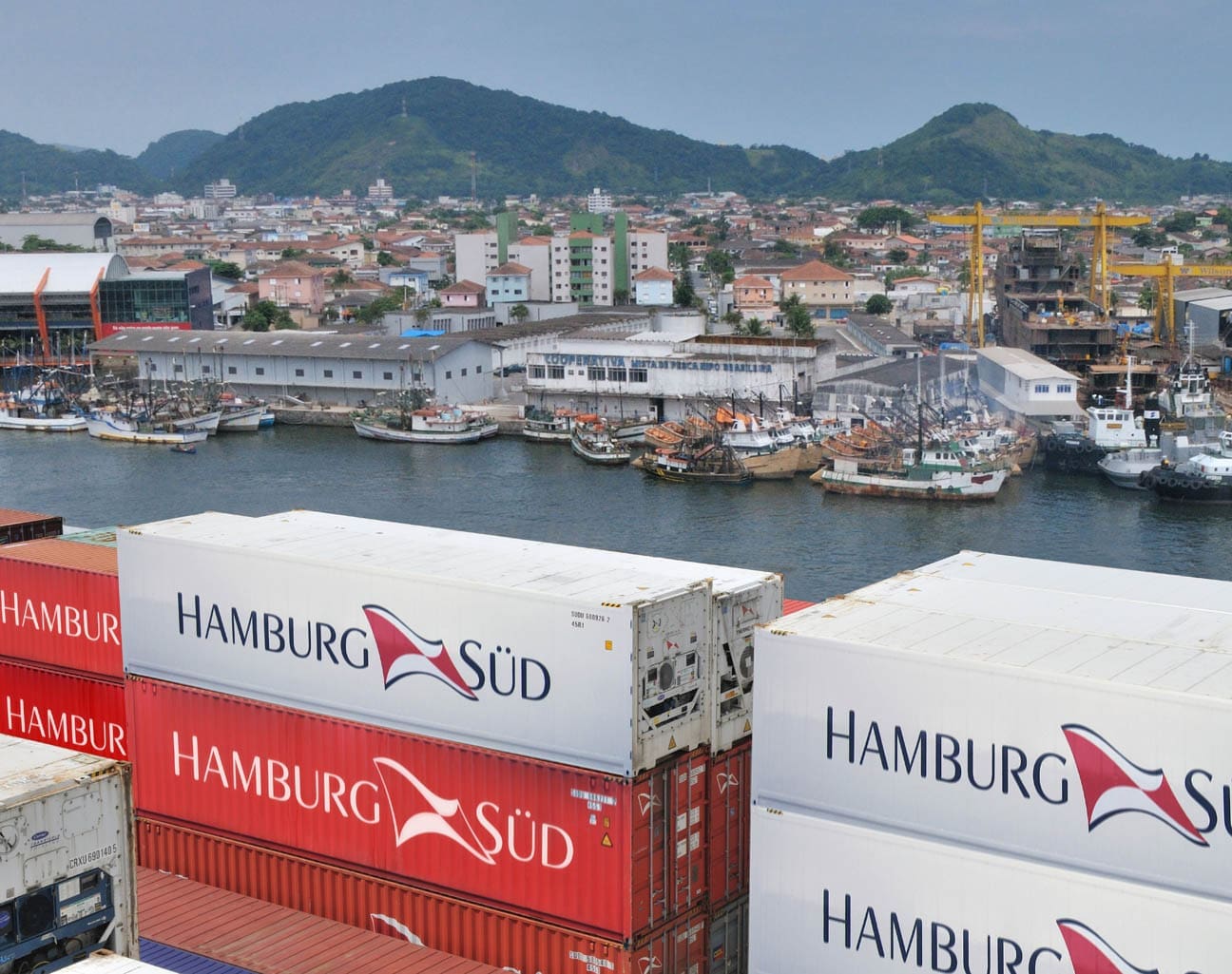 IN GROWING signs of the momentum in beef trade out of Brazil to China, a further 25 Brazilian meat processing plants have been approved this week by Chinese authorities for export.
An advice from China Customs yesterday shows an additional 17 beef processing facilities, six poultry plants, one pork and one donkey processing facility are now eligible to supply the China market. Brazil has now 89 meat processing plants authorized to sell meat to China, compared with Australia's 44*.
All the new Brazilian processor listings are for frozen product, not chilled. The new regulations came into force on 9 September.
Given that recent estimates suggest that China faces a ten million tonne meat protein deficit due to the impact of African Swine Fever (see earlier report), Australian exporters see little danger of displacement of Australian beef exports to China by Brazil, as overall import volumes continue to surge.
However Brazil's current market share in China (19pc in July) will inevitably show significant growth as more Brazilian plants come on line in coming months, Chinese analysts Meat International Group (MIG) suggests.
There is also some anticipation evident in Australia that China may expand the number of Australian export-eligible beef processing facilities in this country, to help fill the void left by the ASF disease outbreak.
Some of Brazil's largest meat processors including Minerva, Marfrig and BRF are among the companies which have gained additional access to China this week.
Minerva has three new plants listed with total capacity of 3500 head per day, taking its total number of South American eligible plants for China to seven, with a daily total production capacity of just short of 10,000 head.
Marfrig has two extra beef processing plants on the list, both in Brazil's Mato Grosso region, taking the company's total to 11.
Market share likely to shift
Based on China customs data, July beef imports to China by volume were roughly equally split between five exporting countries – Argentina 23pc, Brazil 19pc, Australia 19pc, New Zealand 18pc and Uruguay 17pc.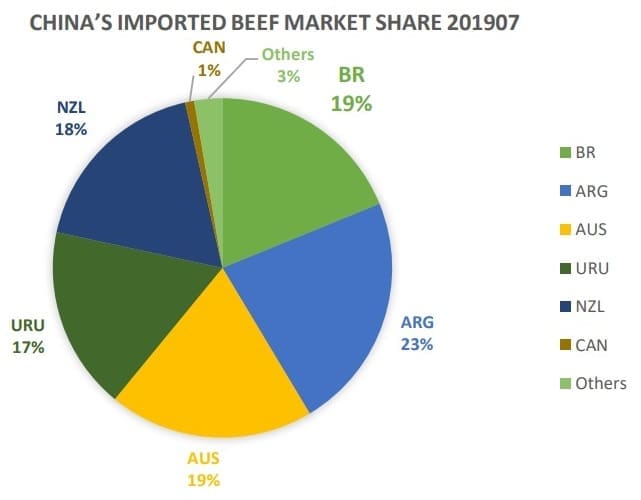 Chinese market analyst, Meat International Group's August market report suggests China's overall beef exports in July from all markets reached almost 143,000t, setting a new single month record as the effects of African Swine Fever on protein supply ramp-up. Similarly, average beef price has continued to rise, now at near-record levels around US$4.90/kg CIF).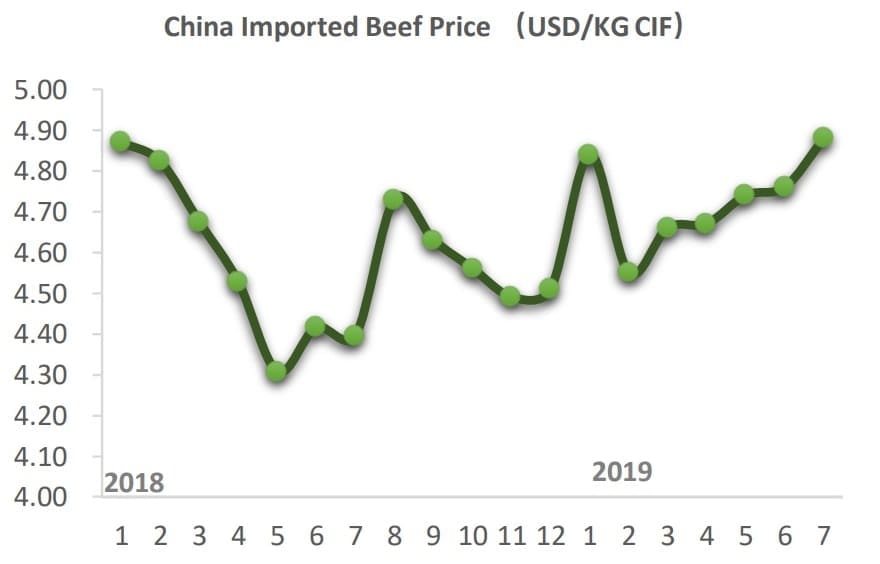 "With fierce competition among animal proteins and huge gaps in the market, Chinese importers are motivated to enlarge their purchasing volume and bet big on the peak season this year," MIG's report said.
Full year beef imports are anticipated to reach around 1.2 million tonnes this year – driven in part by additional access to Brazilian exporters announced in August and September.
Brazil's increasing focus on Asia
As highlighted in this MLA graph below, Asia, and especially China, has become increasingly important to Brazil's export footprint, increasing from a 12pc export share a decade ago to 45pc over the last twelve months.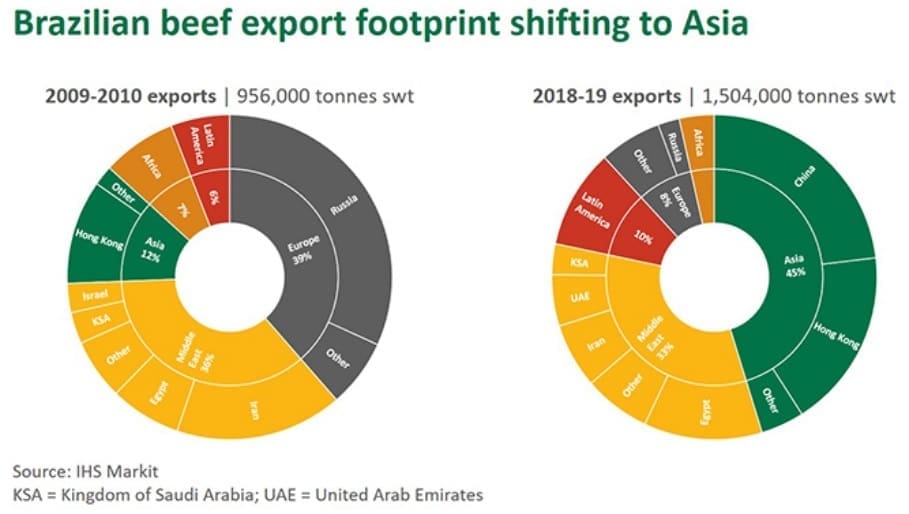 While China and Hong Kong have received the lion's share of that export shift, other Asian markets have also increased in size. Most notably, exports to the Philippines have increased four-fold (predominantly frozen manufacturing beef) while shipments to Singapore and Malaysia have expanded 29pc and 78pc year-on-year, respectively, over the last twelve months.
While Brazilian beef still lacks access to Japan, Korea and the US (three of Australia's four most valuable export markets representing 61pc of Australia's export footprint over the 12 months to May) it is very price competitive in China and South East Asia.
Australian cattle prices are now at a significant premium to Brazil (50pc so far in 2019 on a currency adjusted basis), compounding the already high processing cost base in Australia (a recent AMPC study estimated it costs an extra 74pc to process a kilogram of beef in Australia compared to Brazil).
While Brazilian competition in Asia will likely increase, Australia alone cannot keep up with demand growth in China.
For Australian beef, this means it needs to continue focusing on attracting the dollars of the wealthy and discerning consumer who is happy to pay a premium for high quality and safe Australian beef," MLA said in a recent market report.
* There are currently 47 Australian meat plants approved for frozen export to China, of which two are currently suspended, and one (Thomas Foods International Murray Bridge) closed due to fire damage. Of those 47, 11 are approved for chilled export.