CHINESE officials are worried that a potential 10 million tonne pork shortage caused by the impact of African Swine Fever could spoil upcoming Chinese New Year and other celebrations, trade reports suggest.
Meat trade news service Dim Sums carried a report based on a transcript of a speech made by China's Vice Premier Hu Chunhua, ordering local officials to bolster pork supplies.
Last month, China's Premier Li Keqiang visited food markets and chaired a State Council meeting that adopted "more detailed policies and an attitude of urgency" to cope with the pork supply crisis.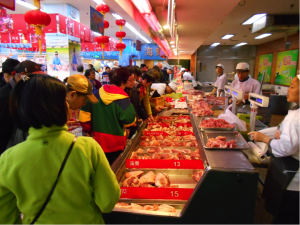 The comments come on the eve of an important ASF strategy meeting being held in Canberra tomorrow.
As China's year-old ASF epidemic began to send pork prices into the stratosphere over recent months, the Chinese government's rhetoric has gradually shifted from admonitions to stop the spread of the disease to pronouncements that the disease is "under control" and commands to restore "normal" production and trade, Dim Sums reported.
On August 22, Vice Premier Hu told communist party officials to prioritise the rebuilding of pork production capacity and preservation of pork supplies as an important political task.
The full transcript posted on a pork industry site warned officials that widespread pork shortages could occur during the upcoming moon festival, National day, New Year, and spring festival holidays if measures were not taken.
Shortages would affect the "happy and peaceful atmosphere" during the upcoming 70th anniversary of the Peoples Republic, the Vice Premier warned.
Furthermore, Hu warned that a gaping hole in the pork supply and unaffordable pork for low-income people would impair the image of the Chinese Communist Party in 2020, when the "well-off society" ideal is scheduled to be achieved.
The full transcript of Vice Premier Hu's address was a surprisingly candid assessment of problems and shortcomings in the pork sector that are kept hidden in documents for the public, Dim Sums said.
His remarks included a number of items that rarely appear in government-approved documents for public consumption:
The ASF virus is now endemic in China
Investigations found large numbers of dead pigs where no disease had been reported, indicating that the actual number of ASF cases exceeded the number reported.
Vice Premier Hu acknowledged that China's pork supply situation could be 'extremely severe' during the fourth quarter of this year, starting October, and first half of 2020
The Chinese government estimates that the country will have a 10 million tonne deficit in pork supply this year. That deficit volume exceeds the amount of pork traded in international markets each year.
With its short production cycle, poultry will be the main domestic substitute relied upon to fill the deficit. China will struggle to increase poultry production by 3 million tonnes this year, Vice Premier Hu said.
Local leaders in pork-producing regions have been asking for slaughterhouses to be built in their regions, because pigs are mostly trucked off to cities for slaughter, acknowledged as contributing to the spread of ASF disease.
chronic weakness and under-funding of grassroots veterinary services was acknowledged.
Vice Premier Hu recommended numerous policy measures to stabilise domestic pork production and maintain market supplies. Provincial and local officials would be responsible for implementing the policies:
Pork farms and companies would be given short-term aid.
Banks must not cut off lending to swine farms and slaughterhouses; subsidised loans should be given to swine farms. Provincial government loan guarantee organizations should prioritise recovery of swine farms.
Poultry companies should be given aid to expand.
Each province is charged with maintaining a degree of self-sufficiency in pork. The mayors' market basket system will hold city officials accountable for supplying pork and other non-staple foods to their citizens.
Pork reserves should be expanded and made more effective.
Pork-deficit provinces and cities should form long-term pork supply agreements with neighbouring pork-surplus provinces and counties to establish contiguous regions self-sufficient in pork.
Officials should work out arrangements by which wealthy cities pay pork-producing counties to support their farms and infrastructure.
Land and credit should be set aside to build slaughter facilities in pork-producing counties.
Food subsidies totalling 2 billion yuan have been announced for low-income Chinese citizens, as pork prices rise.
Vice Premier Hu wrapped up his address by emphasising two points that are distinctive features of the country's Communist regime:
"We must strengthen the guidance and management of public opinion."
"Stabilisation of production and maintaining supply are an important political task."
Statistics released for public consumption must be carefully managed and shaped, to "avoid panic, hoarding of pork, or trying to corner the market."