THERE'S a small, but growing number of Australian and New Zealand beef brands which are now making carbon neutral, or methane-reduced claims on their products – but to this point, price premiums recognising the fact appear to be elusive.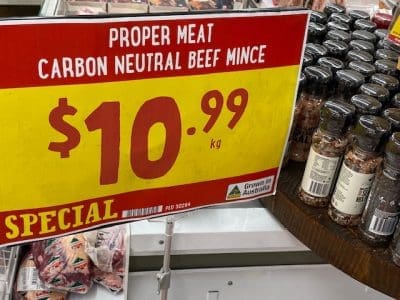 This sign seen recently in a popular higher-end Brisbane supermarket retail outlet's chilled cabinet suggests that price is not yet being influenced by carbon claims, at least. $11 a kilo for 83 Chemical Lean beef mince provides no reward for carbon status, whatsoever.
However the advances in methane-reducing feed additives including FutureFeeds' asparagopsis seaweed based compound, and Europe's Bovaer compound are providing tools around which brand managers can start to build methane and carbon claims – especially for grainfed programs where controlled feeding is possible.
The North Australian Pastoral Co in April signed a collaboration and supply agreement which will enable it to use the methane-reducing feed supplement Bovaer through its supply chain (see details below).
New Zealand's largest red meat processor Silver Fern Farms recently launched its USDA-approved Net Carbon Zero by Nature 100pc GrassFed Angus Beef at a New York City event, attended by New Zealand Prime Minister Jacinda Ardern, no less.
"Silver Fern and its Net Carbon Zero Beef represents both NZ values but also our aspirations when it comes to climate change. Rather than this product being the exception, it will increasingly be the rule," Ms Ardern said during the launch.
Silver Fern's 100pc grassfed product is already being sold in supermarkets in the New York area, the Midwest, and California.
"Taking care of our emissions is our own responsibility, no-one else's," Silver Fern Farms chief executive Simon Limmer told the gathering. "We are not outsourcing our emissions, rather we are recognising and incentivising our farmers for their efforts to create farm environments that are better able to capture carbon, increase biodiversity, and support nature positive food production," he said.
"With our Net Carbon Zero range we want to show we can produce great tasting, nutrient dense red meat in way that is better for the planet. This is truly beef made better," Mr Limmer said.
Silver Fern's Net Carbon Zero by Nature Angus beef has been approved by the US Department of Agriculture and certified by NZ's agricultural science institution Ag Research and the country's environmental verification body, Toitū Envirocare.
The key to Silver Fern's zero carbon methodology is 'insetting' – determining how much of the carbon produced is being absorbed by the local environment. New Zealand had a uniquely biodiverse farming environment, with on-farm vegetation including regenerating native bush, woodlot forests, shelter belts, summer shade and winter animal shelter, and erosion and riparian planting, the company said.
Recognizing that 96pc of beef emissions occur on farm, in 2018 Silver Fern started a program to map and measure the sequestration potential from the vegetation present on NZ farms. Satellite technology, aided by increasingly sophisticated AI software, has been used to measure on-farm vegetation to within half a metre, enabling a calculation of each individual farm's ability to sequester carbon.
Coles dips toe in the carbon-neutral water
National supermarket retailer Coles in April launched its first carbon neutral beef brand, under its Coles Finest premium beef brand.
The Coles Finest Certified Carbon Neutral Beef, which will include seven cuts from eye fillet to porterhouse steak, is currently available only in Victorian stores, but the company has plans to roll-out the program nationally over the next 12 months. The brand has been certified carbon neutral under the Australian Government's Climate Active Carbon Neutral Standard.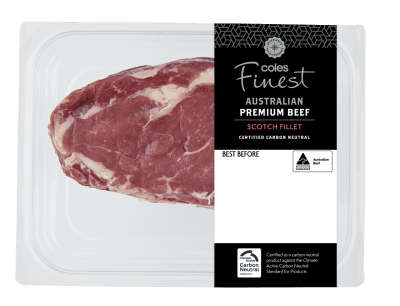 Coles is the first to pilot insetting as part of the Federal Government's Climate Active program, a partnership between government and Australian businesses to drive voluntary climate action.
"The carbon neutral beef initiative, and the information we have gained along the way about how we can reduce carbon emissions on farms through better herd performance and tree planting, will be invaluable to farmers everywhere," Integrity Ag & Environment's principal research scientist Dr Stephen Wiedemann said during the launch.
Coles has also been purchasing Australian Carbon Credit Units (ACCUs) from the Armoobilla Regeneration Project in south-west Queensland to cover emissions that fall outside the scope of the insetting measures, such as those involved in processing and transporting the beef to stores, ensuring that the range achieves carbon neutral status.
Coles Finest Certified Carbon Neutral Beef will carry the Climate Active stamp to help customers identify the certified beef on shelves. Climate Active certification is awarded to businesses and organisations that have credibly reached a state of achieving net zero emissions for their products, services or other initiatives.
To date, there is no sign of any premium whatsoever for the Coles carbon-neutral product, over similar Coles Finest brand beef (effectively 100-day grainfed, British-based) being sold in company outlets in other states.
As part of its carbon neutral beef program, Coles said it was working with farmers to identify ways to reduce emissions from their operations, such as using renewable energy, changing herd management practices for more efficient reproduction and to maximise growth, and use of genetic selection to improve herd health.
Coles' domestic supermarket rival Woolworths is yet to move into a carbon neutral option within its beef offering, but is apparently exploring the concept. The company's deep financial investment in asparagopsis seaweed producer FutureFeed suggests that Woolworths may embrace the carbon-neutral or methane-reduced beef space some time soon.
The company was a keen participant in FutureFeed's showcase for methane-reduced beef hosted by celebrity chef Matt Moran in August last year. https://www.beefcentral.com/news/australias-first-steaks-carrying-lower-emissions-claims-score-big-points-with-consumers/
NAPCo early adopter
The North Australian Pastoral Co was one of the pioneers in the carbon neutral certified beef brand area, launching its Five Founders brand in 2019.
NAPCo's general manager for intensive production and sales, James Carson,  said  carbon offset branded beef was the first step towards the company's long-term goal of achieving 'net zero', and the integration of Bovaer dietary supplement was the next step in achieving that goal.
"Since 2019, when Five Founders was launched, NAPCo has embarked on an ambitious emissions reduction strategy, which has seen us begin the transition from fossil fuels to renewables on our cattle stations and included other initiatives such as planting legumes to increase soil carbon capture and reduce greenhouse gas emissions," Mr Carson said.
"Through continuous research and deeply embedded innovative trials, we identified the greatest potential to reduce livestock emissions is through dietary supplements, and Bovaer proved to do just that."
Carbon status would become part of Rangers Valley's longfed Angus and Wagyu branded beef programs over time, an Adelaide genetics conference was told in April.
Rangers Valley managing director Keith Howe told the gathering that his business's carbon position would be built through genetics and production systems.
He told Beef Central the carbon status of suppliers would also form part of a feedlot carbon plan that he expected to have in place within 12 months (click here to view earlier story).
Retail observations
High-end Melbourne independent butcher Peter Bouchier has stocked a carbon neutral beef brand as part of his product range for the past year or more. His shop in ritzy Toorak serves a discerning clientele, where cost is often a lesser consideration.
He says he has seen no evidence yet of a premium specifically for carbon neutral beef, beyond the general quality of the product itself (100-day grainfed, MSA-graded).
"But I do believe at some time it will. Obviously there will be a future in it, for those beef brands that want to pursue features like this. Look at what's happened at the Federal Election, with the success of the Greens candidates and the general focus on sustainability," Mr Bouchier said.
"The younger generation, particularly, is more inclined to look for attributes like carbon neutral in beef," he said.
"At this stage, it's a point of difference, and in a shop like ours, that's always important to set apart from everyday beef," Mr Bouchier said. "It's all part of the shopping experience. But we're not selling a lot of it, relative to the other beef we offer."
"One of the problems is it's big beef – too big for most retail use, when trying to cut steak portions."
Meat & Livestock Australia's Group Industry Insights and Strategy Manager Scott Cameron said the trend towards carbon neutral or reduced methane claims in beef was still small, but he suspected it would now start to grow.
"It's likely to be at food service level, rather than retail, where carbon will first find traction in terms of gaining price premium recognition," Mr Cameron said.
"It's likely to depend on which channel a brand is targeting. A carbon neutral claim on a brand's restaurant table-talker could be valuable even down to pubs and clubs level – not just five star restaurants."
"But it could be slower to attract support in terms of premiums for methane-reduced or carbon reduction at retail level. For a shopper in a supermarket looking to buy their Wednesday night meal ingredients, where the main priority is around price and convenience, carbon neutral or reduced methane is unlikely to stand out."
"Comparing products like-for-like, a price premium for carbon neutral or low methane beef at retail looks unlikely. But it's a different story in a higher-end restaurant, where a diner spending $40 or $50 on a steak is going to be looking for credentials like that. Brand story becomes more important."
"A lot of restaurant owners want a point of difference, and there's not that much carbon-neutral beef out there yet. It improves the overall appeal of the product in general. And rather than adding to reasons to buy beef, a carbon neutral claim may take away from reasons not to buy beef."
Matter of scale
Neither of Australia's two largest beef brand program operators, JBS and Teys Australia, show any signs of embracing carbon neutrality in company brand programs at this stage.
A marketing and sales representative from one of them told Beef Central at the recent Brisbane Show branded beef competition that while a carbon neutral claim might be relatively easy to introduce on boutique-scale brands, it would be much harder to develop and manage at scale, with multiple livestock suppliers involved.
In his view, carbon neutral claims would have much greater resonance in some of Australia's export markets, but less so in others.
"It might work in a market like the European Union, the UK, or the US. But consumers in North Asian markets like Japan, Korea or China would be much less likely to respond to carbon neutral claims in a beef brand, in our opinion," he said.
Australian consumers embracing sustainability
A recently released report by Bain & Co sought to unpack Asia-Pacific consumers' growing interest in sustainability, surveying 16,000 consumers across 11 countries, including Australia.
Consumers said they cared more about sustainability than ever before, and that they are willing to spend more. But their actions often fall short, which is the disconnect between intent and action—the vexing "say-do gap"—and it is a growing conundrum for all consumer products companies, the report found.
Among Australian respondents, 78 percent indicated they were willing to pay a premium for sustainable products, but didn't buy these goods due to a lack of information or conflicting sources of information. However 40 percent of consumers planned to increase their spending on sustainable products in the next three years.
"Australian respondents told us that the ability to understand what is truly sustainable, and managing often conflicting sources of information, are key challenges they face when shopping sustainably," Bain & Co's consumer practice partner David Zehner said.
"By helping to educate consumers and drive clearer, consistent information across all touch points like packaging and websites, brands can take full advantage of this shopper inflection point and command the market going forward."
Brands that successfully close the "say-do gap" by educating consumers, ensuring sustainable alternative options and availability, driving clear communication, and improving information sources are rewarded with future sales and valuable consumer recommendations.
The report surprisingly found that Asia-Pacific markets care about the environment just as much as American and European markets – and they care even more about health-related ESG matters.
Asia Pacific consumers are primarily focused on the environment and social issues, it found. They wanted to purchase healthy products that are good for the planet from companies that show concern for their employees and suppliers.
Consumers surveyed in the region's fast-growing markets (China, India, Indonesia, Thailand, Malaysia, the Philippines, and Vietnam) are more conscious of environmental and social factors than those in the more mature markets of Australia, Singapore, Japan, and South Korea.
Sustainability is equally important across age and income groups, the survey found.