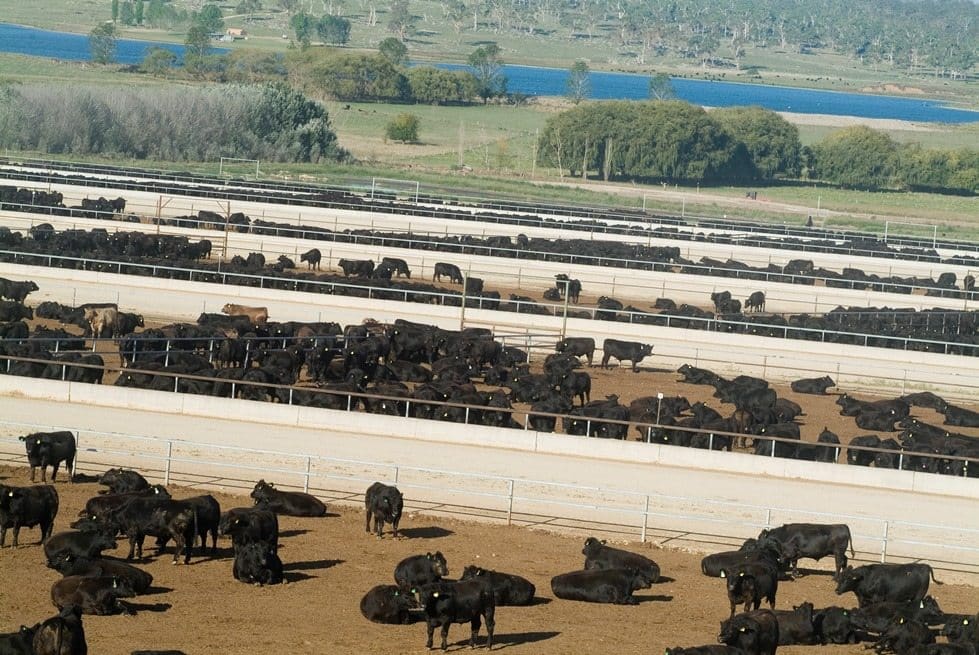 CARBON status will be part of the Rangers Valley beef brands retaining their premium market positions in the future, Meat & Livestock Australia's Livestock Genetics Conference was told in Adelaide last week.
Rangers Valley managing director Keith Howe told conference participants that his business's carbon position would be built through genetics and production systems.
He told beef Central the carbon status of suppliers would also form part of a feedlot carbon plan that he expected to have in place within 12 months.
"It's then about how do we roll up all those carbon improvements through our supply chain, or within our operation and how do we communicate it – do we attach it to a brand or to a market?
"I think that's our next phase."
Rangers Valley is a premium global beef brand with more than 400 cattle producers supplying the beef that is marketed under a structured branded program. The 2021 feedlot turn-off was 17,600 F1 Wagyu and purebred Wagyu cattle, 1200 Fullblood Wagyu, 30,000 longfed Angus and 5200 mid-fed Angus. The grainfed Angus beef brands include Black Market (marbling score 5+), Black Onyx (Marbling score 3-4) and Black Tyde. The Wagyu brands incude the Fullblood brand Infinite and the crossbred Wagyu brand WX.
Mr Howe said the business had 10,000 cattle in its backgrounding system at any point in time, and cattle on feed under contract in other feedlots as well as the main 40,000-head complex near Glen Innes in northern New South Wales.
The business is spread across three feedlots, with about 50,000 head of cattle on feed now, Mr Howe said. In 2021, the Rangers Valley system with its 60-plus staff turned off around 54,000 carcases sold as 15.8 million kilograms of branded beef marketed to more than 50 countries.
Feedlot baseline done
Mr Howe said the beef feedlot business did its baseline measurements on carbon last year to allow the option of giving its brands a sustainability-carbon position.
"We've got full measurements on our Angus program, whether it is midfed or longfed, and the carbon we are producing per kilogram (of beef) at the feedlot and also with our Wagyu program, whether it be our F1 program or our Fullbloods.
"So now that we've established baseline we are looking to say 'how do we build a plan that gives improvement in this space to reduce carbon and then we've got the option to say 'well with this carbon, do we just attach that against say, a certain market or against a certain brand," he said.
There will be a time in the future that Rangers Valley brands need to maintain their premium position, and a carbon statement is going to be part of that
"It think when it comes to the carbon space it is about step-change and just making sure that they all build to that.
"We all heard yesterday that there is a genetic program that can be attached to carbon neutrality, but also there are other production systems that we are looking at as well," Mr Howe said.
"To me I think it is going to about working on both, they're both important, and how we can attach that – because there will be a time in the future that Rangers Valley brands need to maintain that premium position, and a carbon statement is going to be part of that."
On the issue of whether the carbon status of a supplier might influence future buying decisions, Mr Howe said Rangers Valley was getting inquiries from customers and end-users on carbon.
"I think it will become apparent that we will have to have a plan about what we are doing within that space and that's why we completed last year full baseline measurements by cattle type within our operation so we know what we are generating.
"The challenge now is how we put a plan to that," he said.
"So I think when it comes to carbon there is the question of offsets versus that of an underlying sustainability position.
"What we think is more relevant to Rangers Valley and its brand is about a sustainability position; what are we doing to actually make a real difference as opposed to offsets specifically."
Mr Howe said using DNA technology for traceability was not on the Rangers Valley priority list. But he said "utopia' was eliminating the low-performing cattle.
Feedback data clearly showed that high-performing Angus cattle with the right genetic profile were producing more higher marbling score 4s and 5s, required for the company's premium Angus brands.
He said the question was how to "underpin" more of these cattle within the operation throughout the year, and feedlot data was analysed to help producers improve their marbling score position.
"We are constantly looking at the performance of our producers' cattle as they come through our system."
"We don't buy cattle for a longfed Angus program to finish up with a marbling score 1 marble score 2 result – our mid-fed program is averaging much higher than that anyway, it's just a whole different space.
"For us to hold our premium Angus market it has to be marbling score 3 onwards and our opportunity is to say well, 'How do we bring in more marbling score 5 and above to underpin a Black Market program?'," he said.
"How do we chase more of those high performing genetics within that longfed program for Black Market?"
He said RV aimed to procure cattle that were high indexing for traits such as average daily gain and intramuscular fat.
"We've got plenty of evidence to say that we can do both – there are some arguments that higher IMF may suit lower ADGs, but there is a sweet spot that will get within that."
He said marbling was a key brand attribute, but there were other important "intrinsic" traits such as animal health, and net feed efficiency will become more important in the future. Temperament was also important.
"We've got this data within our system that we have to be able to feed back to improve the results for all our stakeholders," Mr Howe said.