EXPORTER Bindaree Beef Group has started selling its branded beef products online in China, underpinned by what the company claims is the first application of new technology designed to protect against counterfeiting and food substitution in the China marketplace.
Working with partner JD.com, the largest online direct sales company in China, Bindaree has launched its First Cut grassfed beef brand at a high-profile opening event in Shanghai.
The new business follows an agreement struck in August between Bindaree and JD.com, which last year reported revenue of US$6.9 billion, almost twice the size of China's eBay equivalent, Alibaba.
The "First Cut – Pure Australian beef" launch featured Chinese celebrity chef Michael Zhao and the launch of an iPhone-holding plate promoting brands and cuts designed for Chinese cooking styles.
Michael Zhao is the head chef of Husk restaurant in Jing'An, and an avowed Australian beef enthusiast.
First Cut is chilled retail-ready Australian grassfed beef, claimed to be the first Australian-packed retail-ready (DarFresh-packed) product to be sold in China.
Four separate products are included in the range:
Australia steak – a conventional striploin cut
Imperial steak (pictured above) – a twist on the Aussie classic, an oyster blade cut that is juicy, tender and highly desired by the Chinese palate
Beef Fingers – a classic in the Eastern world, utilised in beef noodle bowl style dishes
Beef Strips – tender, juicy strips fine sliced to suit Chinese wok fried dishes
Bindaree and its meat sales and marketing business, Sanger Australia, represented by China sales manager Tim Sullivan hosted a special launch event which saw chef Zhao cook five courses for high-profile guests using each of the product lines. The guest list included fifteen leading Chinese food bloggers with a combined audience reach of 1.6 million followers, food portal website representatives and lifestyle magazine representatives.
Specially designed recipes and cooking demonstration videos have been created for each product, and chef Zhao will perform both private and public First Cut cooking demonstrations throughout 2016.
Spreading awareness using social media
Sanger's Tim Sullivan said with First Cut now available online, the company was gearing-up for the long-term, investing in local advertising, an Australian and Chinese website, microsite, brand videos and a WeChat account.
"We're working with some of the best traditional and digital communications agencies in China," he said. "We have a dedicated social media agency and First Cut team in place in China."
He suggested the First Cut promotion would be a sustained campaign, rather than a 'one off' launch without any follow-up. "We're here to stay," he said.
'First Cutography' was also launched at the event using specially designed First Cut plates with an iPhone holder embedded in the plate.
"The plates are based on the idea that in 2015, we're all food photographers. Whether its in our own kitchen, a restaurant or cafe, we're all guilty of taking out our phones and snapping a picture of our food – often before the first bite. We are then simultaneously eating our meal and sharing the photo of it with our friends and followers via WeChat, Weebo, Instagram and other social media networks," Mr Sullivan said.
Bindaree says its First Cut brand was founded on four main pillars of safety, prestige, taste and health – all high priorities for emerging China's emerging middle class consumers.
Traceability feature defends against substitution
In what is claimed to be a first for Australian beef, the First Cut brand is backed by the AuthenticateIT traceability platform, profiled earlier in this Beef Central article.
Using their iphone and a downloaded AuthenticateIT app, consumers can scan a QR code on the product pack (see image above), allowing them to trace the First Cut product back to Australia and its authentic sourcing and production. Unlike barcodes which can be easily copied and duplicated, the unique QR code on each pack makes it virtually impossible to compromise.
"Customers can have peace of mind from knowing that what they are buying is 100pc Australian beef and not a poor substitute that won't have the health benefits and superior taste of First Cut beef," the company says.
The First Cut brand program was developed with support from Meat & Livestock Australia's Collaborative Marketing Program, which enabled Sanger to develop a brand and secure JD.com as a valued customer in China.
Join Beef Central's 2016 China beef study/business tours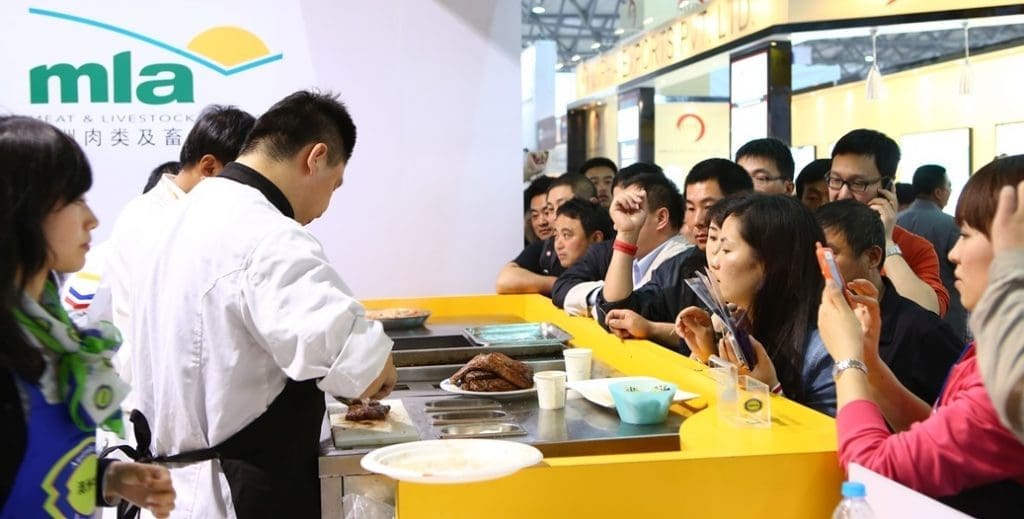 Interested in learning more, first-hand, about the booming China beef and live export market?
Beef Central is hosting two specialised business and study tours to China in April and May next year, utilising our impeccable and deeply-entrenched contacts across the Australian and Chinese red meat supply chain. Just one of the many highlights will be a visit to the enormous SIAL trade show, pictured above, where Australian beef exporters have a strong trade presence.
Click here to learn more about the tours, and how to register your interest to receive more information.