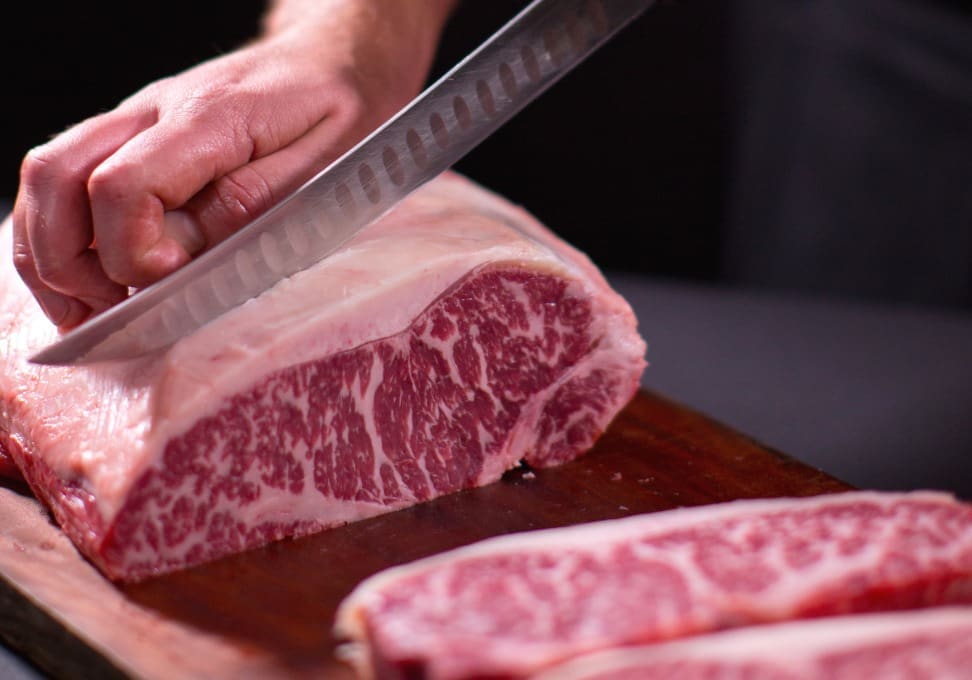 Best in class at Melbourne's Food Awards for Mort & Co's new Wagyu brand
JBS's Yardstick program tops Regatta's Beef-Off competition
Mobile abattoir-processed meat wins Australian Food Awards medal
TWO of Australia's best-known commercial beef brands – plus a third which is just beginning to gain some market traction – have performed with distinction in taste-test competitions across the nation in the past ten days.
Best in class at Melbourne's Food Awards for Mort & Co's new Wagyu brand
Queensland grainfed supply chain Mort & Co has continued its recent sequence of strong results in both domestic and international beef competitions in 2019, with the company's new purebred Wagyu brand, Master Selection, claiming a gold medal and 'Best in Class' honours at the Melbourne Royal Show's annual Australian Food Awards last week.
Launched late last year, Master Selection (sample pictured above) is the latest addition to the Mort & Co Phoenix Wagyu beef range. The AFA competition was the first competitive outing for the new brand project.
Master Selection builds on the success forged by Mort & Co's original Wagyu label, The Phoenix.
The business identified an opportunity to refine its existing F1-F4 Wagyu program, with a view to producing an elite purebred & Fullblood Wagyu brand, designed exclusively for Mort & Co's high-end restaurant and food service customers in key Asian and Middle Eastern markets.
"We work closely with our inner-circle breeding partners to produce and secure the best available purebred and Fullblood genetics for the new Master Selection brand," Mort & Co general manager for meat sales & operations, Brett Williams said.
The company then formulates a unique ration and feeding regime to optimise both the marbling and flavour profile, to fulfil the genetic potential of the cattle to marble.
"This result is a great validation of our new Master Selection purebred/Fullblood program," Mr Williams said. "Having our newest brand acknowledged as best in class in a competition like this is a real achievement for our supply chain, and reinforces its position as our most niche brand."
In addition to the Best in Class award and a gold medal, Master Selection also picked up a silver, while Mort's The Phoenix F1-F4Wagyu brand claimed two silver medals in Melbourne, and Grandchester (Black Angus) a bronze.
Mort's Phoenix program also claimed a gold medal in the recent World Steak Challenge in Dublin, as well as a gold, three silvers and two bronze for grainfed rib eyes and sirloins.
"Our product gradings from Master Selection continue to exceed our customers expectations," Mr Williams said.
JBS's Yardstick program tops Regatta's Beef-Off competition
JBS Australia continued its strong run in branded beef competitions last week, with the company's new grainfed brand, Yardstick, claiming the top prize at the annual Regatta Hotel's 'Big Beef Off' event in Brisbane.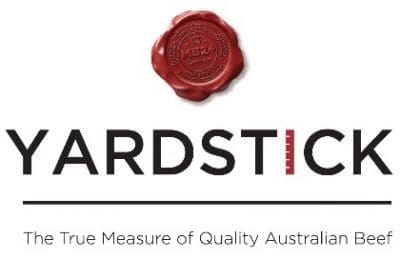 It was JBS's third straight win in the popular annual hotel competition, judged in a blind taste test by an audience of almost 200 'everyday' beef consumers. Unlike other competitions judged by so called 'foodies', chefs and industry experts, the Regatta annual event is judged by everyday diners, parting with their own hard-earned cash for the privilege of participating.
Judging was based on the key MSA sensory panel taste test criteria of flavour, juiciness, tenderness and overall liking.
The new Yardstick brand is drawn from minimum 100-day grainfed carcases grading Ausmeat marbling score 2 or better (no breed or HGP prescription applied) produced at JBS's integrated Beef City facility near Toowoomba. Click here to view Beef Central's earlier profile on the new Yardstick brand.
The annual Beef Off event held during Brisbane Show week is gaining a reputation as an important brand benchmark, and is now keenly contested in the annual calendar of beef awards.
The Regatta's master steak chef Simon Street prepared around 1000 samples for this year's evaluation. Five processors entered their best striploins which were then dry aged for 30 days by the team at the Regatta. Competing this year for the award were industry heavy-hitters including JBS, Stanbroke, Signature Beef, Rangeland and Greenham's Bass Straight.
This year's competition was by far the closest yet, with only half a point separating the top two entries, showing how high the bar is being set by Australia's best beef producers.
JBS Northern domestic sales manager Chris Miller said his company took its participation in these competitions seriously, as it was always a great opportunity to test the company's product against its peers.
"We've now taken this award three years in a row, and when coupled with other recent branded beef awards in Melbourne, Brisbane and Sydney, it reaffirms that our team is at the top of its game when it comes to cattle sourcing, feeding and processing the some of the best beef in the country," he said.
Despite only hitting the market earlier this year, Yardstick has already been a great success for JBS, finding its way on to foodservice menus across the country within weeks of its launch.
"We have been putting high quality grainfed beef into cartons for over forty years now, and we think the product that goes into this brand is the benchmark by which all others should be measured – hence the name. Chefs are really buying into that story. It's a true testament to all involved in the process," Mr Miller said.
Mobile abattoir-processed meat wins Australian Food Awards medal
Australia's first mobile abattoir project has reached a significant milestone, earning a gold medal for its packaged beef program in the non-MSA branded beef category at the 2019 Australian Food Awards announced in Melbourne last week.
Eliminating the need for live transport of cattle, Provenir's commercially-licensed mobile abattoir processes livestock at the point of production, on the farm where they are raised.
A passion for animal welfare and producing quality beef led the founders of Provenir to develop Australia's first and only mobile on-farm abattoir.
The resulting on-farm processed beef received a gold medal and best in class in the non-MSA branded beef category at the 2019 Australian Food Awards.
The win comes just two months after the Provenir project was granted a licence by the NSW Food Authority to operate the mobile, on-farm abattoir – the first of its kind in Australia. The first kills of Hereford cattle took place on a property neat Claredale, NSW.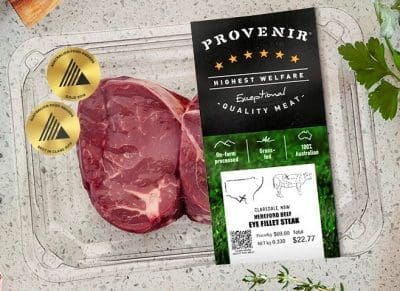 "Our team set out to improve animal welfare and offer all Australians an opportunity to experience the quality of beef only achieved through on-farm processing," co-founder and chief executive Chris Balazs said.
"Farmers have always known about the superior quality of meat produced from livestock processed on-farm. Eliminating the stress associated with live transport to an abattoir is simply better for animal welfare," he said. "There's plenty of scientific evidence to support the link between animal stress and meat quality, and being judged as the best and winning these awards backs up that science."
The judging process is completely blind, with the panellists unaware that the meat being sampled was from Provenir, nor processed on-farm. Five criteria are assessed, with Provenir's entry being awarded the highest outright score in four of the five areas judged.
Provenir has now been invited to compete in the AFA Championship Judging round, the winners of which will be announced in September at the Australian Food Awards presentation dinner.