GRADUAL improvements over time in genetics, feeding systems and cattle management have provided the opportunity for JBS Australia to launch a new commercial beef brand, drawn from within the company's 100-day grainfed beef production system.
There's an age-old meat processing term called, 'creaming the chillers', which describes the action of selecting the best carcases from a certain production run, for a special order or consignment.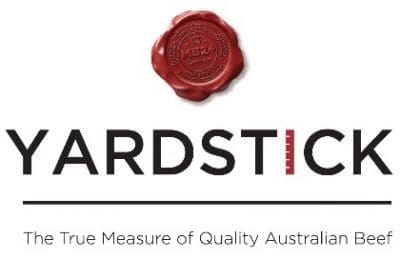 That term captures the essence of JBS's new 'Yardstick' brand program, where the best of the company's 100-day grainfed carcases are drafted-off and marketed separately.
Such brand 'extension' programs are becoming increasingly common across the Australian beef industry. Within JBS's own brand stable, its super-premium marbling score 4 and better grassfed brand, 'Little Joe' is a good example, harvested from elite performers within the Great Southern Farm Assured program.
JBS will launch its newest premium brand in its growing, but strategic, brand portfolio at an event in Toowoomba, on Queensland's Darling Downs this week. The new brand will be drawn from minimum 100-day grainfed carcases grading Ausmeat marbling score 2 or better. There is no specific breed or HGP status requirement.
The company says its new Yardstick brand pays homage to its four decades of high quality grainfed beef production at sites like Beef City near Toowoomba, and claims to set a standard for the true measure of quality Australian beef.
The Benchmark product will be produced at JBS's integrated Beef City feedlot and processing plant on the Darling Downs, plus the Riverina Beef feedlot/processing facility near Yanco in southern NSW. JBS Australia claims to have a competitive advantage in the grainfed beef sector, with these being the only two integrated feedlot/processing facilities in the country.
The company chose not to offer a figure when asked by Beef Central what percentage of its 100-day cattle would qualify for the 'Yardstick' program, but Beef City alone generates about 3000 grainfed carcases each week.
"We're not feeding specifically to produce these higher-marbling cattle – it's just that the gradual improvement in performance is delivering more of them"
"We are not feeding specifically to produce these higher-marbling cattle – it's just that the gradual improvement in the systems, processes and management is delivering more of them," a company spokesman said.
In a company statement, JBS commercial manager northern, Brendan Tatt, said Yardstick was a tribute to the continued dedication of a highly skilled and aligned supply chain of livestock producers, lotfeeders and processors that had maintained a dedication to excellence.
JBS clearly takes great pride in the depth of operational experience of its grainfed operations personnel. Between them, for example, Sean Sturgess and his father Richard have worked at, and managed the company's Beef City yard near Toowoomba for the past 44 years, since 1974.
"Yardstick is the result of incremental gains on-farm, in the feedlot and at the plant level that have put us in the position of being able to lay claim to being a benchmark by which all others should be measured," Mr Tatt said.
"As a team we have been fine-tuning our systems to ensure that our customers can expect nothing but the highest quality and consistency when they buy and rely on our branded beef products," he said.
"Essentially, Yardstick is not a new product for JBS Australia, rather a considered strategy to consolidate our high performing marbling score two-plus grain fed beef under a single brand that promises a reliable and high quality eating experience."
"Given our experience and expertise in producing such high quality beef for more than 40 years, we would happily be compared to the competition week-in, week-out."
"Our integrated processing plants and feedlots at Beef City and Riverina create the optimum environment to produce highly marbled and tender beef, due to the low-stress environment of simply walking the cattle to the plant and avoiding that extra journey on a truck," Mr Tatt said.
The Yardstick program will produce average carcase weights around 350kg, producing larger cut sizes, and will be directed into the upper end of the food service restaurant and hotel sector, and well as some premium retailers.
The new program had already attracted strong demand and uptake with a number of high profile restaurants and hotels, both domestic and international, JBS said. First product will appear on menus and in retail shop windows before Christmas.