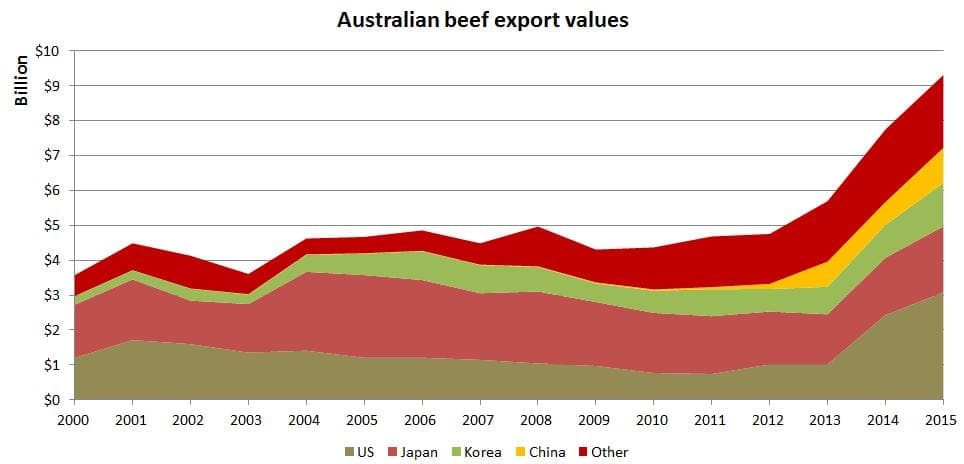 AUSTRALIAN beef exports for 2015 were valued at $9.3 billion FOB – up more than a billion dollars on the year before and a massive 84 percent above the ten-year average, according to Australian Bureau of Statistics figures just released.
ABS figures show that Australia exported beef to 94 countries in 2015, six fewer than 2014.
Assisted by almost-record volumes (see Beef Central's earlier report on 2015 export volume), the real driver was a rise in unit values, which were up 20pc year-on-year, at $7.06/kg.
Unsurprisingly, the market accounting for the greatest value was the US, at $3.1 billion, up 27pc year-on-year, where volumes reached a new calendar year record.
Despite slightly lower volumes to Japan in 2015, Australian beef shipments were valued at $1.9 billion, up 15pc from 2014.
Korea saw a 32pc rise in value, to $1.2 billion, on the back of a large year-on-year rise in beef export volumes.
Australian beef export values to China increased 54pc year-on-year, and exceeded $1 billion for the first time ever.
Interestingly, the collective value of shipments to Australia's 90 other beef export markets remained steady at $2 billion in 2015.
The significant decline in export volumes forecast for this year (expected to drop 18pc year-on-year, to 1.05mt), combined with softer export prices, will result in lower export values in 2016.
Source: MLA