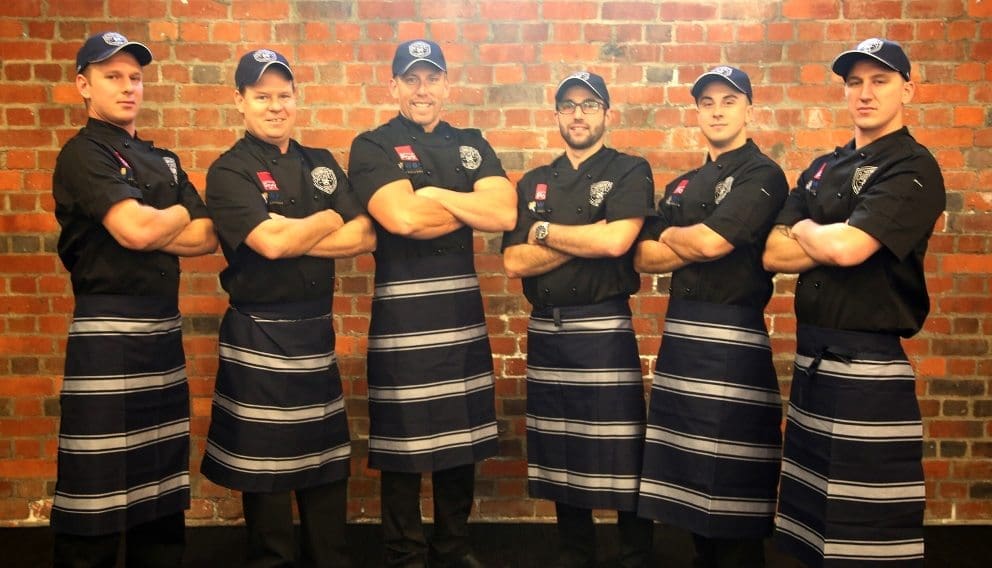 AUSTRALIA'S national retail butchery team has won a tough international challenge against a crack New Zealand team in an important lead-up to next year's World Butchers' Challenge being held in Ireland.
The Aussie Steelers got the better of NZ's Pure South Sharp Blacks in Friday's Trans-Tasman test match held in NZ's capital, Wellington.
The winning team from Australia (pictured above, click on image to enlarge) comprised Luke Leyson, Goodwood Quality Meats, SA; Adam Stratton from Tender Gourmet Meats, Sydney, Colin Garrett, Colin's Meats, Sydney; Gareth Hunt, Fat Cow Gourmet Meats, Brisbane; Tom Bouchier, Peter Bouchier Butchers of Distinction, Melbourne; and Nick Dagg, Heights Butchery, Cairns.
The competition was held over a two-hour period, with teams breaking down sides of beef, lamb and pork, and converting the raw material into a first-class value-added retail butchery display. The teams were judged on their preparation, knife skills, product innovation and value-adding, presentation, finishing and display, and articulation. All are elements that the global butchery industry sees as vital ingredients to the longevity and continued growth of independent butchers.
New Zealand had won the previous three international butchery showdowns.
Head judge and founder of Hellers, Todd Heller, said although the tension in the judging venue yesterday could be 'cut with a knife', the two teams had together achieved something incredible for the industry.
"These talented butchers are using innovation and creating products that we've never seen before; the fact the competition is so fierce forces these guys to push the boundaries and test their creativity," Mr Heller said.
The Trans-Tasman event gave the butchers an opportunity to fine-tune their skills ahead of the biggest international butchery competition the world has seen, the World Butchers' Challenge to be held in March, 2018 in Belfast, Ireland.
The highly successful 2016 World Butcher's Challenge event was held in Queensland's Gold Coast. Click here to view Beef Central's earlier report.
Pure South Sharp Blacks team captain, Corey Winder said even though his team missed out on the win this time, they would be back stronger than ever in Ireland.
"This Australian side featured some hugely talented butchers, and I give them total credit for what they achieved today. The bar has been set extremely high as we look towards our next event but as Kiwis, I know we'll rise to the challenge," he said.
Australian team-member Adam Stratton said the secret to the Aussie Steelers' win this time was their high level of butchery skills a team cohesion that put it in good stead to bring home the bacon.
"For this competition, the focus was on boning, trimming and preparing value-added product. It was showcasing what we all do on a daily basis in our shops," he said.
Both the Steelers, sponsored by Australian Pork Ltd and the NZ Sharp Blacks, sponsored by Pure South, Beef+Lamb NZ and New Zealand Pork, now face an intense training schedule, working alongside industry influencers and chefs in preparation for World Butchers' Challenge next March.