THE post-drought shortage of slaughter cattle, combined with what are now the highest livestock procurement prices in the world, is seriously impacting on Australia's competitiveness in international beef markets, with another dismal performance recorded in August beef exports.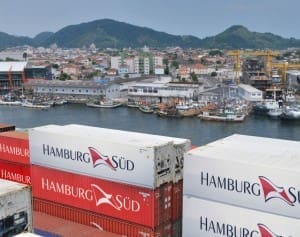 Australia struggled to consign just 80,601 tonnes of beef to international customers for the month, following a similar figure in July, Department of Agriculture figures released yesterday show.
Contrast this with beef exports in August last year at well above 106,000 tonnes, and it represents a dramatic 25,500t, or 24 percent decline.
Calendar year-to-date figures show a similar trend. Exports to all destinations for January-August, inclusive, reached 694,000t. That's more than 180,000t, or 21pc shy of the tally for the same period last year.
Australia is clearly lacking competitiveness in international beef markets at present. Not only do we currently lack the physical numbers to assemble a decent weekly kill, but the slaughter cattle that are being procured at record high prices are increasingly making Australia's beef offer prices unattractive overseas. And that effect is only being compounded by a currency that remains stubbornly above US75c, in a year when earlier bank predictions were forecasting an A$ in the US60's.
The markets where that is most clearly evident are China and the US. In China, much of Australia's hard-won gains over the past three years have been washed-away by cheap imports from Brazil, which only gained access to the market late last year.
Brazil has reportedly been consigning up to 20,000 tonnes of beef to China per month since access was gained. Australia's exports to the market in August reached just 8200t, and in July, 7600t – about half what they were at their earlier peak. Price has been a significant part of that, meat sales desks report.
As Beef Central has highlighted in its past couple of weekly eastern states slaughter reports, beef kills during August have hit all-time record lows for the month, averaging less than 119,000 head across the five eastern states. Despite coming from an already low base, September looks like following that trend – against traditional seasonal patterns – and are likely to be lower than August, MLA suggested yesterday.
The widespread winter rainfall and full soil moisture profiles, setting the expectation for abundant feed availability when temperatures begin to rise, will more than likely lead to producers opting to retain cattle and take full advantage of feed levels not seen by many for years.
"This will also go a long way towards assisting prices throughout spring," MLA suggested.
The only consolation in this year's dramatically tighter cattle supply is a rise in slaughter cattle carcase weights, which have continued to increase throughout 2016 with the improvement in seasonal conditions.
In June, adult male and female carcase weights averaged 321kg and 250kg/head, respectively, across the country – both up about 5kg/head on year-ago levels and similar to the previous peak in 2012.
Carcase weights have risen with improved pasture availability across much of the country. Grassfed cattle are being finished to heavier weights, and the absence of drought is reducing the incidence of cattle being turned-off earlier than desired, or in sub-optimal body condition. In addition, the record numbers of cattle on feed at the end of 2015 have been coming through the supply chain over the past six months, supporting the lift in carcase weights.
Here's a breakdown of how Australian exports performed in major markets last month:
Japan continues to fill position one as Australia's largest export market by volume, after overtaking the US back in April. Japan took 23,870t of Australian beef for the month of August – about the same as July, but up about 2900t or 14pc on this time last year.
Calendar year to date, exports have now topped 173,000t, still down about 15,000t on the previous year.
The United States has been impacted greatly by Australia's reduced production in manufacturing beef driven by heavy cow liquidation, as well as rapid increases in its own beef production over the past 12 months.
Exports to the US east and west coast ports reached just over 17,000t in August, back about 1500t on July trade, but considerably less than half of the 39,866t shipped in August last year.
Year to date, volume has now reached 182,000t – a stark contrast with last year, when shipments had topped 311,000t by the same stage of the year. That's a deficit of 130,000t within 12 months.
South Korea has been among Australia's most stable volume customers in recent years, but it too is showing signs of pressure due to reduced supply. August trade reached 14,500t, up a little from July, as well as August last year. Year to date, South Korea has taken 114,000t of product, still up 7000t on the corresponding period in 2015.
As highlighted in our intro, after emerging as Australia's most exciting new beef export prospect in 50 years during 2014, China continues to fall-away this year, in the face of mounting export competitive pressure from Brazil. That trend has been in clear evidence since April.
China took 8200t of Australian beef in August, a slight improvement on July shipments, but well down from the 12,500t in trade seen a year ago.
Year-to-date shipments have totalled less than 65,000t, contrasting sharply with trade totalling almost 95,000t for the corresponding period in 2015.
With China continuing to open-up competition in its imported red meat market, Chinese auditors are expected to arrive in Brazil in October to inspect new abattoir and meat processing facilities with a view to including them on the list of Brazilian packers certified for export to China. Reports suggest 48 Brazilian facilities are waiting for Chinese audit across poultry, pork and beef processing. At present Brazil has 39 meat processing operations (11 pork, 16 beef) accredited for the Chinese market.
Recent media reports suggest China has become the single largest official export beef market for Brazil in 2016. Brazil shipped more than 71,000t to China in the first five months of 2016, compared with Australia's 39,500t for the same period. While many analysts thought this would result in decreased Brazilian shipments through the grey trade (Hong Kong and Vietnam), this doesn't appear to have affected Brazil's sales via Hong Kong that also increased over the same period.
Beef trade with Indonesia suffered a check in August, after a bust period of trade earlier in the year.
Shipments last month reached 2880t, well back on July's trade topping 4200t, and about the same as August last year. Shipments for the eight months ended August at 40,700t are still about 17,000t, or 74pc, higher than last year, as the Indonesian Government seeks to dampen local beef prices by increasing imported beef supplies. Further market liberalisation appears to be in the wings in Indonesia, as a realisation that the previous policies that constrained beef imports only helped to drive local prices higher.
Offal trade to Indonesia has also grown rapidly this year, reaching almost 10,000t by the end of August, or about 9pc of Australia's total offal exports for the period (114,500t). Last year, the figure to August was just 1216t.
Indonesia historically has been a significant beef offal market for Australia, but recent government restrictions have greatly hampered that trade. In November, Indonesia expanded the list of approved imported products to include more offal items, such as tongue root meat and lips, in addition to cheekmeat, headmeat, lips and tendons. Rumps are now admitted among a handful of secondary, primary and manufacturing beef cuts.
Indonesia is now Australia's fourth largest offal market, after Japan, Hong Kong (proxy for China) and South Korea.
Another market region to come under considerable competitive pressure from growing Brazilian beef exports is the Middle East, where Australia's beef exports last month reached 2500t, a little over half the volume of trade seen a year ago. Calendar year to date, the figure has reached 21,500t, compared with 36,000t last year, in the face of heavy price competition from Brazilian beef in the largest regional market of Saudi.
Grass and grainfed beef trade to the EU last month reached 1572t, virtually the same as the month but down from 2200t a year ago. Calendar year to date we have shipped 15,200t, much the same as last year.