WHILE some of the evidence is still anecdotal, there's a convincing case emerging that Australian consumers are eating more beef and lamb, as society adjusts to the unusual work and home life cycles under COVID-19 pandemic control measures.
A bunch of people involved in the supply chain are convinced that domestic beef consumption is now higher than the period before coronavirus struck a month ago.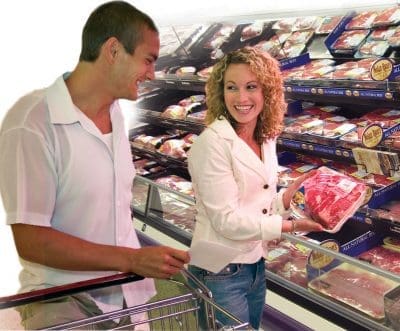 It seems that actions being taken by governments and citizens to curb the spread of the virus are bending consumer behaviour in never-before seen ways, and red meat sales are being impacted as a result.
While there has been a widely-discussed collapse in red meat sales into the food service sector since early March, following the closure of restaurants, hotels, clubs and pubs due to COVID-19 control measures, that has been displaced by the boom in retail meat sales through both supermarkets and independent butchers. Beef Central first wrote about the emerging spike in retail sales in this article back on March 16.
But even beyond that sector-to-sector trade-off that's occurring, and the stockpiling that has happened, feedback from a range of trade and industry sources suggests that overall domestic market red meat volume is currently growing.
Here's our summary of the sort of comments being received:
Home confinement means the topic of 'what's for dinner?' is now a common conversation-point among family members confined around the home, and beef is seen as a 'familiar and comfortable' base protein, that many family members are confident with, in terms of preparation and cooking
People working from home may be eating more red meat meals than normal each week. Instead of a tuna sandwich for lunch at the office, some are turning on the barbecue at home, and cooking mid-week burgers for the family for lunch.
Consumers are quickly realising that the same quality $60-$80 steak that they previously had at a nice restaurant can be consumed at home for a fraction of the cost.
There is some exceptional value in the market presently for beef primals that have been displaced from the now dormant food service sector. This correspondent last week bought F1 Wagyu rumps, marbling score 5-6 produced by one of the country's best-known Wagyu supply chains, for just $18/kg. Pack date wasn't an issue.
"All this is motivating Australians to eat more red meat – perhaps a lot more – than we have seen for a long time," a leading wholesaler contact told Beef Central this week.
In an interview with Meat & Livestock Australia managing director Jason Strong on Friday, he said some of the scan data MLA was receiving showed there was a 65pc increase in fresh meat sold at retail since February, after CoVID-19 started to emerge.
Talk in the trade was that the recent sales period for red meat was as good, or better than Christmas, Mr Strong said.
"And what happens at Christmas time?" he asked. "Everybody sits around at home, eating – pretty much exactly what they are doing right now."
Mr Strong said there was 'something in' the theory that domestic consumers were now seeking out red meat options more frequently.
While it was still very early data, MLA's Neilsen Homescan survey results showed the proportion of households buying fresh beef and lamb increased over March – as well as the frequency in which they bought it.
"So consumers didn't just buy more red meat, they bought it more often," Mr Strong said. "Some of the data coming through shows that March sales were higher than the Christmas period."
"Also, there is no question that butchers have gained market share as well – again, similar to what occurs at Christmas every year."
'Back to the future' in how to handle frozen beef
In response to the clear evidence that many consumers are stockpiling red meat for future use, part of what MLA has done has been to go 'back to the future', Mr Strong said, resurrecting some earlier consumer information about mince-based meal ideas, alternate cuts for home consumption, and most significantly, how to prepare, store and defrost frozen meat items.
"Given what has happened in the market since February, we have to ensure that consumers understand how to manage frozen products," Mr Strong said. "A lot of consumers today, especially younger ones, would be completely unfamiliar with freezing red meat, full stop – especially with modern packaging technologies like vacuum seal and MAP."
Queensland beef processor Nolan Meats has seen dramatic changes in wholesale beef demand over the past month.
"Three weeks ago was the peak, when consumers were running around stockpiling and freezing anything they could get their hands on," company co-principal, Terry Nolan said.
"Two weeks ago, that started to subside, and last week, we were still perhaps 10-15pc above previous sales. It may still peter-out a little, but we think volume, through butchers at least, may stay 5-10pc above pre-COVID volumes for some time," he said.
"Even the government's recent job-saver package has probably been responsible for injecting some extra confidence, and underpinning beef sales. But there's a lot of factors in play at present, so it is hard to provide a definitive explanation for what's occurring."
Mr Nolan supported the theory that overall domestic sales through all channels – butchers, supermarkets and what remained of food service – were higher than the pre-virus era, as consumers adjusted to staying at home.
While much of the recent attention had been placed on cheaper, easily-frozen items like mince, he said his company's better loin cuts had been 'in sync' with other parts of the carcase.
"It's marvellous how much better meat has sold over the past three weeks, as well as mince. I think what we are seeing is a belated barbecue season, brought on by people being at home together. Adding to that, it was a slow start to barbecue season last summer, due to bushfires and record high temperatures keeping people indoors."
Better cuts heading to the mincer
Another large wholesale contact told Beef Central that some better quality items were still being pushed into the mincer early this week. He knew of large volumes of reasonable quality rumps, with some age issues on them, being wholesaled for $8.50/kg into the market on Monday. At that price, some would be destined for the mincer, he said.
Some of that supply was meat returned from food service operators to their suppliers, now that they were shut.
The wholesaler said some sectors of the industry, such as portion-cutters (butchery businesses that specialise in taking while steak primals like striploins, cube rolls and tenderloins and slicing them into steak serve portions, with narrow weight tolerances, for the restaurant industry) were now either closed, or operating on a shoestring.
"Tenderloins, for example, that used to go into the hotel and restaurant trade remain incredibly hard to sell – sometime I can't attract a bid," he told Beef Central.
"The sweet cuts are terrifying everybody at the moment. It's very difficult to discover the market on some steak items – the market is where it is for each individual deal."
Questions surround Coles' decision to drop mince prices
In other retail red meat developments this week, national supermarket retailer Coles on Friday dropped its beef mince prices across Australia, except WA.
The move has perplexed market observers, at a time when Coles – like all red meat retailers in Australia – has recorded arguably its three best trading weeks for red meat sales in history.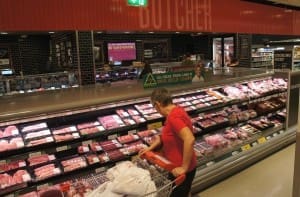 In a statement, Coles said it had slashed the price of selected beef mince to 'help to lower the cost of the household staple at a time when many Australian families are doing it tough.'
Heavily promoted in the weekend press, the company's Regular Beef Mince 500g went from $6 to $4.80 and Lean Beef Mince 500g went from $7.50 to $6.
Coles general manager for meat, Charlotte Gilbert, said Coles was "committed to helping lower the cost of dinner by offering great value on quality Australian meat."
She said the company had seen demand for meat increase astronomically as customers needed to cook at home more often, with more than five million packs sold over the past four weeks. At an average pack weight of even 500g, that equates to an additional 2500 tonnes of product.
"We have worked with our dedicated farmers to pull out all the stops to increase supply and offer great value to customers at this challenging time," Ms Gilbert said.
Coles also donated more than $650,000 worth of Coles beef mince to food rescue organisations SecondBite and Foodbank, which provided essential meals to the most vulnerable in our communities.
Despite Coles dropping mince prices, Woolworths has not be lowering its prices to match – instead offering deals on salmon and lamb cutlets in the lead-up to Easter.
Beef Central requested a dialogue with meat general manager Charlotte Gilbert to better understand the move, but did not hear back.
Two theories
Two theories have emerged around Coles' discount mince strategy. Neither have anything to do with Coles' apparent altruism towards consumers during difficult times.
The first is that it is intended to win-back consumers who may have 'drifted' towards independent butchers during the unusual last three weeks of trading, in the COVID-19 era. As described earlier in this article, there is no doubt that butchers have done exceptionally well in terms of turnover in the past month – takings have almost doubled in some stores – and are still considerably above average. "Coles is now trying to eat into that trust-bank that consumers tend to establish with their friendly local butcher, and give you 20pc off," an observer said.
The second is that Coles had been caught with a massive oversupply of grinding meat, as retail meat sales have tailed-off sharply over the past week or two, from extreme highs seen a week or two earlier. It is widely known that Coles bought large additional volumes of lean 85CL trim from the general wholesale market earlier in March as the retail meat frenzy first took place. The company was also conspicuously buying unusually large numbers of cull cows through the saleyards system three or four weeks ago, to generate its own manufacturing meat supply – apparently to meet the huge spike in mince demand.
That cycle appears to have turned more quickly than Coles anticipated, with supermarket chilled cabinets last week clearly showing that consumer buying patterns have returned to much closer to normal. Limits on the amount of meat and milk consumers can buy have now been lifted at both Coles and Woolworths.
A 'special' on mince may have been the solution arrived-at by Coles, to clear a large backlog of product. And the facts that a) the 'special' started on Friday, and finished just four days later, and b) was not included in Western Australia, which has its own self-contained beef supply chain, supports the second theory.