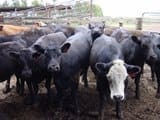 The Angus breed continues to dominate certified branded beef programs in the United States, recent data suggests.
In 2001 there were 41 USDA-certified branded programs in existence, with 30 of them (73pc) incorporating the word, Angus.
Of the 111 USDA certified brand programs identified this year, 68pc referred to Angus. Within the premium USDA Choice and Prime program category, Angus accounted for 12 of the 20 programs (60pc) in 2001 and 24 of the 42 programs (57pc) today.
Some analysts say that's not surprising, given that Certified Angus Beef (CAB) program is the oldest and largest brand program in the US.
Its success saw other programs emerge using the word Angus, but usage has declined slightly in the past ten years relative to the increase in the number of USDA-certified programs. This suggests that developers of branded programs have looked for new ways to differentiate their products from others, apart from breed. It might also reflect the tight supply of Angus-influenced cattle as the CAB program has grown, analysts say.
Another suggestion put forward is that the word 'Angus' loses cachet, if it becomes too commonly used in brand programs.
An example of this is the use of the word, 'Wagyu' in a deli-sandwich product recently launched in Australia by Subway. Some critics suggest such identity, when used at the lower-end of the food service spectrum, diminishes, rather than enhances the value of 'Brand Wagyu.'