THE last of the assets held by the failed Chinese-owned beef supply chain business Harmony Agriculture & Food Co has come to market.
The Westbeef feedlot located in Western Australia's wheatbelt region will be sold by Colliers International, operating under instructions from the receivers, with an expressions of interest campaign closing 16 April.
The feedlot was bought in early 2016 for $4.25 million as one of parent company, Dalian Hesheng Holdings' first Australian assets.
The facility is registered for 7500 Standard Cattle Units, with more than 900ha of farming country located at Burakin near Lake Moore, 250km north-east of Perth.
The feedlot is on the doorstep of WA's northern pastoral zone with large scale extensive cattle operations, and it also has access to abundant sources of grain and fodder from the local grain industry as well as the benefit of its own large area of cropping land surrounding the feedlot.
In addition to cattle finishing, the yard can also be utilised as a quarantine depot and spelling facility, with the two service offerings providing additional revenue opportunities, marketing agents said. Live export market access is via the port of Freemantle, 260km to the south-west, while the state's three largest beef processors with multiple export market accreditations are within easy reach.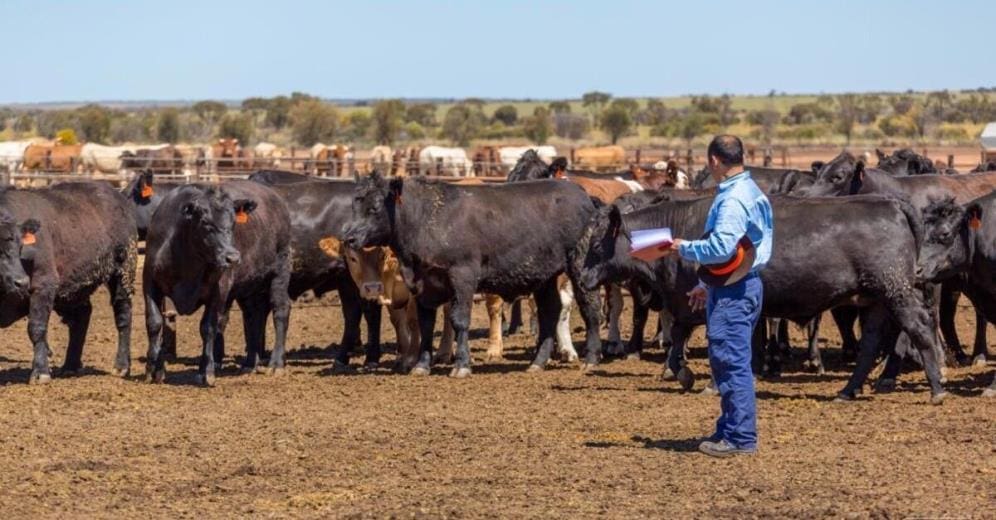 Financial trouble
Former owner Harmony built up a business since 2016 feeding up to 17,000 cattle across three Australian feedlots including two company-owned facilities at Gerang Gerung in Victoria, and Westbeef in Western Australia, as well as custom feeding F1 Wagyu at Hell's Gate feedlot in NSW. The product was custom-killed and sold into China under company-owned brands.
In July last year, Beef Central wrote that NSW lotfeeder JHW Paterson & Son, operators of Hell's Gate feedlot, had filed an application in the Federal Court to wind-up the business over non-payment of debts totalling $5.4 million. In September the Harmony business went into liquidation, with major creditors included the National Australia Bank.
Location, infrastructure
In addition to the surrounding farming country, the well-designed and constructed Westbeef feedlot infrastructure includes 41 main feeding pens, a further 11 larger holding pens, induction yards, undercover work area and yards including race, pound, hydraulic crush and loading ramp. The yard is equipped with a feedmill, extensive grain storage, commodities shed, hay sheds, offices, weighbridge, transportable accommodation, and fertiliser, machinery and storage sheds.
The property has multiple bores and access to the Goldfields and Agricultural Water Supply Scheme water.
Colliers International's head of agribusiness transactions, Rawdon Briggs, said there had been a noticeable trend towards custom feeding facilities, largely driven by beef producers seeking a finishing system to ensure they can provide a consistent product to the market year-round.
"Custom feeding has also allowed feedlot operators to de-risk their businesses by removing the need to fund the purchase of cattle on feed," he said.
"While demand has been improving, buyers remain focused on quality assets within strategic locations to fodder sources and/or their preferred source of cattle, and in this regard, WestBeef is well-placed," Mr Briggs said.
Here's what has happened to Harmony's other Australian assets:
Rancho East:
Located near Esperance in southern WA, Rancho East is a 1600ha property combining backgrounding for 2000 head and a newly-commissioned 4000 head capacity feedlot. The property utilises cell grazing, and is a fully-licenced pre-export quarantine facility. Rancho East was put on the market late last year, and has since been sold.
Mt Fyans:
Located in the western districts of Victoria, Mt Fyans is a 6000ha grazing showcase property running up to 10,000 head of cattle, bought by Harmony in 2016 for a reported $34 million. Harmony re-sold Mt Fyans for $37 million to Riverina sheep farmers Ian and Camilla Shippen in December 2018. Reports at the time said Harmony was exiting the property as it "recycles investment elsewhere into its livestock production and export business."
Dimboola feedlot:
Previously known as Gerang Gerung feedlot and quarantine facility, Harmony bought the western Victorian business located on prime west Wimmera cropping country in March 2018, paying $3.1 million. The property is now renamed after its location. It was offered for sale in September last year for $5.4 million, but it is unknown whether the property has been sold.
WestBeef feedlot is for sale by expressions of interest, closing Thursday 16 April. Contact Colliers Jesse Manuel: 0421 550 242.