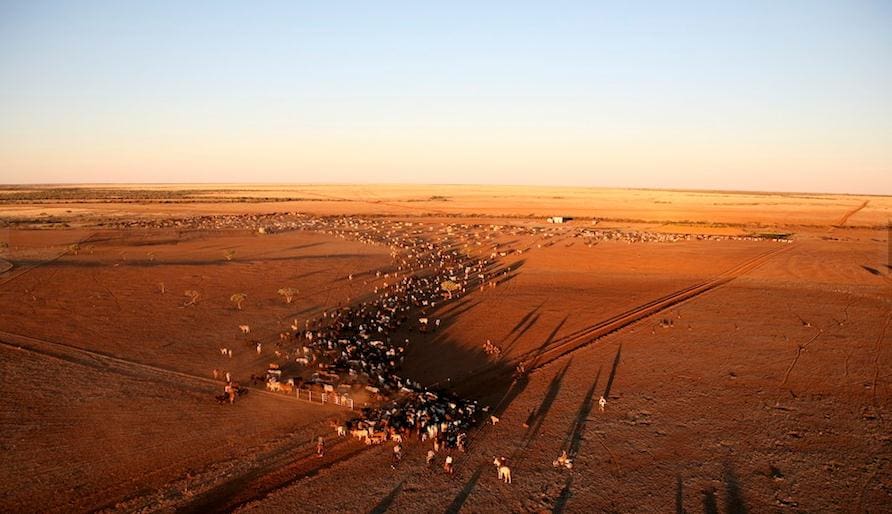 LARGE-SCALE beef assets are in hot demand, especially if they are well-stocked, well-developed and come with a sound reputation, according to the latest Rural and Agribusiness Research and Forecast report issued by Colliers International.
The company's rural and agribusiness valuation director, Shaun Hendy, said while current seasonal conditions are still a factor in some property transactions, they won't deter buyers who are in the market to participate.
"There hasn't been a slowdown in the top-end of the market. Rural properties geared towards beef production are some of the most sought-after assets by agribusiness investors," Mr Hendy said.
"Demand is strong despite the seasonal conditions and the transactions, usually done on a walk-in walk-out basis, are happening at any time."
Meat & Livestock Australia believes higher than long-term average beef prices can be supported by stronger fundamentals in the market place and this, according to Colliers, will continue to support demand for beef properties going forward.
Mr Hendy said demand for large-scale grazing operations Australia-wide remains very strong presently, with interest from the international, national corporate and domestic sector.
Active recent buyers at the upper end of the market included:
Paraway Pastoral Co
Rifa Salutary
Laguna Bay Agricultural Fund, and
Gina Rhinehart's Hancock Prospecting (HPPL)
Mr Hendy said demand and the prices being paid for large, quality assets were being driven by limited listing opportunities, neighbour-to-neighbour sales keeping outside money from coming in, and big picture perspectives – in terms of how a particular asset contributes to the broader business objectives.
In recent times, a number of notable properties with strong individual reputations have transacted, including the S. Kidman & Co portfolio, Nappa Merrie in the Channel Country of Queensland, Aroona Station in the Northern Territory, Clover Downs in Western Queensland, Maydan feedlot near Warwick, Tedlands near Sarina and the showcase Central Queensland grazing property Tumbar.
Mr Hendy said Tumbar had a tremendous reputation and it was well deserved.
The 68,000ha grazing property was sold towards the end of last year for $67.5m on a walk-in walk-out basis, including an 8000 head Angus-cross herd worth about $10m, to the Hughes family's Georgina Pastoral Co.
Recognised as one of the best developed cattle properties in Queensland, Tumbar had more than 50,000ha pulled and sown to buffel grass. It features extensive water improvements, including a 2km grazing radius to water, underpinned by a network of 400 troughs, 56 dams and bores.
Mr Hendy said it was exceptionally well-developed and had a good history of productivity.
"That type of asset doesn't come onto the market very often and it's an example of what we can see going forward: individual, above-average scale assets that are not part of a big corporate portfolio, but could be easily acquired by one, or by an existing larger producer," he said.
Such sales had set the benchmark for further large cattle portfolio sales throughout Australia.
"On analysis, these sales are showing strong support on a $/adult equivalent (AE) basis, with premiums paid for stocked, well-presented properties with location, scale, good development and sound reputations."
Mr Hendy said the quality of individual assets was measured by how well they were set-up in terms of infrastructure, the level of capital that needed to be spent and price expectations.
"Ultimately, the market is driven by who is out there looking, at that point in time."
"Graziers are trying to build-up cattle numbers, so properties offered with a decent breeding herd are more attractive. The difference in interest between one place and another might just be the quality of livestock that are included in the transaction."
While there was strong investment evident from the domestic side, North America was one international investor source looking at opportunities in the Australian beef space, he said.
"We expect that interest will continue for quite a while. In the meantime, Colliers is aware of several confidential property transactions in negotiation, including a large family portfolio in Northern Australia."
Now is a good time to sell
Mr Hendy said there was a strong appetite for beef cattle assets and now was a good time to sell.
"Given the current prices, it is a good time to trade up from a second-tier property to a first-tier holding.  Now may be the best time for vendors to achieve the best price for a second-tier property, with a more favourable trade-up for that step-up in quality."
He said first and second-tier properties were determined by their level of development – fencing, waters, quality of infrastructure and suitability for purpose (breeding, backgrounding and finishing capabilities).
"Properties with a really good history of finishing and producing fat cattle will always be regarded as a 'first-tier', no matter what price bracket they are in. It comes down to reputation and market perception. Central Queensland, which boasts some excellent cattle country and seasonal reliability, is a good example," he said.
Changing business models
Mr Hendy said what had become obvious was that some successful producers (family enterprises) had changed their business model (in terms of how they run their enterprises) to generate cash flow.
"They are working their capital more efficiently by trading more cattle, shorting-up their cash flow, adding value to a beast and moving it on. They are taking that profit gain and then replacing it – in other words, turning over their livestock inventory more frequently," he said.
"The value chain has become more fragmented with more steps between birth to processing, with a beast likely to have changed ownership more than once or twice."
There was an increasing requirement to provide detailed backgrounds regarding the past performance of properties to complete the higher-end transactions, he said.
"If owners of agricultural properties believe they have a top-shelf property, they need to prove it with production performance records over the last five or ten years, including cattle numbers, turn-off, average weights and prices, as well as costs of production."
Mr Hendy said most investors appreciated that agricultural properties don't stand still, and are continually evolving and developing.
"A property might not be the same today as it was ten years ago. It may be substantially more productive, but that growth needs to be complemented with a story as to how it evolved from A to B."
"It needs to include program implementation – the amount spent on capital expenditure to increase an effective grazing area or implement pasture improvements."
He said new investors might not always understand how these enterprises were run, but they were 'savvy' about understanding business.
"They might not know how to run a place on a day-to-day basis, but they need confidence in who they are investing in; understanding what drives the business to control costs and produce a quality product efficiently, in order to drive profit."
Predictions for the remainder of 2017
After a period of strong demand and improved values for grazing land, Mr Hendy said values were now likely to plateau.
"There are still some areas that are trailing and might need to catch up, but overall, the grazing property market should start to level out. As a result, producers need to ensure they do their numbers on a sustainable cattle price.
Most recognise prices are still close to as good as they have ever been, and don't expect them to be around forever."
In addition, he expects to see more joint venture investments in future.
"There will be more signs of equity capital from outside the industry entering existing family-based operations. Existing successful platforms will be used to expand operations and create more agribusiness-style operations to establish a point of difference in their businesses and management to maximise returns."