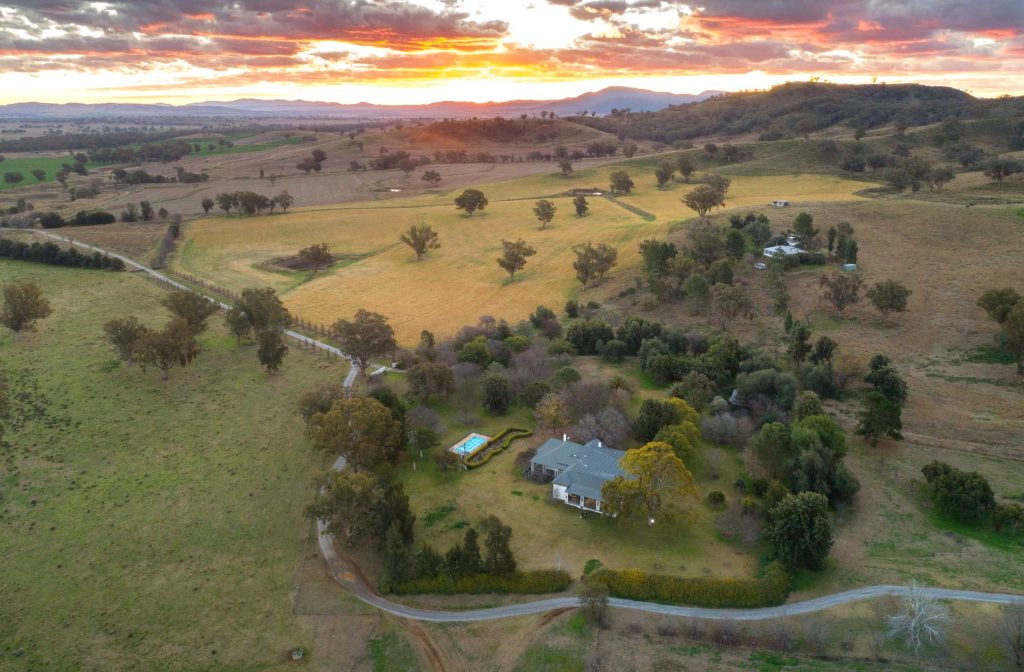 FOR the third year running, the grazing property transaction space saw Australian farming families continue to expand their businesses in 2022, with a scarcity of properties offered putting upward pressure on land values.
In our final weekly property review for the year, industry experts reflect on the year that was.
Mark Barber, Elders
Mark Barber, Elders general manager, farmland agency and agribusiness investments said the key features of the farmland market in 2022 was continued strong price appreciation and a further decline in transaction volumes.
"However, 2022 saw a substantial rise (almost 65 percent) in the number of transactions over $20m. The rise in large-scale transactions is due to property price appreciation and the long-term trend of consolidation in Australian agriculture."
Mr Barber said the strongest competitors in the farmland market across almost all market segments continues to be larger family farms looking to grow their businesses.
"The rationale for this seems to be twofold – growing their business to continue to achieve economies of scale, and the relative security and financial performance of farmland compared to other sectors of the economy at present."
Mr Barber said there had been some fierce competition between family farms during sales processes and auctions this year.
"Perhaps the most important lesson from 2022 will be the resilience of the rural property market in Australia. The market has remained robust despite rising interest rates and input costs, climate impacts, and macro-economic certainty."
"What we sometime overlook is these factors are affecting all sectors of the economy, but agriculture's relative performance has meant asset values have continued to appreciate," Mr Barber said.
David Goodfellow, CBRE Agribusiness
CBRE Agribusiness managing director David Goodfellow said many beef cattle businesses have recorded revenues well in excess of double their five-year average.
"It has been a wonderful year with beef prices at record highs and above average rainfall recorded across over 87 percent of Australia's total land area."
Mr Goodfellow said in further good news, the extensive grazing industry has been less exposed to rising input costs, such as fertiliser and chemical costs.
"Compared to more intensive grazing, cropping and horticulture businesses, a large portion of the rising revenue for extensive grazing businesses is being converted directly to rising net farm profits."
Mr Goodfellow said as a result, most beef grazing businesses are doing very well and, on the back of rising rural land prices, have strong balance sheets and capacity to further expand their businesses.
"On this basis, we are seeing solid confidence in the beef property market and increased competition for grazing land available for purchase."
Mr Goodfellow said market competition, right now, is diverse and generally coming from five groups.
Families
Family grazing businesses have strong balance sheets off the back of two successive good years and have the capacity to expand. Agriculture is experiencing a very strong wave of interest from the next generation who are keen to make agriculture their own career. Parents with more than one child looking for a career in agriculture, now with the capacity to expand, are seeking to acquire additional properties so they can look after their next generation and potentially hand over the same privilege as they received themselves.
Corporates
The corporate grazing sector is cashed up after two successive good years, but also has the strong confidence of its shareholders to apply more capital for further expansion.
Financial institutions
Financial institutions are looking to deploy more capital into agriculture, particularly the grazing sector, recognising it has proven to be a good hedge against inflation, particularly in low-input operations. Furthermore, the global financial institutions who watch, analyse and act on global trends are seeing the continuation of growing demand right across Asia and Europe for more meat-based protein in consumer diets. This is leading to further optimism in the outlook for beef prices and the performance of the beef production sector.
High-net worths
The high-net worth sector, particularly those individuals and families who have done very well in other business lines during the recent pandemic years, want to invest in agricultural land because they see rural land as a 'safe' investment – a good place to park established wealth that, one day, can be borrowed against when other investment opportunities arise.
Environment and carbon investment
The environment and carbon investment sector is growing rapidly as many industry players embrace a commitment to be carbon neutral within a particular timeframe. There is growing confidence in the practices and economics of carbon faming, with an increasing number of projects delivering tangible results. This confidence in how carbon farming actually works in Australia is being reflected in increased commitments for further investment into credible projects with good operators already in place.
Mr Goodfellow reports Australia remains a highly credible investment destination for many foreign investors, and this consistent inflow of new capital is continuing to bolster rural land values.
"The local farming community has shown increased support for foreign investment since the FIRB tightened regulations to ensure that appropriate levels of taxation are collected in Australia – especially when foreign-owned corporates experience very highly profitable years."
Mr Goodfellow said it is not just new money coming into Australia that helps, but also new ideas about farming innovation.
"Agriculture is benefitting from new management practices and technologies introduced by investors following their success in other countries."
In 2022, the biggest transaction for CBRE was the sale of Shenhua Coal's large aggregation of land in north-west New South Wales purchased for a coal mine. It was sold for circa $120m and returned to Australian agriculture.
Another significant transaction was the sale of Jimarndy, a 17,368ha grazing property running approximately 6200 adult equivalents in the Rockhampton region for around $48m.
Right now, CBRE Agribusiness is in the process of selling the portfolio of three large cattle stations held by Packhorse Pastoral Company following the tragic loss of its co-founder Tom Strachan.
Mr Goodfellow reports this portfolio is receiving interest from the family farming sector, corporate sector and the financial institutions and is expected to be worth in excess of $120m.
Col Medway, LAWD
LAWD senior director Col Medway said the 2022 selling season has drifted later this year than it ever has and while the institutions have been strong, farmer-to-farmer sales have been driving the smaller end of property market.
"That is now starting to thin, and the level of enquiry is starting to get back to what I would consider more 'normal' levels. Instead of six, seven or eight prospective purchasers running on a place, it has returned to two or three."
Mr Medway identified interest rates and serviceability as having an impact on demand.
"Personally, interest rates shouldn't be a concern, but many people have a much shorter-term view – which surprises me."
Mr Medway believes Australia is heading towards a two-speed market.
"Expansion aspirations among domestic producers is starting to cool, but overseas investment enquiry is ramping up because Australian land is considered value for money due to the exchange rate."
Mr Medway said the $110m sale of the 4448ha Vaucluse – a large irrigated and dryland cropping aggregation in Tasmania – was one of the biggest deals of the year.
Mr Medway said $8.4m paid for two blocks carved off Culcairn's Dalriado portfolio, described as some of the most productive grazing and mixed farming country in south-eastern New South Wales, was a very strong result.
LAWD recently sold the 835ha Windella – a livestock breeding platform in the renowned Monaro region of New South Wales. While Mr Medway was unable to disclose a price, he said it made in excess of the $5.7m – $5.8m price guide. He said when larger blocks are offered to a thinly traded market, they are chased pretty hard.
Mr Medway said LAWD had marketed and sold 'a heap of little deals' mostly in southern New South Wales and the Eastern Riverina.
"There has been a very strong uplift in nearly every part of New South Wales and Australia. While one region can't be singled out, mixed farming county in southern New South Wales through to Victoria's Western District has been making phenomenal prices."
Will Gurry, JLL Agribusiness
Will Gurry, JLL Agribusiness national director of valuations and advisory, said 2022 witnessed the continued resurgence of the family farming business as a key player within the agricultural property market.
"Relatively cheap debt and strong farm income encouraged the expansion of these businesses. This was evident throughout the first half of 2022 with market activity indicating a capital growth in excess of 20 percent per annum."
Mr Gurry said the second half of the year was impacted by La Nina climatic conditions and the inevitable rise of interest rates.
"Both factors appear to have slowed the rural property market from the previous buoyancy experienced during late 2021 and early 2022."
"Buyers also appear to be undertaking greater due diligence when approaching transactions. This has resulted in prolonged marketing campaigns and some properties not selling within the typical six week campaign," he said.
Mr Gurry said high quality properties appear to have been impacted the least, with a number of blue-ribbon farms transacting at strong price levels before auction or the closing of expressions of interest campaigns.
"Less desirable properties (small scale and/or secondary location) appear to have been impacted the most, with a number of properties being passed in at auction during early spring 2022. Vendor's price expectations appear to require some adjustment."
Mr Gurry said uncertain economic conditions (including future interest rate rises, inflation and global trade relations) are expected to slow down the strong price growth experienced during the last two years.
"Corporates may see this as an opportunity to re-enter the market in regions/sectors that represent good value for money."
Southern Queensland
Most regions have conservatively experienced a 20 percent market growth over the last 12 to 15 months, with some well exceeding that level. More recently, strong demand has been limited to highly developed and well sought-after properties, and a longer selling period for less appealing properties. Despite interest rate rises, market demand remains driven by family purchasers for most asset classes. Sales activity slowed in the second half of 2022 but generally, prices still remain very firm. Very wet conditions affected marketing campaigns and it will be interesting to see how the market opens up in the new year. A slow moving, small correction is anticipated throughout 2023.
New South Wales
Similar to many regions across Australia, sale numbers slowed in New South Wales. Despite a solid number of listings in spring, buyers appear to be taking longer to complete due diligence and are not rushing in to secure properties as quickly as they were 12 months ago.
Western Victoria
In recent months, a number of large-scale properties in Western Victoria sold to predominately interstate or 'out of district' buyers. Examples of these transactions include:
The 1013ha blue ribbon grazing property Wykeham, Dunkeld in Victoria's Western District, was purchased by the Coughlan family from southern New South Wales for $22.5m ($22,111/ha).
The 2085ha Western District mixed livestock opportunity Willah, 60km north of Hamilton, was purchased by the Ellis family from South Australia's Lower South-East for around $27m.
This trend differs to 2021 sales which saw a number of local families acquire large scale holdings. At the smaller scale end of the market, a number of properties have passed in at auction during spring 2022. Rising interest rates appear to be impacting neighbour to neighbour transactions, and vendors wanting to achieve a sale in the current environment need to 'meet the market'. It appears evident the strong asking prices of late 2021/early 2022 were not well received by current market participants.
South Australia
As with the wider Australian market, high quality properties publicly offered for sale continue to set district records, with interest largely received from local farming families. Limited interest is being shown from corporate purchasers within the South Australian market with the exception of the Eyre Peninsula. Lesser quality properties are receiving lower levels of interest, with purchasers showing higher and longer levels of due diligence. The spring selling season has seen a number of properties pass in at auction, with a number of sales negotiated afterwards, indicating a level of caution which has not been witnessed in the market over the past 18 months.
Tasmania
Favourable climatic conditions and irrigation opportunities continue to drive demand for agricultural land within Tasmania.  A limited supply of good quality properties continues to be an issue, with very few large-scale properties offered to the market in recent years. An increased number of mainland investors have withdrawn from north-west Tasmania in recent months.
This is Beef Central's final weekly property review for 2022. We wish all readers and our property industry contacts across Australia, a Merry Christmas and a safe and happy New Year. Our weekly property reviews will return in January 2023. In the meantime, readers may be interested in perusing our "Properties for Sale" listings or our "Recent Property Sale Results" – both featuring easy-to-use search functions –  Linda Rowley, property editor.