THIS week's property review includes this wrap-up of recently completed sales, and a separate article on interesting recent listings across the country.
Rural identity Tim Fairfax expands his portfolio
TA Field secures Aberfeldy in $24m deal
Holbrook's Stonehaven makes +$11m
Locals buy blue ribbon Riverina holding Wirralie for +$12m
SA family pays $9-$10m in first foray into NT
Well known Nth Qld producers secure Mt Surprise country
Rural identity Tim Fairfax expands his portfolio
Well known pastoral identity and philanthropist, Tim Fairfax AC has added Central Queensland's Caledonia Station to his property portfolio.
Mr Fairfax is chairman of the Tim Fairfax Family Foundation and director of the Vincent Fairfax Family Foundation. In earlier times he and his brother John B, were major shareholders in Rural Press, publishers of rural weeklies including The Land, Stock & Land, Stock Journal, Farm Weekly and Queensland Country Life.
These days he operates nine rural properties in Queensland and New South Wales involving beef cattle, fine wool and grain.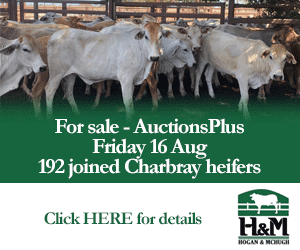 Caledonia is a 30,100ha safe and reliable breeder operation, located 110km from Aramac. It features diverse country comprising gidgee, iron bark/box and spinifex.
When it was offered in March this year, the selling agents (Landmark Harcourts, Slaney and Co and Simstock Rural), were overrun with inquiries from grass-hungry producers from Blackall, Augathella, Rockhampton and Clermont.
The vendors, Glen and Laurel Cameron, who have owned Caledonia since 2002, have been running 2000 breeders and carrying some stock through to slaughter.
The property is estimated to run between 3000 to 4000 dry cattle, depending on the season and the age of the cattle, but further development could increase the carrying capacity.
Caledonia has enjoyed three good seasons and has most recently received good rain. There are five flowing bores, three of which are capped.
Hundreds of kilometres of new fencing have been installed and eight exclusion paddocks are secured with vermin-proof high mesh.
The Camerons will now relocate to their other property, Meadowbank Station near Mt Garnet.
TA Field secures Aberfeldy in $24m deal
Iconic pastoral family TA Field Estates has secured Aberfeldy, one of southern Australia's most notable rural holdings, for around $24 million.
The new owner is a famous business name, for more than a century associated with Australian sheep and cattle grazing and red meat processing.
The last reported property purchase by TA Estates was in November 2015 when it paid $10.3m for the showcase 2000ha NSW Northern Tablelands properties, Doughboy Mountain and Mirrugalee.
The previous year, the company purchased the NSW blue-ribbon dryland wool farming properties Mobinbry and Wilby at North Star for more than $25m.
Headed by fourth-generation family member Michael Field, the company runs one of the nation's biggest Merino sheep flocks on a network of blue-ribbon NSW properties, including nearby Congi Station near Walcha, Wyvern Station in the NSW Riverina, and Woolbrook and Benangaroo Station at Jugiong.
It supplies some of the world's top fashion houses with the fine wool.
Aberfeldy is a 1771ha historic Holbrook district holding that once formed part of the famous Kinross Station owned by the leading pastoralist and pioneering Ross Family.
Steeped in history, the sale marks the second time that the holding has been sold since it was settled in 1867.
Renowned for its productivity and versatility, Aberfeldy is located 16km north of Holbrook and 80km north east of Albury/Wodonga.
It boasts a 9km double frontage to the Billabong Creek and is watered by three bores, 19 surface dams, a fully reticulated trough system and a 195 megalitre irrigation entitlement.
Ninety percent of the property is arable, comprising rich alluvial creek loams to soft red loam undulation.
Aberfeldy can carry more than 10,000 composite ewes or 1000 breeding cows, plus crop and fodder production.
TA Field Estates acquired the asset on a walk-in walk-out basis (including livestock, plant and equipment, feed on hand and consumables) from First Australian Farmland (the major shareholder is Swedish pension fund giant Första AP-fonden).
The transaction was handled by Nick Myer and David Gittoes from Elders Real Estate following a formal expression of interest process.
The sale follows a recent trend reported by Beef Central, where foreign owners have sold grazing land back to domestic buyers.
Holbrook's Stonehaven makes +$11m
Stonehaven in New South Wales' renowned Holbrook district has been purchased by fourth-generation dairy farmer Travis Cox and his wife Julia for in excess of $11 million.
Earlier this year, the pair sold Bembaala Farms aggregation at Katunga, in Victoria's Goulburn Valley, to Australian fruit and vegetable king Robert Costa for $7.1m. His company, goFarm, is seeking to purchase 28 dairy farms in the area for around $100m and convert them to higher-yielding almond orchards.
Situated 19km north of Holbrook and 76km south of Wagga, Stonehaven once formed part of the historic 28,300ha Kinross Station held by generations of the Ross family.
Three years ago, more than 100 years of Stonehaven ownership came to an end when Neil and Jacqui Ross sold and moved to Albury for education reasons.
At the time, a local farming and grazing syndicate successfully fended-off interest from overseas to secure the 2600ha property – one of the last remaining large-scale farming/grazing holdings in the eastern Riverina.
While no price was disclosed at the time, Stonehaven carried an indicative price of $10.75m to $12m ($4200/ha to $4690/ha).
Today, the syndicate has changed direction and has halved the Stonehaven holding – selling off the 1295ha with all the improvements and keeping the balance.
Located in a secure 675-700mm rainfall district, Stonehaven features quality water infrastructure, including 22 dams, a fully reticulated water trough system, plus two good capacity stock and domestic bores.
The country is a balance of productive alluvial creek flats to gentle rising red loam to low granite hill grazing making it suitable for grain, fodder and livestock production.
Lime and fertiliser inputs have enhanced the property's pasture/lucerne, cropping and fodder production. It is currently rated at 18,000 dry sheep equivalents.
Locals buy blue ribbon Riverina holding
A young Wagga Wagga family with rural interests has secured the blue ribbon holding Wirralie in New South Wales' eastern Riverina.
Spanning 1040ha, the property, pictured at top of page, is located at Ladysmith in the highly regarded Kyeamba Valley, 29km from Wagga Wagga and 68km from Gundagai.
Wirralie was passed in at auction for close to $12 million but sold shortly afterwards for an undisclosed price.
Owned for 30 years by Peter and Janet Bowen, and managed and operated by their son Matthew, Wirralie was once home to the Cotswold Simmental Stud. It has been operating as an Angus beef enterprise running 680 cows joined to Wagyu bulls to produce F1 weaners for feedlots in NSW and Queensland.
The country on Wirralie has been progressively developed as a high return pasture-based production unit that can carry 13,000 DSE. It could also run prime lambs and grow wool, cereal crops and oilseeds.
Wirralie boasts a long history of investment in productivity including fertiliser, lime and compost. With 95 percent arable, soft rolling, heavy red fertile soils, a large proportion has been sown to high performance perennial pastures, including phalaris, clovers and rye grass.
Permanent water is supplied from two reliable ground bores, which reticulate to 32 concrete troughs and a network of 46 surface dams and by the Brennan's, Black Jack and Coreinbob creek systems.
Sam Triggs from Inglis Rural Property said Wirralie is one of the premier pastoral holdings of southern NSW.
"The agronomic investment has been substantial. It is impressive for country in that area and of that size to run almost 700 cows. There are outstanding working improvements, including a substantial undercover cattle complex and 25km of new fencing," he said.
SA family pays $9-$10m for Mt Skinner in first foray into NT
The McCormack family from South Australia has paid between $9m and $10m, including 2600 mixed cattle, for Central Australia's Mount Skinner Station.
It is the McCormack's first foray into the Northern Territory, but the country they have purchased is believed to complement their current operation.
Situated on the Sandover Highway, 200km north east of Alice Springs and 80km east of Ti Tree, Mount Skinner was established by John 'Jock' Nelson in 1952.
Mr Nelson was a well-known figure in the NT. He was a Labor MP for 17 years, mayor of Alice Springs and then NT Administrator.
Three generations later, his family continues to run the 3036sq km cattle enterprise. However, the time has come for Rhonda and Spook Barber to move closer to family.
Mount Skinner has large areas of flood-out country, low lying and range country, as well as creeks and valleys. It has been conservatively stocked but can carry around 3000 breeders. Included in the sale are 2615 Poll Hereford cattle – most of which are organic USDA accredited.
Back in April, when the property was first listed, Jock McPherson from Territory Rural said the well cared for cattle station had been owned and operated by the one family for nearly 70 years.
"Mount Skinner is extremely well maintained. The station plant is in very good condition and there is an opportunity for low cost expansion and development," Mr McPherson said.
Recently, the eastern side of the station has received rain, there is an excellent underground water supply and a good body of dry feed with large areas of buffel.
Well known Nth Qld producers secure Mt Surprise country
The Lethbridge family from Werrington Station at Einasleigh has paid around $6.5 million, including 2000 head of mixed cattle, for the large northern grazing holding Amber Station.
The Werrington Cattle Co is a commercial beef cattle breeding, growing and fattening enterprise running more than 10,000 head of cattle on 19,500ha of natural eucalypt forest country, 250km west of Townsville and 200km north of Hughenden in north Queensland.
The Lethbridges also operate Rainmore Station, a 27,000ha property near Alpha in central Queensland.
Russell Lethbridge is a well-known Northern beef producer who sits on the board of Meat & Livestock Australia.
Amber Station is a versatile well-improved 103,000ha breeding operation about 50km north of Mt Surprise that consistently runs 4000 to 5000 mixed Brahman cross cattle.
The property's dominant feature is water, with a 30km double frontage to the spring-fed Lynd River and year-round spring fed inflow from the Fossilbrook and Saltwater Creeks.
The Fulford River, Eight-Mile Creek, numerous gullies and rock holes provide seasonal waterholes and valuable grazing frontages, and an extensive network of 26 substantial dams completes the stock watering matrix.
The country includes numerous creek and river flats and is intersected by ranges and rocky outcrops with soil types being mainly decomposed granite, sandy soils, alluvial watercourse frontages and an area of basalt soil.
Henry Slaney from Charters Towers-based Slaney & Co said with further development and a supplementary feeding program, Amber's carrying capacity has considerable upside.
The property is ideally placed to provide a reliable supply of weaners to southern fattening properties or feeders to live export markets.
The vendors, the Collins and Wilson families, will consolidate back to their existing Central Queensland holdings at Cardington at Mingala, south of Townsville, and Leura Station at Marlborough.