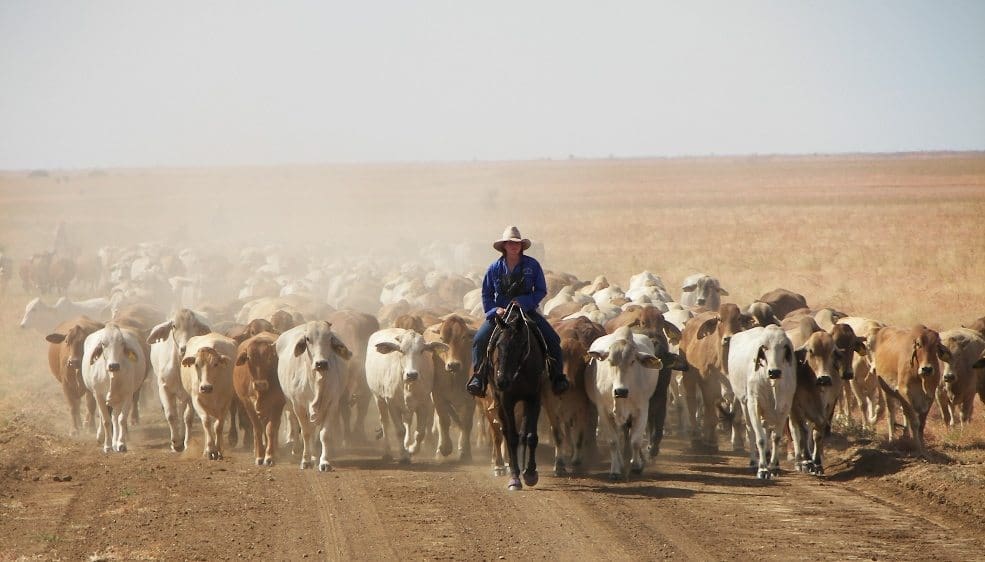 IN THIS second instalment of a two-part series discussing due diligence over beef property acquisitions, a number of industry experts explain how carrying capacity is crucial to valuation, indicating to the buyer and financier what the cash flow has been and is predicted to be.
Click here to view last week's opening instalment, and a string of stakeholder reader comments:
Steve Petty, Spektrum
Steve Petty, the director of the Kununurra-based northern cattle industry consultancy Spektrum, said two key variables are usually used to assess stocking rates.
"The first is the sustainable carrying capacity of individual land systems within the property – the base resources. Then, people examine the impact of the infrastructure to allow cattle access to pasture resources (watering points and fences) to determine how well distributed the cattle are across the property."
"Rainfall reliability, historic stocking rates and any available data on neighbouring properties are also scrutinised," he said.
Carrying capacity & values
Dr Petty said once the carrying capacity is determined, it is multiplied by what the buyer or valuer determines is the beast area value in that region.
"A vendor might estimate his property can carry 10,000 adult equivalents. If the beast area value is worth $1200, then the land value equates to $12 million plus the cattle, plant and equipment."
Dr Petty agreed there were vendors who go to market with over-inflated carrying capacity to lift the price of their property.
"There are numerous examples of purchases where people have done their due diligence and an independent assessment of carrying capacity shows there has been an overinflated view of what the place can carry. It is a standard sales technique. People selling a car do the same thing – they try to get the best price."
Dr Petty said the rate is often based on the stock carried on the property at the time of sale, as opposed to a more objective calculation of the sustainable carrying capacity.
"A property could be carrying more cattle due to good seasons and if they sell, the cattle numbers at that time may not reflect what the long-term sustainable carrying capacity of the property is."
He urged potential buyers to seek as much information as possible.
"Interested parties don't put enough time into understanding what a property can run. Understanding stocking rates will equip people with a clearer picture of what that property's potential value is."
Martin Pentecost, Grow Financial Group
Martin Pentecost from Central Queensland's finance and agribusiness consultancy Grow Financial Group said some valuers and bankers were concerned that some of the high property prices being paid in Queensland and the Northern Territory were unsustainable.
"In some areas, there is a bubble in the rural property market. The inflated prices appear to be fuelled by strong commodity prices which are driving expansion. Unfortunately for many, the earning capacity cannot service the debt."
Mr Pentecost said some potential buyers, in particular overseas investors, were often engaging city-based consultants who had little or limited to no expertise in how grazing or farming properties operate.
Ground truth
And he urged buyers to obtain 'ground truth' about what they are being told.
"In other words, get boots on the ground and look at the asset. Inspect a property you are considering purchasing and do your assessment just as you would for any other business. Engage with neighbours and local agents and ask them about long-term stocking rates and carrying capacities."
Mr Pentecost said producers who don't carry out due diligence risk paying too much for the asset.
"That has been the issue with many investors who are now selling up. They didn't carry out due diligence or believed what they were told. It is a good investment and a drop in the ocean for those forking out millions of dollars because it may actually save them from buying the wrong asset."
He said many who undertake due diligence do not proceed with a purchase.
"An overseas investor approached me soon after he bought his first property in Australia. I advised him not to proceed, but the contract was signed and unconditional. Once he engaged me to inspect the place, he realised how much more there was to spend on the asset and that he wouldn't get the return on the investment he was looking for. There were better assets for less money which would have generated a better return. He just needed better initial advice."
Margaux Beauchamp, BDO Australia
Margaux Beauchamp is a seasoned mergers and acquisitions advisor with more than 30 years' experience at BDO Australia. She has advised on well over 100 transactions, including S. Kidman, with a combined value of more than $5 billion.
Ms Beauchamp said a reason to undertake due diligence is return on investment.
"Unless potential buyers undertake due diligence and properly understand what the income generating ability of those assets are (ie. what capital might be required to be employed to generate those cash flows and maintain the business over time, and the opportunities for development), it may not be a successful investment," she said.
Carrying capacity
Ms Beauchamp said it makes sense to look at carrying capacity because at the end of the day, buyers are trying to generate an income from those assets.
In the case of a beef property, key assumptions in generating cash flow are:
How many adult equivalents can the property carry?
What is the fertility of the herd?
What is the likely growth rate/weight gains for the progeny they produce?
What is the mortality rate for that area?
What is the likely variability in the carrying capacity?
There are concerns in the industry about overgrazing often reflecting finance pressure and that climate change is reducing stocking rates. However, Ms Beauchamp said the beef industry still has a long way to go in terms of productivity gains.
"Better management can generate higher cash flow which would justify paying a higher price for a property. The other factor in play at the moment is the opportunity in northern Australia to develop cropping businesses."
Words of advice
Ms Beauchamp urged producers, as custodians of the land, to undertake due diligence when considering purchasing an asset.
"Examine the land condition and the carrying capacity to help understand the range of potential financial outcomes achievable from the enterprise and the capital structure needed to adequately support the purchase over the long term."
Tim Ferrier, Sparkle Helmore Lawyers
Tim Ferrier is a consultant specialising in agribusiness at Sparke Helmore Lawyers, a national firm with offices across Australia.
He explained due diligence is critical in undertaking an acquisition of a cattle property in two ways:
to establish a business case for the acquisition – to inform the prospective buyer of the predicted returns on investment, factors which impact on those predicted returns and to enable proper assessment by a financier, and
to understand the assets included in the acquisition and their state and condition. This is to ensure the buyer understands exactly what is included – such as land, plant and equipment, stock water rights and any existing agreements with neighbours or others regarding water and agistment.
Two types of buyers
In the last five years, there had been two distinct buyers in new beef acquisitions, he said. Up until 2016/17, corporates were the dominant force but in recent times, it has reverted to farming families seeking to increase their holdings.
Mr Ferrier said corporates were much more likely to undertake comprehensive due diligence compared to private investors.
"In some cases, companies will have corporate policies that require them to undertake certain prudential actions. They will obtain a valuation and have lawyers and accountants scrutinise the details with a fine-tooth comb."
Mr Ferrier said private investors (including farming families – entry level or expansion) may adopt a more relaxed approach (although that is changing) than corporates.
"Those who have been historically running properties will know exactly what the issues are and will have a much better idea of the carrying capacity of the targeted property. They are dealing with one of their own and believe the vendor will be honest. They might also be less willing to spend the money on a valuation."
Mr Ferrier explained that not undertaking due diligence essentially meant the buyer was taking a gamble, as decisions were based on the buyers' understanding and knowledge of the target asset, which may or may not be accurate.
"The property may appear in order on the outside, but underneath there may be other factors a producer is unaware of or have not considered, such as the state of the asset itself, including the plant and equipment. Although only one aspect of due diligence, historical performance records may vary from the buyer's assessment."
Mr Ferrier said the buyer will normally have no recourse if the assets vary from those described, or the income generation is inconsistent with any prediction.
"A contract of sale will contain an acknowledgement that the buyer has undertaken their own independent research of the asset, the state and condition of the asset and the income producing capability of the asset," he said.
Words of advice
Mr Ferrier urged all categories of buyers to undertake due diligence.
"That applies even if there is a familiarity with the property, such as in the case of a neighbouring land purchase. There needs to be an objective assessment of the assets and their capabilities for the information of the buyer and certainly for their financier to make a decision."
Mr Ferrier said productivity levels are often determined by a valuer, but a more practical and accurate method would be to access the stock books of the seller and if the seller is agreeable, their financial accounts.
"What should be sought is actual carrying records and consideration of those records against prevailing stock carrying conditions – considering its capacities during dry times and good times."
There was a strong reader comment response to last week's introductory article on due diligence. Click here to view earlier article