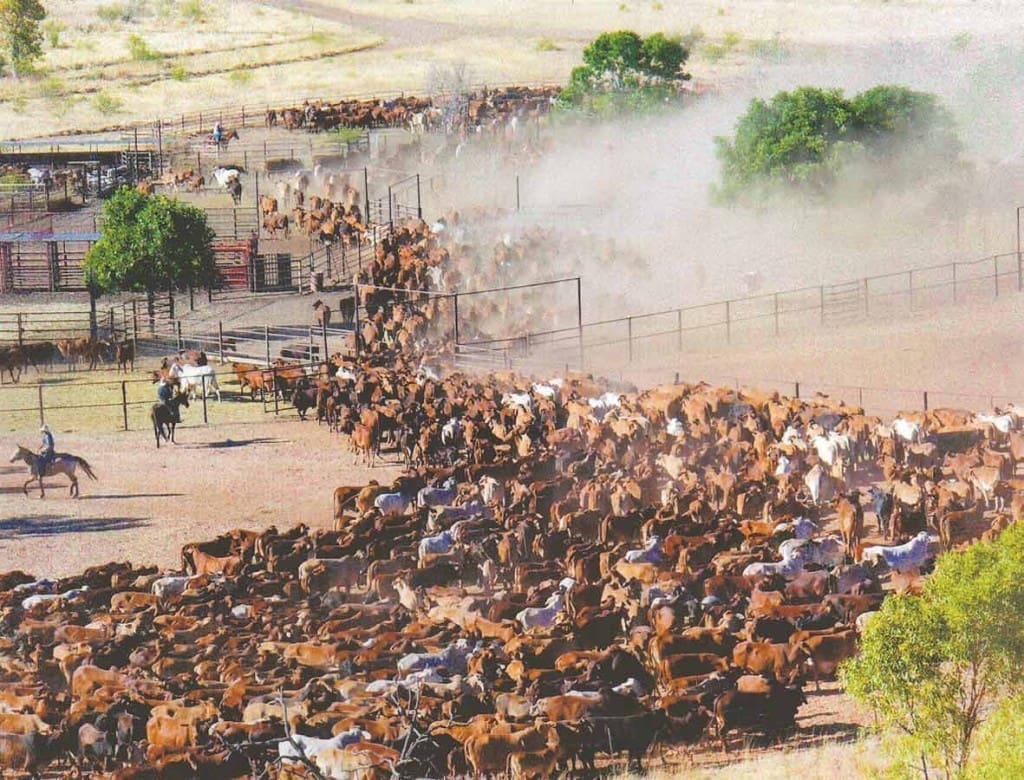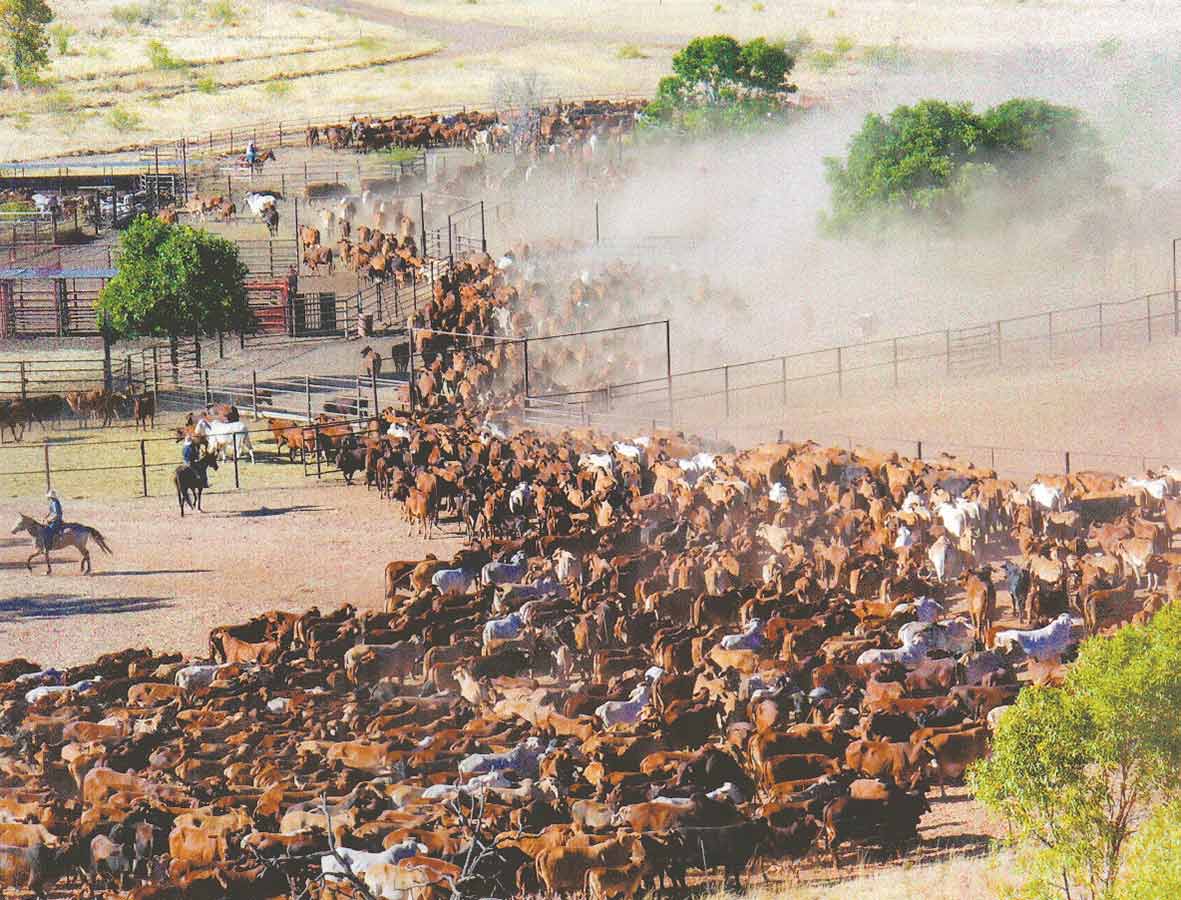 IF A premium is paid for a property based on non-existent or overstated development potential, is it simply a case of 'buyer beware' or a lack of due diligence?
In this first part of a two-part series, valuer Frank Peacocke from Herron Todd White steps through the process of due diligence on beef property acquisitions.
While there is no doubt that the Northern Territory and Kimberley pastoral markets have strengthened over the last few years, the prices paid for a small, but growing number of pastoral leases have been difficult to comprehend.
Some buyers have paid premiums reflecting perceived development potential for a higher land use (such as for commercial cropping development) or for picking up the neighbour's block to add scale.
However, there have been a number of sales where the disproportionately high value rates could only be attributed to ambitious current productivity estimates – significantly overestimated carrying capacities.
Frank Peacocke is HTW's Darwin-based rural property valuer.
He admits the sales don't stack-up on a dollar per productive unit basis ($/Adult Equivalent) when compared to other sales and value expectations generally prevailing in the region.
"It comes down to an over-estimation of what these properties can sustainably carry over the long-term given their current development and current land condition. Either the purchaser has overestimated, or the vendor has overstated, the current carrying capacity."
"Some of the estimates of current carrying capacities associated with certain pastoral leases are more reflective of the capacity average after a run of well-above average seasons, compared to a long term average of 10 years which would also take into account the well-below average years (as is the case with the present big dry)," Mr Peacocke said.
Long term stocking rates
When cattle stations in the NT/Kimberley are being bought and sold on their current carrying capacity, he suggests it is worth spending the time and the investment on appropriate due diligence to justify as best as possible, a reasonable long-term carrying capacity.
Once the current carrying capacity is accurately assessed (ie total AEs at current development), a producer can determine the sustainable size of the breeder herd and if a realistic breeder herd benchmark number can be set, then the real production targets (branding percentages and growth/turn-off rates) can be pursued.
Mr Peacocke said this will ultimately determine the number of animals (or kilograms) sold off the station to generate the cash flow required to run the property, develop it further, earn a decent margin and pay the interest on the investment.
"The long-term carrying capacity benchmark will obviously be exceeded in above average seasons, and will come in short for below average years, but there needs to be a sustainable long-term benchmark," he said.
Overestimation impacts land condition
Mr Peacocke said trying to adhere to an overestimated carrying capacity could lead to decreasing land condition.
"This would further reduce the real underlying (sustainable) carrying capacity of the country and if the property was purchased on an overestimated carrying capacity, then the negative impact may have a compounding effect."
Mr Peacocke said the 'slippery slope' diagram (see below) relating to land condition has been around for a long time, but appears to have been overlooked in some recent transactions.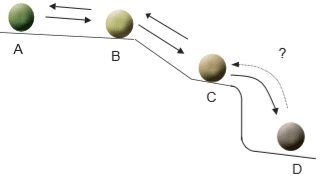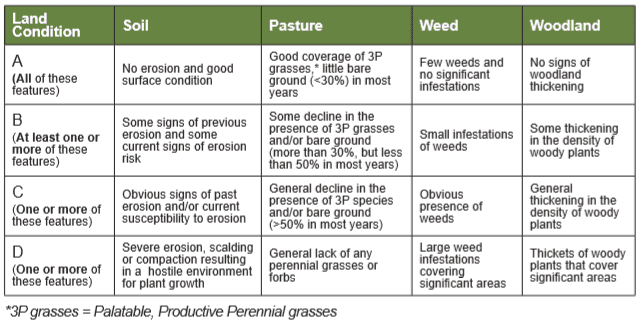 The above diagram was sourced from a typical land condition guide by the NT Government, and the same resource has been widely used by MLA in its Grazing Land Management's EDGE network workshops undertaken by many in the pastoral industry. It is also adopted as the basis of rangeland condition assessments by the Queensland and Northern Territory primary industry departments for monitoring the pastoralist's adherence to the lease conditions. Remember, basically all of the large-scale grazing country in the NT and Kimberley is perpetual (NT) or longer term (WA) leasehold with set lease conditions.
Mr Peacocke said the ABCD land condition scale has a real impact for carrying capacity assessments and should be top of mind when considering the long-term production prospects for a station, and particularly its future development potential.
"For example, when land condition slips from B to C, carrying capacity will probably fall by 25 percent and it is likely to take a long time (potentially, many years) to regain the B land condition which generally requires destocking of the affected area. Such an event has a direct negative impact on productivity and potentially the property's future value."
Land values
Mr Peacocke said the value of a cattle station should be able to be broken down into three main components:
Value of the portion developed (land currently utilised – within a reasonable grazing radii of permanent water and including fences, waters, roads)
Value of the undeveloped portion (unutilised land outside of reasonable grazing radii and without any pastoral infrastructure in place), and
Added value of the buildings, yards etc.
He said the overall $/AE value from a station sale will reflect the proportional value of each, and crucial to this $/AE is a realistic long-term productive capacity assessment.
"If you can't justify the sustainable carrying capacity (1) without a reasonable level of confidence, then how can you effectively place an accurate value on (2)  or safely plan for its future development?" he asks.
"If the productive capacity of an (as yet) undeveloped portion of country on a station is overestimated, then there is a real risk that future investment on that land may end up proving to be an overcapitalisation," Mr Peacocke said.
Knowledge is key
He urged those looking to buy a northern cattle station to build up their knowledge bank of pastoral land values in order to analyse every property in a consistent manner, and gain some relativities between them.
"Pick an average standard of management for that region – one that would achieve optimal, yet sustainable production targets over the long term, and in association with this, be consistent with your approach to estimating the current and potential carrying capacity (on an AE basis)."
Mr Peacocke said potential buyers should use the carrying capacity assessment to gauge the proportional values of the previously mentioned three main components.
"By following this method, some of the significant price inconsistencies that the pastoral market has thrown out there over the last five to six years (but particularly over the last three) will be revealed."
Mr Peacocke said that within a region, two or three NT sales comprising similar classes of country, that sold within 12 months of each other, were poles apart in terms of analysed $/AE rates.
"Although the market had strengthened over the 12-month gap, the price differential was too great to be caused by strengthening value levels alone. There is a high chance it was due to overestimated current and potential productive capacity estimates."
Words of advice
Mr Peacocke urged all prospective buyers to undertake appropriate due diligence.
"Potential buyers using a rural valuer or other consultant as part of their due diligence should ensure they can justify the carrying capacity assessments for both the developed and undeveloped portions of the station, and not only for the one looking to be acquired, but also for the station sales they will rely on as crucial sales evidence."
Next week: Other property industry experts weigh in on due diligence and its impact on beef asset valuations.