This is the second part of our report on property perspectives surrounding the establishment of the highly nutritious browse legume shrub, leucaena. In last week's report we looked at whether buyers would pay a premium for properties growing leucaena, or with the potential for its establishment. This week, we explore other issues, including how banks approach loan applications for this type of property improvement…
AS DISCUSSED last week, it's proving difficult for rural property valuers to establish a consistent value trend for land established to leucaena.
Will McLay, a director and valuation manager at Herron Todd White Rockhampton, where leucaena is widely grown, said there had been few sales of fully or significantly developed leucaena properties in Central Queensland on which to base valuations.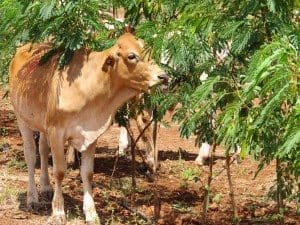 The small number that had sold in the Dawson Valley, Moura, Bauhinia and Theodore districts of Central Queensland over the past 18 months had achieved between $3500 and $4500/ha.
In the same region, improved buffel grass country (itself regarded as premium cattle finishing land) had traded for between $1800 and $2300/ha. But Mr McLay pointed out that it is important to note that these price references were property-specific.
"It really does depend on the property and the market that property sits in," he said. For example, we have seen smaller 200ha paddocks of leucaena sell for $5000ha. They are just affordable little paddocks that are often underwritten by off-farm income."
As discussed last week, a more insect-resistant variety of leucaena is about to be released which could see the current 200,000ha established to the drought-resistant legume across Queensland and the NT expand tenfold. The first commercial seed from the new Redlands cultivar is expected to be released next year.
Stuart Buck, a senior pasture agronomist at Queensland's Department of Agriculture and Fisheries believes the figure is greater. "If you look at Australia's soil type and climate basis, there are four to five million hectares that may be suitable for growing leucaena," he said.
While leucaena is normally grown dry-land on the red country in southern and central Queensland, Jack Kennedy from Kennedy Rural said one of his current listings, the 4155ha Thornhill property, east of Barcaldine in Central western Queensland, has appeal for leucaena.
"A feature of this finishing, backgrounding and breeding place is the overland flow irrigation which is currently 90 percent full. This could be used by the successful buyer to quickly establish a leucaena crop to generate cash flow," he said.
Michael Burgis, who heads up industry support group, the Leucaena Network, said in the past, growing leucaena had been restricted to west of the Dividing Range in central and southern Queensland.
"The new psyllid-resistant variety will certainly open up the region inside the Dividing Range," he said. "For the first time, many properties will be able to grow leucaena without insect damage. Also, it is likely to be attractive to landholders in the western regions who suffer from psyllid damage during the wet. The Leucaena Network is currently fielding enquiry from New South Wales, Western Australia and the Northern Territory."
Mr Buck is confident land sown to one of the 'older' leucaena varieties won't become less valuable to land established to the newer, better performing variety.
"The older varieties are still very productive. The traditional leucaena growing areas don't have a high psyllid challenge, therefore the production potential of those areas is still moderate to high. If a producer puts in this new cultivar and psyllids aren't a major issue, then there is no production benefit."
Last week, Mr Buck estimated the cost of establishing a leucaena system on suitable grazing land could be as little as $250/ha or as high as $450/ha, depending on circumstances.
Despite the high up-front cost, it does offer good drought security.
Bank approach on a case-by-case basis
If this is the case, how does a bank approach a customer's wish to establish an area of leucaena?
HTW's Will McLay said firstly, a bank needed to consider cash flow.
"It is not a matter of simply whacking leucaena in the ground and throwing cattle back on the paddock. Landholders need a reasonable time to destock and allow the leucaena to grow. This short term establishment period does impact on cash flow."
Leucaena also has a reputation for being a temperamental crop to establish. The challenges that can emerge in establishment were clearly illustrated in a commercial trial project established on the edge of the Atherton Tableland last summer, where the new-cultivar seedlings were more or less wiped-out by a heavy downpour.
Rabobank state manager for Queensland/NT, Brad James, said each property development funding application was considered on a case by case basis – and leucaena was no exception.
"If there was an underlying cash flow to support new development, that's obviously one thing, but if a landholder wanted to start a leucaena crop from scratch without current cash flow that would be highly risky. An underlying cash flow would be taken into account," he said.
Mr James said it was rare that a landholder would establish 100 percent of a property to leucaena.
"Typically, a landholder would grow leucaena incrementally over a three to four year period – 20pc of the overall project in year-one, 20pc year-two, 10pc year-three, and then perhaps 50pc. It's rarely all done at once and it rarely locks up an entire property, which would starve the producer of cash flow."
Mr James had no doubt leucaena can be used to enhance a landholding's productivity.
"It is subject to the perils of weather just like any other crop. But what it can do is put a line under a cash flow. It can remove some of the vagaries that people experience in productivity gain due to season. So from that point of view, the bank takes a positive view on it. It's like most things: it's an enhancer, not the total answer."
The Leucaena Network is hosting a leucaena conference at Atherton in North Queensland next month. Interested people should click the event tab on www.leucaena.net or click here.