The release of a new, better-performing leucaena variety which promises to greatly expand the area of northern Australia that can be established to the nutritious shrubby browse legume has rekindled scrutiny of its potential impact on property values.
As outlined in this recent article on Beef Central, a more insect-resistant variety of leucaena is about to be released, which could see the current 200,000ha established to the drought-resistant legume across Queensland and the NT expand tenfold, to two million hectares. First commercial seed from the new Redlands cultivar is expected to be released next year.
With its drought tolerance and high nutritional value improving cattle production and profitability, some obvious property questions arise:
What sort of premium will buyers pay for properties established to leucaena?
Will there be a premium paid for undeveloped grazing land with climatic and soil-type potential for future leucaena development?
Will areas growing the newer, higher-performing variety be preferred over those established to the older established varieties more susceptible to psyllid insects?
A recent property listing which will help provide some guidance on established leucaena land values is the Wandoan, western Downs cattle aggregation, Coolibah. A key feature in the collection of five freehold properties totalling 2800ha is a 1620ha area of well-established leucaena. The property goes to auction in Brisbane through Ray White Rural on May 13.
Senior pasture agronomist at Queensland's Department of Agriculture in Rockhampton, Stuart Buck, said the cost of establishing a leucaena system on suitable grazing land was dependant on a number of factors. It could be as little as $250/ha or as expensive as $450/ha, depending on circumstances.
"Producers who want to cultivate from scratch will pay more, while producers planting a leucaena/grass pasture into an existing cultivated paddock will pay less," Mr Buck said.
Michael Burgis, the executive officer of the industry support group, the Leucaena Network, said a typical leucaena establishment cost did not factor-in land preparation and destocking during and after establishment, however.
"Paddock preparation might start a year before. You'll grow some grass, but have to keep cattle off it and once leucaena is planted it may be six months before grazing can recommence. There can be a period of up to 18 months where there is only limited production off that land," Mr Burgis said.
As a rule of thumb, leucaena doubles the number of cattle on a paddock. The paddock will have limited use for 18 months, but then you have a 30-year investment with little additional cost
Leucaena is primarily sown in heavier soils in western areas of central and southern Queensland where rainfall is typically between 600mm to 800mm, but that footprint could be greatly expanded with the new variety.
Mr Buck said a producer with a well-managed, well-established leucaena/grass pasture could effectively double beef production from 60 to 70kg/ha in a straight grass paddock to about 130 to 150kg/ha per annum with leucaena in the mix.
Mr Burgis agrees. "As a rule of thumb, leucaena doubles the number of cattle on a paddock. The paddock will have limited use for 18 months, but then you have a 30-year investment with little additional cost," he said
Given that leucaena is established in what is often already good-quality buffel grass grazing land in reasonably high rainfall areas, Herron Todd White Rockhampton director and valuation manager Will McLay said the worth of developed leucaena country in Central Queensland lay in the transactions he had observed.
"There have been few sales of fully or significantly developed leucaena properties in Central Queensland recently, which makes it difficult to establish a consistent value trend," Mr McLay said.
"But the three or four properties that have sold in the Dawson Valley, Moura, Bauhinia and Theodore districts over the past 18 months have achieved between $3500 and $4500/ha."
Mr McLay said an important factor to remember about leucaena was that a property sale in one district could not be simply applied to a land value in another district.
"A buyer needs to consider the underlying land value of that area, because what's important with leucaena is the pasture that grows with it, and that's what really supports it."
Mr Buck said some producers believed land supporting established leucaena was worth twice as much as grass-only country in the same area, because of the production benefit. "That can be the vendor's perception. But the buyer's opinion is usually vastly different," he said.
"I believe a premium is paid for country with leucaena on it – but that is dependent on how much of a given property has been established to the browse legume. For instance, is a 5000ha property with only 10pc of the country growing leucaena worth twice as much? The property is probably worth a bit more, but not that much more," he said.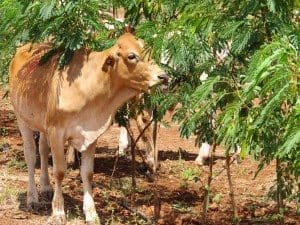 Brad James is Rabobank's state manager for Queensland/Northern Territory. He said some valuers claimed a good stand of leucaena on a property will lift land values, while others say it won't.
"By increasing the beast area carrying capacity, you have the ability to enhance the profitability of that land, but it doesn't always directly correlate to lifting a property's value. The difficulty is that not everyone is convinced of leucaena's value," Mr James said.
"There is no correlation between productivity and value with agriculture, because if it did, leucaena would be the highest-valued country."
"No one can dispute the productivity gains, the weightgains and the conversion of those cattle on leucaena. But does it add value? Does it add a correlating value to the cost? I don't think so, but what it does do is add productivity gains to a property," he said.
Bauhinia sale provides guidance
Last year, Richard Brosnan of Ray White Rural Rockhampton sold the smaller 2000ha Moura/Bauhinia district cattle property Langsvale in Central Queensland for $3.85m, featuring about 220ha of leucaena.
"There was good enquiry, a lot of positive feedback about the property's presentation and the way it utilised leucaena. The large body of leucaena across the property allowed the owners to spell country and enhance production."
"I have no doubt leucaena has a positive impact on a property's value because of its productivity gains," Mr Brosnan said.
He said while there were few substantial leucaena blocks currently on the market, there was definitely interest in country established to the legume.
"There is respect among buyers for its production capacity, and there is respect for its (cost of) establishment. To have well-established leucaena takes a lot of patience, but it allows landholders to have drought security," Mr Brosnan said.
Next week: In part two of our property series on leucaena, we explore how banks approach the issue of this type of property improvement.