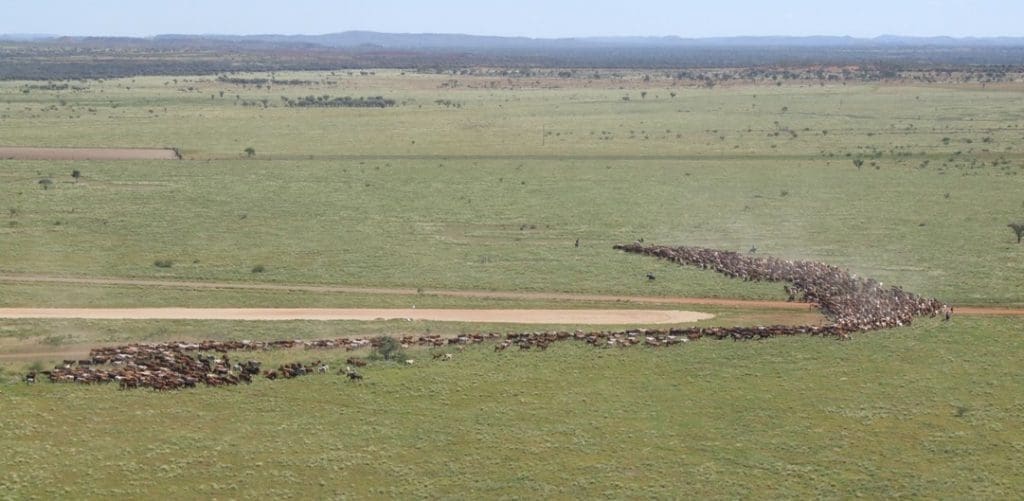 THE debate over foreign investment in Australian agricultural properties continues, with strong overseas interest contrasting with a lack of individual and corporate support from local investors at the larger end of the property spectrum.
The recent events surrounding the Kidman sale process provide clear evidence of that.
CBRE is an example of a property marketing group targeting foreign capital, with two representatives having just returned from Beijing after meeting with potential Chinese interests to discuss purchasing Australian agribusinesses.
The pair presented at the "Let's Go China" Agribusiness Investor Seminar which attracted more than 100 Chinese investors, importers and food distributors. The event also featured educational seminars, targeted exhibition marketing and in the future, will host investor delegations to Australia.
CBRE manager Chris Holgar said the interested Chinese buyers comprised corporate and high net worth individuals, some whom were implementing acquisition strategies, and others who were actively in the process of acquiring beef assets.
The Chinese had an appetite for both northern and southern Australian cattle properties, and were looking for a geographical spread to mitigate seasonal risk.
Mr Holgar said beef and dairy were the 'headline acts' in Beijing.
"The Chinese have a huge appetite for beef and dairy. They have big aspirations, so we've been pitching the larger-sized assets starting at $20 million, to portfolios worth well over $100 million," he said.
Mr Holgar is confident that cattle property prices will continue to trend upwards.
"We will see a new norm in beef prices and the demand for beef in middle-class China will continue to rise due to the phasing-out of the one child policy. That's going to further bolster the property market as beef demand grows, and we expect to see a continued level of sales activity."
While CBRE is a supporter of foreign investment, others remain suspicious about escalating foreign investment and the 'secrecy' of the foreign land buy-up.
Gary Johns from Landmark Harcourts in Mackay said unfortunately, ordinary Australians often did not have the funds to invest in large scale productive properties.
Last week, the real estate specialist sold the prime 3244ha cattle grazing property, Hylton Park near Mackay for $5.2m to Mackay Sugar & Racecourse Investments (majority owned by Black River – the investment arm of US giant Cargill Group). See today's separate story.
Mr Johns said while there was local interest in Hylton Park, there were no serious Australian buyers in contention.
"One interested party couldn't secure the funds to make a purchase.  In fact, there are very few Australians who can buy large cattle properties at present. Those people who had money in their bank accounts after coal companies purchased their properties are now far and few between."
He said after making an enquiry, local buyers often did not call back, because they'd talked to their banks and had become disheartened. "Their motivation disappears very quickly," he said.
"Banks are to blame because they have tightened their lending criteria. In the past, many banks were caught-out on a declining market and now they are overly cautious.
"However, when you have Australians trying to produce food for export, security should be higher and the lending criteria offered by banks should be lower."
Where are Australia's Super Funds?
Mr Johns has joined the growing outcry over the lack of investment by super funds in Australian agricultural properties.
His views mirror those of Federal agriculture minister Barnaby Joyce who has accused super funds of failing to understand the agricultural sector, claiming Australians are missing out on the expected boom in farm exports as super funds are not big investors in the industry.
A new survey of 114 superannuation funds, commissioned by accounting group BDO – "An Analysis: Australian Superannuation Fund Investment in Agriculture 2014/15" – found that Australia's super funds invest on average just 0.3 percent in the agriculture sector.
BDO said the majority of existing investment has either been debt funded or sourced from international investors.
"Foreign direct investment in agriculture has traditionally been quite strong in Australia. This is ultimately beneficial for the sector and economy as a whole, assuming it's the right investors and an appropriate arrangement," BDO's report said.
"According to our research, on superannuation investment in Australian agriculture, foreign investors are more likely to purchase agricultural assets than domestic counterparts. This means these local assets may be an unrealised opportunity for capital.
"The lack of domestic investment presents an exciting opportunity for the superannuation fund industry to consider agricultural entities as viable investment options."
However the chief executive of the Association of Superannuation Funds of Australia, Pauline Vamos, said super funds were cautious about investing in agriculture, as it could be both risky and illiquid.
"Agriculture can be a high-risk investment because it is subject to the weather, market prices and consumer trends around food," she said.
Ms Vamos recently told the Australian that there was an increasing interest in investing in agriculture by the superannuation industry, but warned it was still seen as a potentially risky investment.
BDO said given that the funds do not conduct industry research on the ag sector, it is not surprising that the perception of agricultural investments is that they are illiquid, volatile and do not provide the required risk/return relationship.
Gary Johns wants to see Australian super funds investing in larger cattle enterprises to keep them in Australian hands.
"Why are Canadian super funds buying Australian beef properties and our own super funds are not? It's a situation that needs looking at," he said.