HISTORIC Bective Station west of Tamworth will become the centrepiece of AAM Investment Group's production supply chain in New South Wales, following the completion of a walk-in, walk-out sale agreement announced today.
The deal will see AAM's Diversified Agriculture Fund further expand its portfolio of assets spanning four Australian states and territories.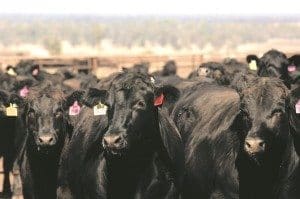 Owned by just two families since it was first settled in the early 1800s (see history summary below), Bective Station covers a little over 4000ha. Finalisation of the transaction will occur in mid-November and includes more than 3000 head of cattle, plant and equipment, and irrigation water licences.
It's been suggested the purchase of Bective was for more than $50 million bare, with cattle negotiated separately.
The property includes a 7000-head SCU licensed feedlot – one of the first to be constructed in NSW back in 1970 (see history below). The  yard has been leased in recent years to NH Foods, which does a 100-day no-HGP branded program through the company's nearby Wingham Beef Exports plant. NH Foods has spent a lot of money refurbishing the feedlot site, replacing pens and improving drainage. Grains are still tempered, rather than steamflaked.
AAM told Beef Central it has plans to expand the feedlot site as part of future developments.
The Bective deal follows AAM's recent acquisition of 50,000 head of cattle as well as the grazing rights to two Northern Territory cattle stations, Limbunya and Maryfield offered for sale by North Star Pastoral. AAM partnered with fund manager WealthCheck which acquired the two stations for $103.4 million.
Following the acquisition of both the Limbunya/Maryfield  and Bective Station cattle herds, AAM's diversified fund will control more than 110,000 cattle and 50,000 sheep.
The acquisition of Bective will take ADAF's asset value to more than $600 million across an expanding and diversified geographic footprint and multiple agricultural supply chains, the company said in a statement.
AAM managing director Garry Edwards said Bective was a uniquely large-scale asset in the sought-after Tamworth region and presented a valuable opportunity to secure premium agricultural land.
"We're going to set Bective up so it can service some offtake requirements from both our cattle and lamb supply chains," he said. "We'll be looking at all options, including lamb lotfeeding beside the beef pens."
Bective will also become the base for AAM's seedstock Wagyu program, providing herd bulls to help increase fertility performance in the company's extensive northern Brahman herds. The company has some Wagyu bulls on Northern Territory holdings at the moment, as far north as Legune, near the WA border. Others are likely to be trialled on Maryfield and Limbunya.
In 2023, Bective will also become the home of AAM's new investment focus on agricultural technology innovation and commercialisation programs, given its unique suitability to multiple supply chain operations on a single asset.
Bective water licences on the Peel River system underscore year-round fodder production and enterprise diversity, the AAM statement said. This is complemented by versatility of operational potential and rainfall reliability, ideally aligning it with other assets and aggregations currently within ADAF.
"We see Bective as being relatively unique, in that we can three of our core diversified pillars there, as required – beef, lamb and cropping. It may well be flexible, in the way it is utilised. Having multiple enterprises operating at a single location close to good regional airport infrastructure, makes it an ideal site for out technology development work," Mr Edwards said.
"The addition of Bective to ADAF, along with a number of recent acquisitions finalised by AAM, is an opportunity to secure exceptional properties that align with those already in the portfolio to further grow diversity, vertically integrate and apply operational scale," he said.
"It is pleasing for me personally that AAM can work with families to create acquisition structures that facilitate transactions and succession planning outcomes on assets that we will now be able to invest further in to create lasting legacies of sustainability and efficient production."
The connection between buyer and seller was put together by Daniel McCulloch of McCulloch Agencies in Tamworth.
Early pioneer feedlot
Successive generations of the Vickery family have owned and operated the well-known Tamworth district grazing property, Bective Station since 1890 – at one point running 100,000 sheep and sustaining a 44-stand woolshed.
As the post-WWII Soldier Settlement program gathered pace, Bective was slowly resumed for subdivision, reducing the size of the original holding to the point where other forms of enterprise needed to be examined to maintain the viability of the business.
Using diary notes kept from the late 1960s, principal Rob Vickery recalled being told by local 'experts' that there was no future for lotfeeding in Australia, because the US market that dominated our export trade at the time wanted only low-cost hamburger beef.
Supporting a noted Hereford stud for many decades with a strong clientele in Queensland and northern NSW, Bective by the late 1960s had developed a semi-intensive bull feeding facility to prepare its own and clients' sale cattle.
During a dry year in 1970, a mob of 100 Hereford steers was added to the pens as a feeding experiment. The result, after slaughter at TA Fields' Bremer River abattoir near Ipswich was encouraging enough to lead the Vickerys into repeating the exercise the following year, when conditions again turned dry.
"We were a little better at it the second year, than the first. Dudley Lennox, then manager at Anderson's Byron Bay abattoir offered us some very good money for grainfed bullocks in 1971, and the feedlot business grew from there," Rob Vickery recalls.
The first feed mixer was scratch-built using some rough plans and a few photos of Harsh mixers taken in the US. Bective was one of the first feedlots to incorporate cotton hulls into its ration, buying supplies for $1/tonne loaded price out of Narrabri.
During the onset of the Beef Slump in 1974 the feedlot closed, but opened again when opportunities started to re-emerge some years later. A stronger focus on Japan started about 1985, when the Vickerys bought a controlling interest in Anvic Meat Exports, operators of the Wingham abattoir.
Wingham supported a large number of smaller early feedlots in southern NSW, processing grainfed cattle for Japan. Meat marketing work was initially carried out through the plant's minority shareholder, Japan's Toman Corporation, but was later taken back under local control. The Wingham plant was sold to Nippon Meat Packers in 1992 and has since expanded to kill about 800 head daily.
For many years Bective provided a custom-feeding service for other clients, as well as feeding cattle it had bred and bought itself. For a period after the late 1980s, a sizeable portion of the cattle on feed were designated for Korea, through a joint venture with Korean company, Samsung.
Bective grew in capacity over several stages from 2000 head to 7000 head, including a major renovation of facilities in 2004.
At an industry level, Rob Vickery played an important financial management role in the early history of both ALFA and one of its state-based predecessors, the NSW Lotfeeders Association.
He spent long periods during ALFA's first 30 years as the organisation's treasurer, serving until 2001, the same year he was awarded life membership of ALFA.