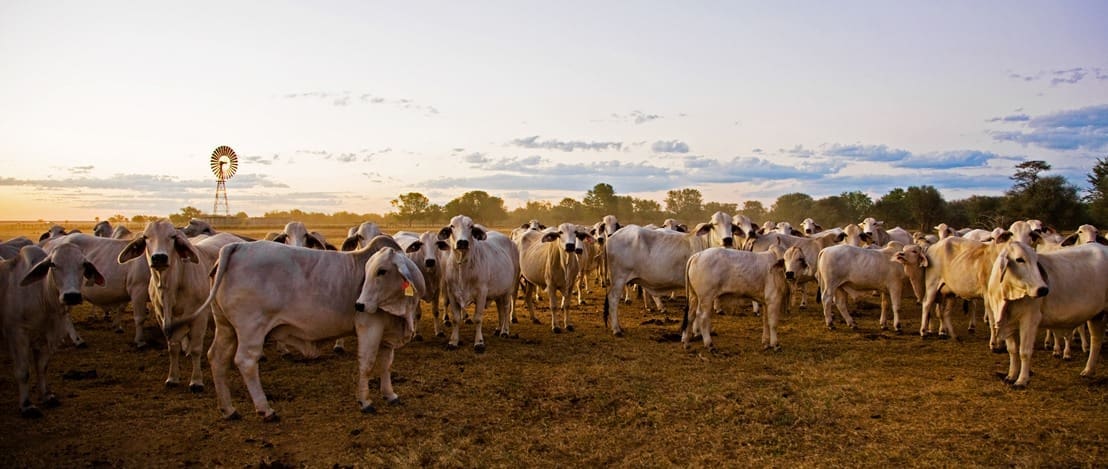 THE dominant trend of family farm businesses outbidding institutional buyers seen over the past two years has cooled as a result of shifting debt dynamics according to LAWD senior directors and property specialists Danny Thomas and Col Medway.
Throughout the recent historically high rural property market, family farmers have been hungry to reinvest capital and expand their portfolios, supported by unprecedented commodity prices profitability across the agriculture sector. In many instances, this has been driving the deconstruction of institutional farmland aggregations that have been sold back to family enterprises.
An instructive example includes Proterra Investment Partners-owned Black River Agriculture Fund 2's divestment of the Corinella portfolio, including 49 farms covering 22,386 ha in Victoria and South Australia, which sold for $370 million to 27 individual buyers in 2021. However, LAWD senior director Danny Thomas said he expected these transactions to occur less frequently in 2023 due to a re-awakening of institutional competition in the market, as family-owned enterprises react to changing economic conditions.
"The domestic buyers who have had the ascendancy for the last 18 months or two years have now reacted to shifts in the cost of debt," Mr Thomas said.
"In addition, many have been affected by weather events, such as floods, and the inundation of expensive crops, or have otherwise been exposed to skyrocketing input costs and softening commodity prices.
"These family businesses are still performing well. Overall, we have had excellent seasonal conditions and their balance sheets are still strong, but it is enough for that segment of the market to slow down, and draw breathe, after what has been a period of extraordinary growth."
"For any borrower at the moment, the banks are really interrogating submissions for credit, and their ability to service it."
Founding senior director Col Medway said current borrowing and operational conditions could drive a movement back towards the reaggregation of assets.
"We've gone through this phase where we've had institutional assets broken up," Mr Medway said.
"Locals have previously been in a position to outbid the institutional investors. Now, with investors coming back strongly, we may see a trend towards the reaggregation of some assets, if the opportunity arises. It will be interesting to see what unfolds."
New phase of stability in the market
Mr Medway predicted the market, while remaining strong, may be entering a new phase of stabilisation in 2023.
"Historically the agriculture property market has had long periods where prices remained very flat, and there wasn't a lot of movement," he said.
"I believe we're now drawing closer to returning to that trend and are seeing early signs this might be occurring.
"At the peak, the level of enquiry on a property for sale was around six, seven or eight very qualified purchasers. Now, in some cases, that has returned to two or three."
Despite this, Mr Medway said there was still high demand for premium agriculture assets, as was evident in the recent sale of Dalriado for $23,900 per hectare, in the tightly-held Culcairn district.
"The cream always rises to the top," he said.
"There is a depth of demand for quality properties in southern NSW's mixed farming zone that can offer flexibility of enterprise and can grow dual-purpose crops, that match beautifully with livestock operation.
"Those enterprises are very resilient in any in any market."
The buffers
This year marks 40 years since Australia floated its currency, and Mr Thomas said it would act as a driver for international demand.
"While there is this stabilisation among domestic buyers, Australia's floating currency will do its job in relation to Australian land, as the Australian dollar is very good value against US currency," he said.
Global instability, strengthening grain prices and potential for carbon-related income also continue to attract enthusiasm for agricultural investment.
"Grain markets are remaining relatively strong due to international turbulence and disrupted supply chains, such as lockdowns in China and the war in Ukraine," Mr Thomas said.
"Carbon is also a major driver for fresh capital and new investment in Northern Australia. Throughout 2023, there will be hundreds of millions, if not billions of dollars' worth of deals conducted in the north with new money."
Source: LAWD