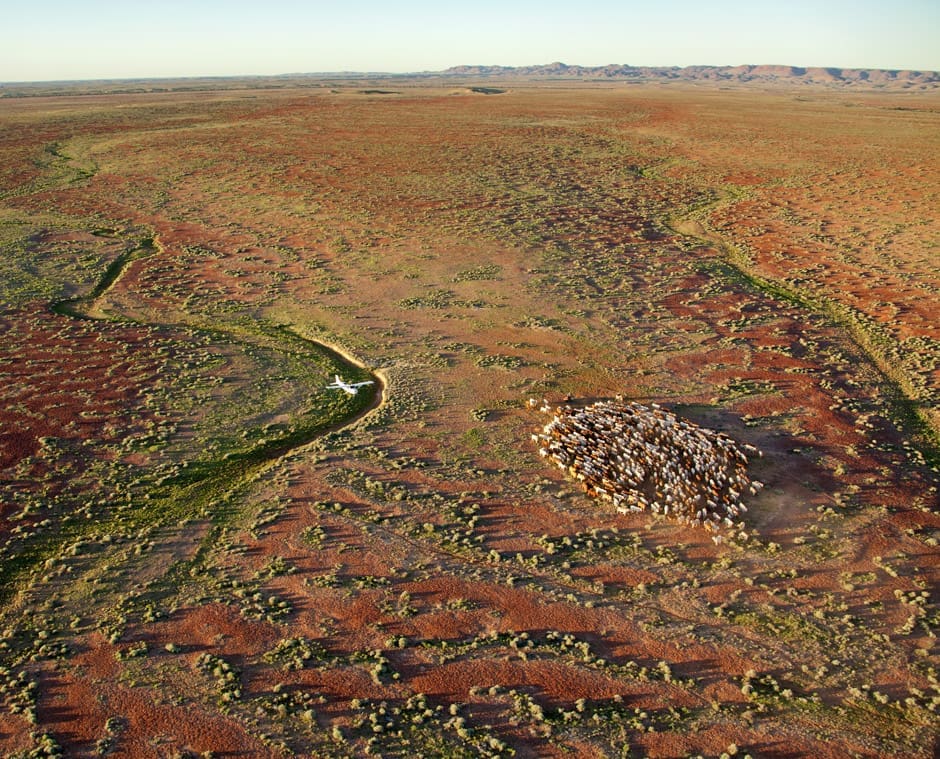 TRANSPORT magnate Lindsay Fox has launched a late bid to keep Australia's largest outback cattle empire in Australian hands, with an offer to buy the S. Kidman & Co property portfolio.
The Weekend Australian reported that Mr Fox, one of Australia's largest employers through his Linfox logistics network, had written to Treasurer Scott Morrison flagging his interest in buying the Kidman properties – despite being close to being sold in a deal said to be worth close to $300 million giving control to Chinese-owned Shanghai Pengxin Group Co.
Mr Morrison is said to be within weeks of signing off-on the Shanghai Pengxin Group deal, after blocking an earlier larger bid last year on national security/national interest grounds.
In November the Federal Government announced that it had vetoed the sale of Australia's largest land holding to Chinese buyers (click here to view earlier article).
The decision followed a recommendation against the sale by the Foreign Investment Review Board.
"I have decided that the acquisition by foreign investors of S. Kidman and Co would be contrary to the national interest and shall not be authorising the sale to proceed as currently proposed," Treasurer Scott Morrison said at the time.
Parts of one of Kidman's stations, Anna Creek, are located in the Woomera Prohibited Area (WPA) in South Australia. National security concerns played a role in the decision, Mr Morrison said.
The nearby WPA weapons testing range made a unique and sensitive contribution to Australia's national defence, he said. "It is not unusual for governments to restrict access to sensitive areas on national security grounds."
"Given the size and significance of the total portfolio of Kidman properties along with the national security issues around access to the WPA, I have determined, after taking advice from FIRB, that it would be contrary to Australia's national interest for a foreign person to acquire S. Kidman and Co in its current form," Mr Morrison said.
In response, the Kidman group, intending buyers and the sale managers, accountancy firm Ernst & Young are understood to have presented the government with a revised plan, excluding the sensitive Anna Creek pastoral lease, for a value reported to be around $300 million. It also reduces the overall Kidman portfolio land area by about 25pc, potentially lessening the government's concerns over the size of the 'footprint' involved in the deal.
The Australian on Saturday reported that Linfox Property Group chief executive Andrew Fox had indicated that his company was prepared to make a late bid for the Kidman assets.
"This is a great Australian asset, it's fourth, fifth generation and it would be a great feeling, like (Agriculture Minister) Barnaby Joyce has said, to have it stay in Australian hands," he said.
"Linfox are very interested in the Kidman portfolio of properties; the only disadvantage is that we are late into the tender process," Mr Fox said.
"Until such time as the Foreign Investment Review Board has made a decision on where the direction of the sale to a foreign entity is concerned, Linfox cannot make a move to access any information and nor do we wish to jeopardise the position of the process that EY are in at the moment."
Linfox's letter to Mr Morrison said it could offer to buy the Kidman station portfolio in its entirety, including Anna Creek.
Shanghai Pengxin's revised offer excluded Anna Creek from the deal to remove security concerns – at a price said to be reduced from $350m to $300m. The exclusion of Anna Creek also diminishes Kidman & Co's 'supply chain' appeal, however, carefully put together over decades of land dealings.
The Linfox proposal also offers to speed completion of a counter-offer, The Australian reported.
Treasurer Scott Morrison earlier said Australia's foreign investment laws did not provide a role for the government to be "an active player in these commercial negotiations."
"It is our job simply to apply those foreign investment laws to prospective foreign investment proposals to determine whether it is contrary to the national interest or not," he said.
Kidman is Australia's largest private landowner, holding about 1.3 percent of Australia's total land area, and 2.5pc of agricultural land.
The company has 10 cattle stations, including properties across regional South Australia, Western Australia, the Northern Territory and Queensland covering 101,411sq km and managing a long-term average herd of 185,000 cattle. This is a significantly larger than the next biggest rural landholding in the country.