A RECENT decision by S. Kidman & Co not to renew its sub-lease on highly-regarded Channel Country grass finishing property, Nappa Merrie, reflects the changing dynamics being seen in northern Australia's cattle industry.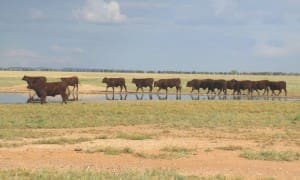 A resurgent live export sector this year (a record 1.13 million Australian cattle were exported in 2013-14), and the strong prospect of China joining Australia's livex customer-base in the near future, appears to be diverting some younger, lighter cattle that would under other circumstances be grown-out to bullock weights on Channel Country holdings like Nappa Merrie, into other markets.
Secondly, the reduction in herd size in northern Australia due to drought may also be impacting on immediate demand for finishing country.
S. Kidman recently reported its 2013-14 herd size back 15pc this year, to 182,000 head. In May, the Australian Agricultural Co reported an 86,000-head herd reduction due to drought, while North Australian Pastoral Co also recorded an appreciable herd size reduction, back to 188,000 head.
Located on Cooper Creek in the Channels, 7212 sq km Nappa Merrie is regarded as one of Queensland's 'dress circle' large-scale grass finishing properties, capable of running 12,000 grower steers in a decent season.
Kidman sub-leased Nappa Merrie for eight years in 2007, from primary lessee, Doce Pty Ltd, a wholly-owned subsidiary of gas miner, Santos. Prior to that, the property had a long and productive history as a 'grass feedlot' bullock finishing depot as part of Stanbroke Pastoral Co, ending in 2006.
Kidman chief executive, Greg Campbell, confirmed that his company had decided not to extend its current sub-lease arrangement on Nappa Merrie, due to expire in January.
The company has been using the property as a steer fattening depot for cattle bred on other company properties in northern Australia.
"Through the turbulence of the recent live export trade years, Nappa Merrie provided a value-add option, allowing us to access eastern states meatworks with a fat animal," Mr Campbell said.
"Over the past twelve months though, the live export trade has firmly re-established at good prices – not just into Indonesia, but also into a range of other markets, particularly Vietnam."
"In addition, AA Co has built a substantial new meatworks in Darwin and from the end of the first quarter of 2015, should be at full-swing and sourcing northern cattle," he said.
As a result, Kidman now had 'much-improved' market outlets in the north and no longer required the 'extra' channel country fattening capacity offered through Nappa Merrie. The company continues to own and operate other nearby Channel Country finishing properties including Morney Plains, Durham Downs, Naryilco, Glengyle and Durrie.
Kidman staff at Nappa Merrie, led by manager, Peter Degoumois, are presently busy destocking the property, with steers variously going direct to slaughter, to feedlots, to live export and some transferring to other Kidman properties.
"With it being so dry in the south-west, our transfer options are fairly limited and all our properties in the Channel Country have been prudently selling their herds down," Mr Campbell said.
The lessee of Nappa Merrie, Doce Pty Ltd, had been given good notice of Kidman's decision not to continue, he said.
Located about 300km west of Thargomindah, Nappa Merrie is around 720,000ha comprising flood-out country on Cooper Creek, running back to pebbly Mitchell Grass downs. It will safely carry 12,000 mixed-age steers in a decent season and is well-watered by bores, dams, permanent and semi-permanent water holes.
Expressions of interest in the sub-lease are being handled, via tender, by Ray White Rural, closing on December 11.