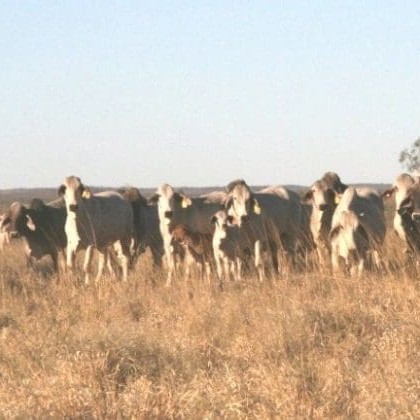 FURTHER signs of life have emerged in the northern cattle property market this week with confirmation that extensive Gulf region breeding aggregation Lotus Vale and Stirling have been sold.
Elders property salesman Dick Allpass confirmed to Beef Central this afternoon that a deal had been finalised, and the Elders property website listing carried a discrete 'sold' notation, but Mr Allpass said he was bound by confidentiality clauses not to disclose the buyer.
Vendors Ashley and Cameron Daley, from Arrabury Pastoral Co also declined to nominate the buyer, during discussions with Beef Central in Roma yesterday, and again this afternoon. But all indications are that it is near-neighbour, Mark Menegazzo, from Vanrook.
A spokesman for Mr Menegazzo's business said it had a strict policy of not discussing business transactions.
The addition of the 125,000 hectare Lotus Vale/Stirling aggregation, which adjoins Vanrook to the southwest, would extend Mr Menegazzo's holdings in the Gulf to 1.2 million ha, making him one of the region's largest landholders.
His gulf grazing business based at Vanrook is not to be confused with his brother and sister, Brendan and Debra Menegazzo's nearby Stanbroke Beef operation.
The Vanrook aggregation is geared for live export and is currently running more than 100,000 cattle including progeny.
Despite the Gulf's deserved reputation as 'reliable' rainfall country, Vanrook experienced one of its poorest wet seasons in 91 years of records last summer.
It is running more cattle than normal for this time of year because of the cutback in live export orders and the difficulty in finding grassfed or feedlot buyers further south in a supply-saturated environment.
Despite some pre-auction interest from prospective drought-affected northern buyers seeking country with grass, the Stirling/Lotus Vale aggregation failed to raise a bid from the floor when auctioned in Brisbane in mid-May, being passed in on Dick Allpass's auctioneer's bid of $15 million.
Two external bidders registered for the auction sale, but no bids were forthcoming. One of the registered bidders was Peter Hacon, from Granada, outside Cloncurry (also heavily droughted), and the other was an unnamed pastoral company operating through Ray White Rural.
Unlike most other areas of the Gulf, the Lotus Vale/Stirling aggregation is currently carrying a big body of feed, courtesy of earlier chance storm rain – a strong selling point in the current market.
Located north-east of Normanton, the holding has served for the past 15 years of ownership as a calf factory for the Daley family's Arrabury Pastoral Co growing properties in Queensland's channel country. Vendor Ashley Daley told Beef Central after the May auction that the property was being offered for sale to rationalise the family's interests, but there was no urgency to sell.
Lotus Vale/Stirling was offered in May with 15,400 cattle plus calves. Non indication has been given about cattle numbers agreed to in this week's transaction.
The Daley family received two offers prior to the May auction on the basis of no stock, but both were declined.
Lotus Vale/Stirling is a well improved aggregation by Gulf standards, and carries with a new 30-year Grazing Lease that came into effect from 2011.