Originally published Friday, 30 June, updated Monday 3 July.
A NUMBER of inspections have apparently taken place recently of the large-scale Ceres Agriculture grazing assets in northern NSW.
Ceres has established a low-key marketing process which has piqued the interest of offshore and domestic suitors, according to an item in today's Australian Financial Review.
Beef Central broke the news about a sale process for Ceres Agriculture in this article back on June 6.
Today's AFR suggests the North Australian Pastoral Co, which is majority owned by QIC, and a separate group which includes the Ontario Teachers' Pension Plan, are among a handful of would-be bidders for Ceres.
Marketing agent Colliers International has already overseen site visits in recent weeks and expressions of interest are said to be due in early-to-mid July.
Ceres operates 15 properties throughout the central tablelands and north-west slopes of NSW. Among those are Mayfield and Ballyroe at Oberon; Gunyerwarildi, Postmans, Brentwood, Lava Downs and Inverness at Warialda. Estimates of value range from $200 million to $250 million, and the sale process is expected to wrap up in three to four months.
The Ceres business has diverse operations which span 30,000 hectares of Australian grazing and cropping land.
Ceres is majority-owned by former stockbroker turned property entrepreneur Garrick Hawkins, who last year settled a dispute with the Australian Tax Office.
Terra Firma board member downplays CPC sale prospect
Today's AFR says the potential Ceres sale comes as private equity giant Terra Firma weighs-up a sale of its Australian cattle business, Consolidated Pastoral Co.
Metropolitan media has been speculating about prospects for a CPC sale for some time, but the view does not closely align with comments offered to Beef Central earlier this month by Terra Firma board member and vice chairman, Justin King.
Speaking at a Brisbane industry gathering, Mr King played down suggestions that the UK private equity investment firm might be positioning to sell CPC.
"We don't comment on rumours in the market, but while we're aware of speculation, it's been connected to the idea that the Terra Firma fund that CPC is in, is in its tenth year (due for closure). But the reality is that we have four or five other companies in that same fund, and I could take you to Italy or America, and you would hear the same rumours about sales of those businesses," Mr King told Beef Central.
"We have no specific plans to sell them. But having said that, Terra Firma is a private equity company, and every asset we own is always 'for sale'. It's what we do: buy companies, make them better, and sell them."
He said most private equity funds were 'very liquid' investments.
"Many of our original fund investors from ten years ago have long since sold their positions to others. Those people, in turn, are buying into the funds because they see further upside potential. That applies as much to RTR (Terra Firma's solar power business in Italy), as it does to Consolidated Pastoral Co in Australia, or Four Seasons Health Care."
"But our investors have just last month voted to extend the duration of the fund. They are very supportive of longer extension. But we can understand why the connection with the ten-year horizon gets made by others," he said.
Mr King acknowledged that the current strong state of the Australian, and global beef business also added weight to theories that Terra Firma might be tempted to offer CPC for sale.
"I can understand why an owner might try to sell a business off the back of what may be quite short-term factors. But because of the types of businesses Terra Firma buys and invests in, in any sale process, we try to sell a really good business to the new owner, who wants to keep investing in it, long-term. You're not going to find that kind of investor, just because there's a jump in the (commodity) cycle."
"All the work that's happening at CPC – whether it be in genetic improvement, or building infrastructure about fencing and waters, to lift productivity – is about building a business which is sustainable for another 100 years."
Radical change ahead in technology
While Mr King's recent Agribusiness Australia address in Brisbane was primarily about broader topics like effective 'people management' (see video below), he did offer a few insights into his thinking about prospects ahead for Australian beef, and vertical integration and branded beef opportunities for CPC. As the former CEO of high-end British food retailer, Sainsbury, his views were followed with interest.
Asked about the challenges he saw ahead for the Australian beef industry, Mr King said Australia was a 'great place to be' for global beef production.
"You can draw a circle about 1000km across on the map, including India and parts of China, which contains more than half the world's population. It's not that far from northern Australia."
"You have, in world terms, an efficient large scale production system, loads of technology at your disposal to embrace, and the growth dynamic where a huge population is making the journey from surviving on $2 a day to $5 a day, where food consumption patterns start to change. And pretty much all of the world's change in that transition in income is happening within striking distance of Australia. The macros are fantastic."
Mr King said he felt the Australian beef industry was on the cusp of some 'really radical' change in the introduction of technology, whether that be at the production level in genetics or cattle handling, or further up the chain.
"But I keep having to remind myself that the way we still count cattle is to cut their tails off (cutting across the tufts of hair at the end of the tail as each beast is counted, in a bangtail muster)."
"That sounds like a solution from the century before last, rather than the current one," he said.
The data that's now available on weather patterns, rainfall patterns, traceability and fertility, should mean that we can make the landmass much more productive than what it currently is."
He recounted a story about an autonomously-driven combine harvester on a colleague's farm in the UK, using it to illustrate the size of the journey that technology was delivering for agriculture.
Buying businesses to make them better
Mr King said Terra Firma's business model was to buy businesses, and try to make them better.
"CPC was a good business when we bought it, but it was under-invested, and behind the curve in the way the beef industry was trending. We think it is a better business today, and to do that, you have to have the right people at the top (reference to chief executive Troy Setter).
"We think it is a business now with great momentum and direction. Unlike public markets where an investor can buy shares in a company today, and sell them tomorrow, for an almost nominal cost, we buy the whole of the business, which is a costly and time-consuming exercise, and when we sell it, we sell the whole business, which is equally time consuming and costly."
"So unless the business you are selling is a lot better than the business you bought, you're not going to make money."
Mr King said Terra Firma's average business ownership lifespan was nine years (in fact CPC was one of its most recent acquisitions) but a lot of the investment in CPC (genetics, for example), would never be paid back during Terra Firma's ownership, but would demonstrably be part of what made the business better when the time came to sell it.
Brand development, vertical integration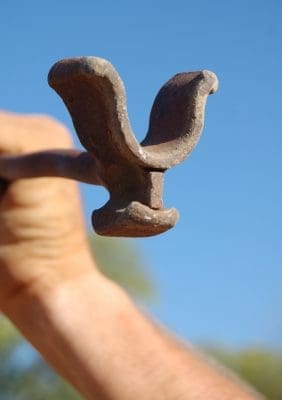 Asked by Beef Central whether there was any prospect for the emergence of a "Wineglass" commercial beef brand (referencing CPC's distinctive and iconic wineglass firebrand – see image), Mr King said he, personally, was wary of vertical integration in businesses.
During his presentation, he referenced 'soft' vertical integration, where a retailer, for example, could reach back into the supply chain, through alignments with others, allowing the retailer to reassure customers that it knew the history of that product all the way back to the breeding cow, where it came from and how the product was produced  (in the case of beef).
"The same is true for a producer," he said. "You have to be very clear about where vertical integration makes sense – it has to add value at every stage in the supply chain, and provide a stronger reassurance to customers."
He used CPC's investment in feedlot infrastructure in Indonesia as an example, providing a reassurance that the product was Australian (which in one form, was the brand, even before the wineglass image), it was fresh, and that by being finished in Indonesia, it had added local value.
"These attributes are important, in that marketplace. There may well be a case to be made for greater vertical integration by CPC within Australia at some point in the future, but it's not something that we have chosen to explore at this point," he said.
Click here to view a recording of Justin King's recent AA address:
About Terra Firma:
Established in 1994, Terra Firma has invested more than UK€16 billion in 34 businesses with an aggregate enterprise value of over €48 billion.
The private equity fund invests on behalf of a wide range of organisations including pension funds, financial institutions, sovereign wealth funds, endowments and family offices. A significant proportion of its largest investors are pension funds, investing on behalf of today's pensioners and the pensioners of the future. Investors are based all around the world.
By investing in private equity, these institutions aim to seek higher returns to improve their overall performance, the company's website says.
"The private equity funds we raise are used to acquire asset-backed businesses that can be transformed through fundamental change. As a private equity firm, we aim to create long-term value by transforming businesses away from the public markets. We search for opportunities which have been overlooked. We actively seek out investments in sectors which may be out of favour and in businesses which have been under-managed or under-capitalised."
"Through a combination of strategic change, improved management and sustained investment, we transform our private equity portfolio businesses, creating value for all our stakeholders. These healthier companies are subsequently sold or listed on the public stock markets to realise a return for the investors in our funds."