Ceres Ag showcase portfolio coming on the market
Central Australia's Coniston Station to auction
Interest in Qld's Woodstock and Glenora Stations
Springsure's The Outstation finds a buyer
Coen's Crystal Vale sells to neighbour
Elderbury 'best ever auction result'
Ceres Ag portfolio coming on the market
Ceres Agricultural Co, one of Australia's leading integrated agricultural business operating across New South Wales, is being offered for sale and leaseback in an off-market campaign.
The asking price, understood to be around $200 million, would make it one of the largest rural property transactions ever in NSW.
Ceres Ag operates 15 properties totalling 33,000ha of highly productive, high-value grazing and cropping country throughout the Central Tablelands and Northwest slopes. The holdings include Mayfield and Ballyroe at Oberon; Gunyerwarildi, Postmans, Brentwood, Lava Downs and Inverness near Warialda; and Brudle Park and Oaklands at Moree.
The grazing component of the diversified operations concentrates on buying young cattle and growing out/backgrounding to feedlot entry weights, or paddock-supplemented to domestic slaughter requirements. Cattle are turned off at 500–520kg liveweight and contract slaughtered at Bindaree abattoir at Inverell.
According to the company's website, in northern NSW, Ceres Ag finishes more than 100,000 MSA-graded beef cattle annually, produces 40,000 tonnes of grain, pulses and oilseeds (prime and durum wheat, malt barley, canola, chickpeas, sorghum, maize and sunflowers).
Its southern livestock operation runs 20,000 superfine Merino sheep.
The specialist rural property agency believed to be managing the sale process refused to either confirm or deny the arrangements when contacted by Beef Central this week.
In this earlier Beef Central profile on the Ceres operations, managing director Mark Mason says the beef industry has an "incredibly high barrier to entry in terms of land value."
"If we wanted to breed, as well as finish the same number of cattle we currently turn off, we'd need to spend $750 million in property and breeding cows, which is impossible. Instead, through purchasing young cattle to grow out and finish on our country, we're doing it with $180 million of capital and probably achieving twice the return on investment compared with conventional broadacre or livestock enterprises."
Ceres Agriculture was formed 18 years ago Sydney-based businessman, Garrick Hawkins and managing director, Mark Mason.
The company was formed in 2012 from the existing assets of Pegela Pastoral Holdings and capital from Singapore-based funds manager, Duxton Asset Management. At the time, Pegela comprised Mayfield and Ballyroe at Oberon; Gunyerwarildi, Postmans, Brentwood, Lava Downs and Inverness at Warialda; and Brudle Park and Oaklands at Moree.
About 15 years ago, the predecessor company was running a fairly traditional grazing enterprise supplying backgrounded cattle to Rockdale feedlot. In 2000, it expanded into cropping and grazing in northern NSW but the operations remained fairly separate.
In some years, it was struggling to get cattle to background weights and in others, it was growing good crops, but getting poor returns.
"We decided to integrate the businesses into one and to maximise our value-add from start to finish," Mark Mason said.
"We didn't set out to create something this big, but it quickly became obvious how big this needed to be to make the numbers work."
"Duxton saw the potential of our model and decided to back us."
Principal, Garrick Hawkins is a prominent Sydney investment banker, stockbroker and property developer. In March last year, the Australian Taxation Office hit Mr Hawkins with a $33 million tax bill relating to a complex business arrangement he had with the Western Australian Government, involving the sale and leaseback of the government's car fleet. The deal was dismantled in 2001 at a cost of $180m after Labor took power in WA.
Central Australia's Coniston Station to auction
The picturesque 2170sq km Coniston Station, 285km northwest of Alice Springs, is likely to make more than $10m if it sells at its upcoming auction, being conducted by Landmark Harcourts on July 26.
The property, pictured below, is on the market for the first time in more than 40 years and is considered one of the best stations for productivity and water in the tightly-held Central Australia region. For the past three years, Jacqui Lines has been running the station with the help of her family and staff, following the death of her husband Max, a well-known Northern Territorian.
Selling agent Andrew Stephens is anticipating strong local interest, explaining it will be the first substantial pastoral property auction in Central Australia for more than seven years. Other recent sales, like McDonald Downs and Murray Downs and Epenarra, have all been private treaty.
Coniston is being sold on a walk-in, walk-out basis with 5200 mixed Santa cattle, including 3000 cows, however Mr Stephens said the property has the capacity to run between 5500 and 6000 head.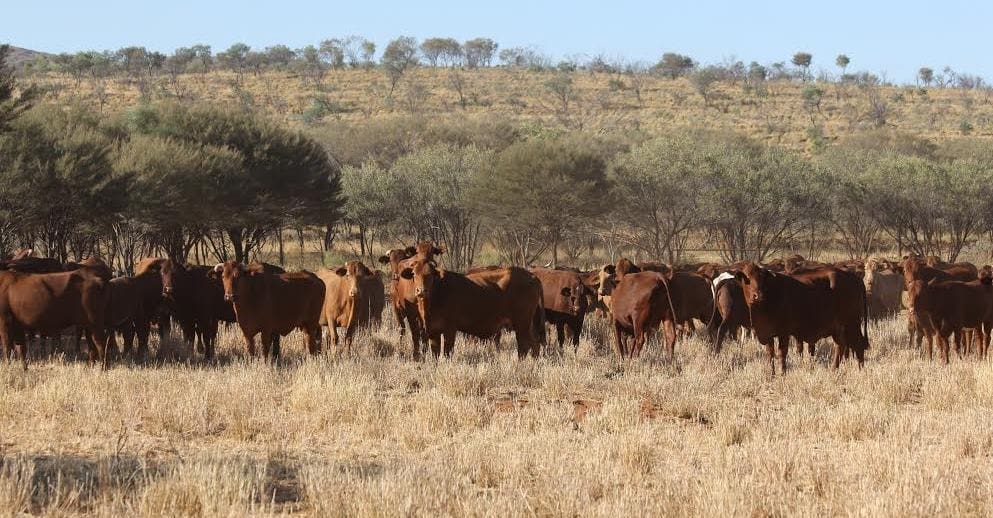 Interest in Qld's Woodstock and Glenora Stations
There has been some post-auction interest in the 152,500ha Woodstock and Glenora Stations, 210km north of Richmond in north western Queensland.
According to selling agents Elders and Ruralco, the property is in a safe reliable rainfall zone with excellent current conditions. Woodstock and Glenora are blessed with an abundance of underground water at shallow depths allowing development of numerous water facilities.
Over the past week, agents have taken a number of interested Queensland grazing operators to inspect Woodstock, including one interest who attended the May 12 auction, but failed to register as a bidder. Last year, Woodstock and Glenora were reported as sold to a Chinese investor, who later failed to close the deal. A year down the track, a deal looks closer
Andrew Adcock from Elders said it takes time to sell some rural properties, particularly in $10m plus price bracket.
"There is nothing physically holding back a sale. The enterprise has had an excellent season and the cattle numbers are appealing. People just need to be patient. We will work through the parties we've identified and they will work through their part of the process as well. I'm confident we will get a result in due course."
Woodstock and Glenora Stations are being sold as a going concern with 7500 head of cattle.
Recent property sale results
Queensland:
The Outstation, a 10,900ha breeding or fattening property at Springsure in Central Queensland, has been sold after three years on the market. In July 2014 it failed to sell at auction and was offered for sale by numerous agents before being tendered in April by Colliers International.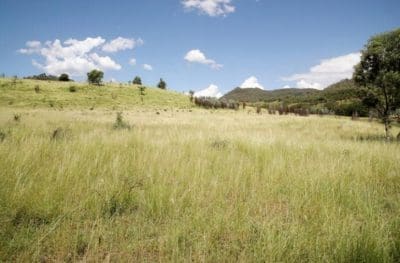 The property has well-established buffel, bluegrass and native grasses and is watered by eight bores, 18 dams, permanent waterholes and springs. It carries more than 3600 backgrounders or 2500 breeders. The Outstation was sold to a Queensland grazing family for an undisclosed sum.
Meanwhile, the Byrnes family, well-known in the Far North Queensland meat processing industry on the Atherton Tableland, has purchased Crystal Vale Station, a lower Cape York Peninsula cattle breeding property for $1.35m.
Located 40km south of Coen, the 90,600ha operation (pictured below), including 700 head of mixed cattle, borders the Byrnes family's existing properties – the 30,000ha Holroyd River and 121,406ha Yarraden stations.
The recent purchase brings the Byrnes family rural property holdings in the region to 242,000ha. Holroyd River and Yarraden Stations were listed for sale more than 12 months ago and are being sold through an off-market campaign by John Friend Livestock & Land Far North Queensland.
Crystal Vale Station selling agent Morgan Brennan from Ray White Rural said there was interest in FNQ because it is cheaper breeding country, however property listings are few and far between.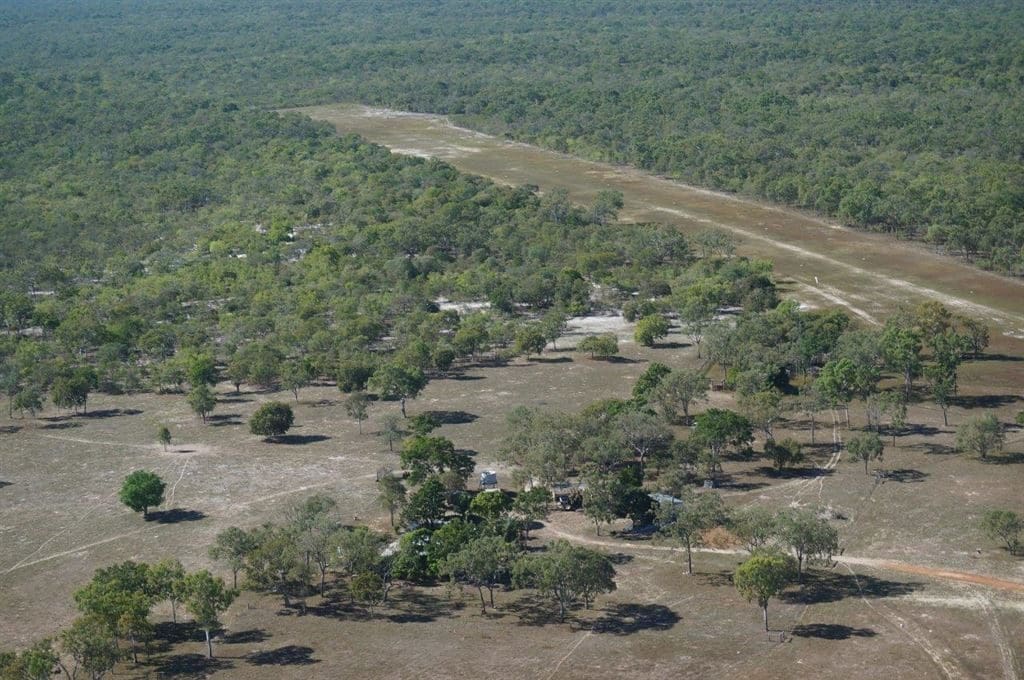 New South Wales:
A record $5.6 million, or $9950 per hectare, was paid recently at the Ray White Rural auction for smaller but highly productive 563ha Elderbury. Described as an 'absolute beef factory,' the property (pictured below) is situated near Guyra, midway between Armidale and Glen Innes, on the Northern Tablelands in the New England region.
RWR Guyra /Armidale principal Andrew Starr said rarely do properties with such a high level of presentation come on the market.
"Elderbury carries about 800 steers and yields at a high level of annual beef weightgain production. Current management is finishing steers to heavy export slaughter weights."
Mr Starr said the property boasted a 23-year annual fertiliser history and was fully pasture improved.
"That was the point of difference. Elderbury's perennial pastures and weed control were outstanding and the inventory of fertiliser history was enviable."
He described the auction as the best he has ever run.
"It was quite incredible. We had nine registered bidders, all with very strong credentials, ranging from local graziers to off-farm investors. It was a good cross section of depth in the buying fraternity."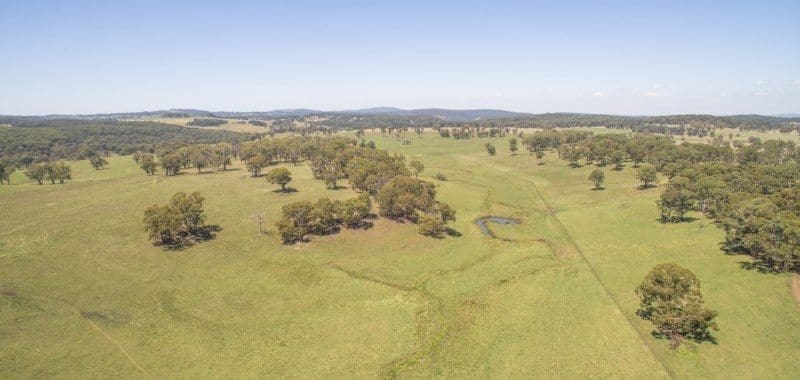 The successful purchaser is adding to his existing New England aggregation.
Wally Rea, from the Overflow at Marlborough in Central Queensland, is a substantial Wagyu operator who several years ago invested in two blue ribbon local properties -Stonehenge Station and Blairmore – near Glen Innes.
Mr Rea featured in this recent Beef Central article, after he received life membership to the Australian Wagyu Association at its 2017 annual conference .
Click here to view more Recent properties listed for sale, or Recent property sale results.