PROMINENT lotfeeders Tess and Andrew Herbert have put their Ladysmith feedlot on the market, with a planned expansion at their home operation, Gundamain.
The Herberts purchased the dormant feedlot in 2010 from Japanese company, Hannan Livestock, adding a separate southern site to the family business – which has been running for more than 150 years.
Ms Herbert said the family wanted to concentrate on its Gundamain feedlot, near Eugowra in Central West NSW, with plans to expand from 6000 to 10,000 head. She said they had been purchasing land around the area as part of that process.
"We have two of our three children coming back into the business and they aren't interested in a remote site," she said.
"Ladysmith is a good site close to Wagga Wagga, but it doesn't fit in with our succession plan because our children wanted to concentrate on our home feedlot, which is two or three hours away.
"The land we've acquired around Gundamain has helped us with breeding cattle and we have branched out into sheep and more cropping."
Feedlot close to processors
Ms Herbert said the strength of the 6500 head Ladysmith feedlot was its proximity to processing and production areas and it potential for limited expansion.
"It is big enough to fit 9000 head in the yards, but it is only licensed for 6500 – so there is the potential for a small expansion there," she said.
"We never tried to expand because we were happy with the size. The property actually backs on to Wagga Wagga Airport, so it's probably not a site where you would have a large feedlot."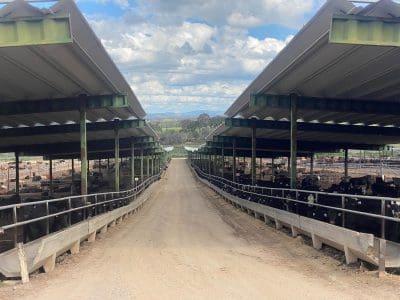 Ladysmith has 97 pens with 4500m of concrete feed bunk space, a roller mill with storage in concrete bunkers and silos with a covered grain receival area. The property is mainly run on bore water, with two licenses.
Additional improvements include workshop, weighbridge, stables, hayshed, silage bunkers and a large office with full amenities, weather station and security camera monitoring system.
Recently, Ladysmith has been supplying the 100-day fed market and the 60–70-day domestic markets, with some custom feeding.
"At the moment we're doing some Wagyu custom feeding, but not for a long period of time – only a 100-day program. We have done a 150-day program before," Ms Herbert said.
Cropping and backgrounding potential
Surrounding the feedlot is 735ha of country, which has traditionally been used for dryland cropping and backgrounding.
Ms Herbert said with about 570mm average annual rainfall, the land had multiple uses.
"We've been using a lot of it to supply the feedlot, cropping for barley and we can basically supply most of our internal silage needs," Ms Herbert said.
"We also use it for backgrounding cattle going into the feedlot – as well as hay production."
Ms Herbert said Ladysmith had served the family well over the past decade.
"It's enabled us to grow our business, particularly for grain-feeding cattle, and supply the people we have been supplying for many years," she said.
"For us, it's been really good having a southern yard for cattle procurement and it's been a good add-on to the existing business. But we think it is time we concentrate on our home yard."
Ian Robertson and Tim Corcoran from LAWD are marketing Ladysmith, with expressions of interest closing November 16.