IN a separate land/cattle deal worth a combined $175 million, the extensive Northern Territory grazing properties Maryfield and Limbunya have sold to funds manager Sam Mitchell from Sydney-based Wealthcheck, who has bought the land component, while Brisbane-based AAM Investments has bought the cattle and will operate the business under a lease arrangement.
The landmark deal was negotiated by Olivia Thompson from Nutrien Harcourts on a walk-in walk-out basis including around 50,000 head of Brahman cattle.
Mr Mitchell confirmed to Beef Central that the deal has settled today, however he was unable to disclose the price paid or other details at this stage.
At a little over 2000sq km, Maryfield is located on the edge of the Barkly Tableland on the Stuart Highway north of Daly Waters.
Limbunya, 5222sq km, is in the heart of the Victoria River District, towards the WA border.
In November 2020, the two properties were offered through an expressions of interest campaign, and were expected to achieve around $150m at the time.
When the properties failed to sell, the sale process was deferred, with selling agent Olivia Thompson explaining that inspections had been hampered by COVID restrictions, with several potential international buyers prevented from competing.
Maryfield and Limbuyna were scheduled to return to the market next year (2023), however it is understood Ms Thompson received an unsolicited approach from Wealthcheck several months ago.
Sam Mitchell's agricultural investment company Wealthcheck operates a cattle breeding enterprise, as well as a number of broadacre and horticultural properties growing cotton, wheat, sugar cane, almonds, avocadoes and wine grapes across Australia. The Maryfield deal is the fund's first investment in the NT. AAM's Pastoral Development Fund owns Legune another grazing property on the NT/WA border.
Garry Edwards's AAM Investment Group owns nine mixed farms spanning almost 120,000ha in New South Wales, the NT, and Queensland, as well as 14,749mgl in water assets.
Click here to listen to an earlier Kerry Lonergan Weekly Grill podcast interview with AAM's Garry Edwards.
Given the rich soil and flat terrain at Maryfield, as well as its 3392mgl water licence and a 75mgl storage dam, the new owners are expected to clear 4900ha recently approved for cropping. Work will soon begin on six centre-pivots which will supply irrigated fodder directly into the nearby finishing facility, adding to the business' vertical integration and reducing production costs even further.
The carbon potential of Maryfield and Limbuyna will also be considered.
North Star Pastoral
Limbunya and Maryfield vendor Colin Ross's North Star Pastoral has owned the highly productive cattle breeding, backgrounding and finishing facilities, totalling 722,200ha since 2007 and 2009, respectively.
During his ownership, Mr Ross has completed an extensive capital development program which has transformed the assets into an integrated breeding and finishing business capable of servicing the growing protein demand from global markets.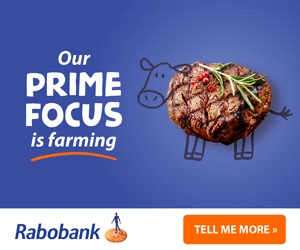 Two years ago, Olivia Thompson from Nutrien Harcourts told Beef Central Maryfield and Limbunya were considered by many to be among the best extensive cattle holdings in the country.
"Maryfield and Limbunya are testament to Colin Ross' vision and drive to develop a best-in-class beef business that can operate year-round."
"He has spent millions on the construction, upgrade and optimisation of water systems, fencing, pasture improvement, feed mix design to develop a world class 'abattoir and export preparation facility' in central Australia," Ms Thompson said.
A statement issued at the time of sale said Maryfield and Limbunya were vertically integrated holdings with institutional-scale investment economics.
"Combined, the properties provide the amalgamation of highly developed Brahman genetics with the rapid weight and margin growth provided through downstream backgrounding and finishing."
It suggested the value of the properties extended far beyond the sum-of-parts being land and cattle, creating a "centralised, all-season, high-capacity processing hub to become an important node in the Northern Australia cattle industry."
Year-round access
The business model on which the operation has been designed, enables the continuous supply and fattening of cattle to take advantage of both the premium live export and domestic processing markets.
With the Maryfield backgrounding property and its finishing facility being located 200km south of Katherine on the Stuart Highway, and less than six hours from Darwin ports, the business utilises the country's main arterial highways to source cattle anywhere from Queensland to Western Australia.
"With all-weather access and feeding facilities capable of processing more than 90,000 head of cattle annually, North Star Pastoral has the ability to selectively source a wide range of cattle and buffalo from domestic breeding properties, provide the optimal feed mix for maximum animal conditioning and all with the economies of scale required to keep costs of production as low as possible," the statement said.
Since acquisition of the properties, North Star Pastoral has invested heavily in genetic improvements of the breeding herd at Limbunya.
It has introduced high-quality Brahman stud bulls to support the management of breeder herd age profiles, weaning practices and a highly effective 'rumen development program' accelerating the development and stabilisation of weaners' rumens prior to entering the backgrounding process at Maryfield.
This program concurrently allows early weaning and increased breeder cycling to maximise production efficiency.
Both properties have had significant investment in infrastructure over the past decade including solar-powered low-maintenance bores, hundreds of kilometres of new fences and aerial seeding of pastures which has created a low-cost, highly productive and turn-key beef production operation.
The pasture development program across the stations represents one of the largest investments in pasture improvement undertaken by a private landowner in Northern Territory's history.
The establishment of hardy, drought tolerant legumes and grasses has enabled additional carrying capacity and consistency over the dry season, improved calving rates through breeder condition and increased average animal weights, the marketing agents said.
The 10,000 head capacity finishing facility has been constructed to Australian Standards and is designed to minimise animal stress, reduce labour requirements and increase safety for both humans and animals.
Large silos and sheds provide ample capacity, flexibility and accuracy to supply corn, soybean, legume, hay, molasses and other ingredients into the purpose-built feed mixers according to expert-designed ratios, therefore driving ideal animal nutrition and optimised weight gain.
More on Maryfield & Limbunya lease arrangements tomorrow