THIS week's property review includes this wrap-up of interesting recent listings across the country, and a separate article of recently completed sales of note.
Rain delays auction of St George property Burwah
Fully operational northern breeding at Cape York
NSW's historic Funny Hill lists after 162 years
Three adjoining grazing properties listed in SA
Reliable grazing in SA's south-east
Mungallala's Larnook listed at $8.8m
Quality & diversity on Tumut River holding
Livestock, fodder & irrigation on Albury's Culverly Rise
Rain delays auction of St George property Burwah
Rain has delayed the auction of St George grazing property Burwah.
The southern Queensland property (see video above) was due to be sold on November 4, however with rain interrupting inspections Ray White Rural Goondiwindi and GDL St George have rescheduled the auction to November 18.
Owned by the Scriven family, Burwah is described as a magnificent breeding or background operation located 20km from St George, 176km south of Roma and 380km west of Toowoomba.
The 9943ha holding is conservatively running 800 breeders plus progeny.
RWR's Anthony Hyland said the property is underpinned by productive land and soil types, secure water resources and good operational infrastructure.
"Over recent years, the vendors have significantly invested in expanding and improving pastures, clearing regrowth, exclusion fencing and livestock handling infrastructure," he said.
Water is a feature. A private sub-artesian bore and a GASBI capped and piped artesian bore feed 27 tanks and troughs. In addition, there are ten stock dams and semi-permanent holes along the Glear watercourse.
Mr Hyland said there had been good inquiry from locals, producers in the Central Highlands and from superannuation funds.
The last grazing property offered in the St George area was the 5250ha Kendal which sold for $7.75m in November last year.
Fully operational northern breeding at Cape York
James and Patricia Gordon are selling their fully operational Far North Queensland cattle station Astrea after 37 years ownership.
The 62,800ha property is located near Yarraden, 450km north of Mareeba and 60km west of the Musgrave Roadhouse on Cape York Peninsula.
Russell Wolff from Elders said it was early days, but there was already strong inquiry.
"I believe the strongest competition will come from cattle producers in the south looking for value breeder country," he said
Astrea Station is generating an additional passive income driven by a small carbon offset scheme via savannah burning offsets.
The property may attract companies like Sydney-based Corporate Carbon that recently paid $12 million for Watson River Station (WIWO including 2200 branded cattle) on Queensland's tightly held Cape York Peninsula. Corporate Carbon indicated it is planning to increase fire management practices and secure additional country in the region.
Astrea Station has double frontage to the Lukin River as well as 24 dams, springs and seasonal waterholes.
The holding is being sold on a walk-in walk-out basis including 1500 head of branded cattle, as well as a comprehensive list of plant and equipment.
It will be auctioned on November 30.
NSW's historic Funny Hill lists after 162 years
After 162 years of single-family ownership, James and Felicity Carr are selling the historic Funny Hill in the Southern Tablelands region of New South Wales.
Located near Binda, 23km north of Crookwell and 67km north of Goulburn, the 3877ha holding is a three-hour commute from Sydney.
With rich granite soils and highly improved pastures, Funny Hill features easterly aspect, scenic tablelands country.
Situated in a reliable 763mm annual rainfall district, the property has almost 10km of Crookwell River frontage, as well as nine spring-fed creeks and 63 dams.
Since 1970, the Carrs have been upgrading and improving the property allowing them to transition from running 45,000 dry sheep equivalents to a 2200 head Angus commercial cow herd.
Chris Meares from Sydney-based Meares & Associates said Funny Hill represented a 'time walk' from the original land grant in 1860 to the present day.
"It features a magnificent historic six-bedroom stone/brick homestead (c 1864), an old schoolhouse (c 1875), a 16-stand woolshed (c 1906) and the shearer's mess and stables (c 1907)."
Funny Hill is home to the oldest country racecourse in Australia and every March hosts the annual Binda Picnic Races – first held in 1848.
Funny Hill will be offered for sale via online auction commencing on December 14 and concluding on December 15.
Three adjoining grazing properties listed in SA
Elders Robe is offering close to 3000 hectares in South Australia's south-east with the sale of three adjoining grazing properties.
After 50 years ownership, Deb and Bruce Nulty have decided to retire and are selling the 1292ha Punari and 1196ha Oakbank situated in the tightly held area of Taratap, 33km north of Kingston.
Suited to cattle and sheep production, the 2488ha aggregation is capable of running around 6000 ewes and lambs, plus 400 head of cattle.
In addition, the Nultys have been cutting hay annually from rye grass and clover mixes.
The productive heavy grey loams over clay flats on the two properties are known for their ability to grow an abundance of feed during the spring and early summer months.
The high ground country provides shelter and warmth allowing livestock to mother up during the winter months.
The adjoining Punari and Oakbank are being offered as a whole or two separate sales by expressions of interest closing on November 10.
Meantime, the neighbouring 420ha Taratap, owned by Lachie Stewart, features a balance of strong productive flats, complimented by high ground – ideal for all year-round grazing.
Currently being run as a mixed prime livestock enterprise, the property features highly productive black loams to clay over limestone on the flats.
Water comes from two solar submersibles and one electric submersible to satellite tanks across the property.
Taratap is also being offered for sale by expressions of interest closing on November 10.
Grant Schubert from Elders is handling the marketing and sale of the three properties.
Reliable grazing in SA's south-east
The Malpas family is selling 1173ha of reliable grazing country in South Australia's south-east.
Walteela Park and Xanadu located at Fox, 32km south of Lucindale, are running 2600 sheep and 200 cattle on phalaris and clover pastures, alongside a cropping enterprise.
There are also two areas of bluegum plantation under lease covering 88ha.
The Malpas family purchased Walteela Park in 1976 and Xanadu in early 1990. The properties are now being sold to enable them to downsize.
Mark De Garis and Tom Pearce from TDC Livestock and Property have been appointed to handle the sale of Walteela Park and Xanadu.
They report strong local interest.
"Producers from within a 100km radius are showing good enquiry but interest is likely to come from further afield given the property's size. Lucindale is renowned for its reliable grazing country, good rainfall and plentiful underground water."
Expression of interest for Walteela Park and Xanadu close on December 9.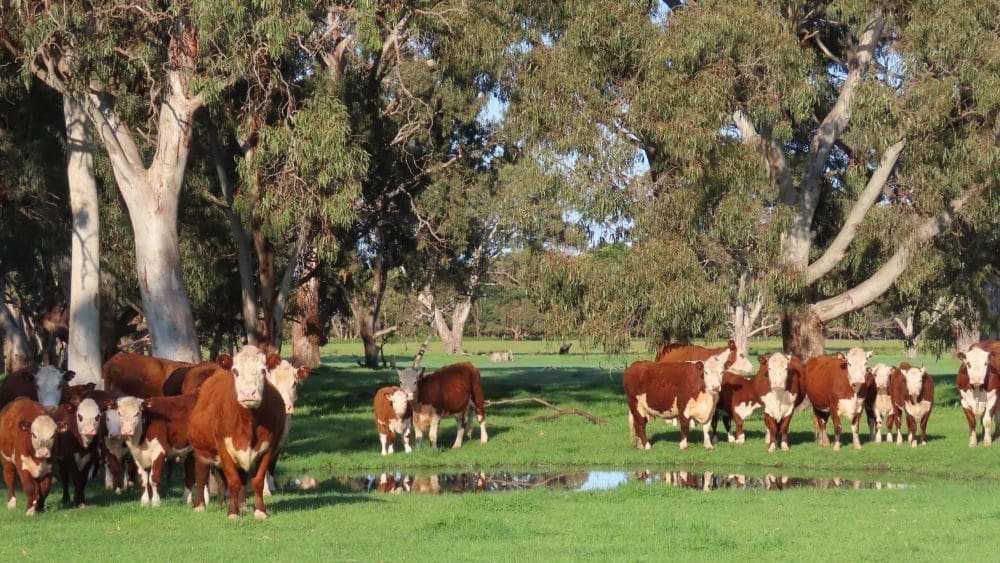 Mungallala's Larnook listed at $8.8m
Nutrien Harcourts has listed the 4179ha grazing property Larnook, adjacent to the township of Mungallala, 130km west of Roma, with a price tag of $8.8 million.
It last traded hands in November 2018, selling for an undisclosed price to Joe Henry for expansion.
Larnook is suited to breeding, fattening, backgrounding or potential lotfeeding.
The country is undulating brigalow and box, bottletree with bendee soils, with the balance pulled and raked.
Around 2800ha has been blade-ploughed and established to silk sorghum and buffel grass. Around 200ha is ready for oats.
During his four years ownership, Mr Henry has installed 32km of boundary exclusion fencing, 20km of new internal netting fencing, 7km of new laneways and 13 new watering points.
There is an automated water system with a bore suppling an 80,000g tank (with Observant monitoring) gravity fed to troughs.
Darryl Langton from Nutrien Harcourts is handling the sale of Larnook.
Quality & diversity on Tumut River holding
James Fallon's high quality mixed farm on the Tumut River in southern New South Wales is anticipated to make between $5.5 million ($11,500/ha) and $6 million ($12,600/ha) when it is auctioned on November 17.
The 478ha Quidong is situated in the tightly-held Tumut region, 16km from Tumut and 22km from Gundagai.
The fertile country is suited to a wide range of enterprises including beef, prime lambs, fodder production, dairy and/or cereal and oilseed cash cropping.
Quidong is currently enjoying an outstanding season and running 250 breeding cows plus followers. Inherently, the highly fertile river flats exhibit high density stocking rates of between 20 and 22 dry sheep equivalents per hectare.
In an average season, Quidong can carry between 3500 to 4000DSE, however there is scope to lift those numbers with further development.
The property features a 1.75km Tumut River frontage plus a large network of strategically placed dams.
Inglis Rural Property and Ray White Tumut have been appointed to sell Quidong.
Liam Griffiths from Inglis Rural Property described it as a cracking property that presents as a bolt-on acquisition or a lifestyle property.
"It is well balanced and features a mix of unfailing Tumut River flats, beautiful open productive valleys that are arable, rising to timbered hilly grazing country."
The property also offers the potential purchaser landbank or subdivision potential. Comprising 14 freehold titles with public road access, the zoning allows for a minimum subdivision area of 40ha.
Livestock, fodder & irrigation on Albury's Culverly Rise
Inglis Rural Property and Elders Rural Services Victoria have joined forces to sell a highly productive mixed farming operation in southern New South Wales with a price guide of between $6.8 million to $7.2 million.
The 201ha Culverly Rise is suited to prime lambs, beef cattle production along with fodder/hay and dryland/irrigated cash cropping enterprises.
Situated 11km from Howlong and 23km from Albury, Culvery Rise also has development approval for a lamb feedlot.
Most of the property is arable with gentle undulation, scattered timber and designated timber shelter belts for the 100 breeders.
Comprising heavy clay brown soils rising to free draining red loams, around 115ha is sown to canola and 40ha to grazing wheat.
Underpinning production, the property features a 500mgl of groundwater entitlement interlinked between three irrigation bores supported by two centre pivots.
Culvery Rise is watered by several surface dams along with a bore that pumps directly to a network of concrete troughs.
It will be auctioned on November 18.
Click here to access more properties listed for sale