THIS week's property review includes a wrap-up of interesting recent listings across the country, and a separate article of recently completed sales of note.
Breeding & backgrounding in central western QLD
WA grazing & carbon opportunity expected to make $35m-$40m
Teys family offloads CQ's Sedgeford
Aramac's Fortuna Aggregation offered after 40 years
High rainfall in southern NSW tipped to make $10m+
WA's mothballed Waroona Abattoir returns to the market
Diversity on SA finishing operation
Sought-after NSW Western Division country relisted
Options on Bundaberg's historic Moolyung
Tightly held northern NSW blocks to be auctioned
Downsizers dream in northern NSW
Breeding & backgrounding in central western QLD
After more than a century of ownership, fourth generation Queensland beef producer Peter Magoffin is offloading his two central western Queensland grazing properties.
Melrose Aggregation, located 90km south-east of Winton and 140km north-west of Longreach, has been held by the family for 151 years.
The large-scale breeding and backgrounding operation can run 1500 breeder cattle or up to 10,000 sheep. When the season allows, it can also take up to 2000 weaners.
Spanning 73,048 hectares (11,958ha freehold and 61,090ha leasehold), Melrose neighbours the 77,747ha Baratria Aggregation which was offered to the market by the Teys family just three weeks ago.
The country includes 7155ha of heavy carrying open Mitchell grass downs, 1845ha of pulled gidgee, 14,750ha of edible mulga and spinifex, surrounded by 10,065ha of stony ranges and escarpments.
The headwaters of the Vergemont, Maneroo and Katherine Creek systems are found on Melrose which is also watered by 32 dams, three sub-artesian bores (equipped with tanks and troughs) plus many short-term waterholes along the creeks following rain.
Wally Cooper from RPL and Tom Brodie from Brodie Agencies have been appointed to sell Melrose Station which is being offered with around 2500 cattle and an extensive list of plant and equipment.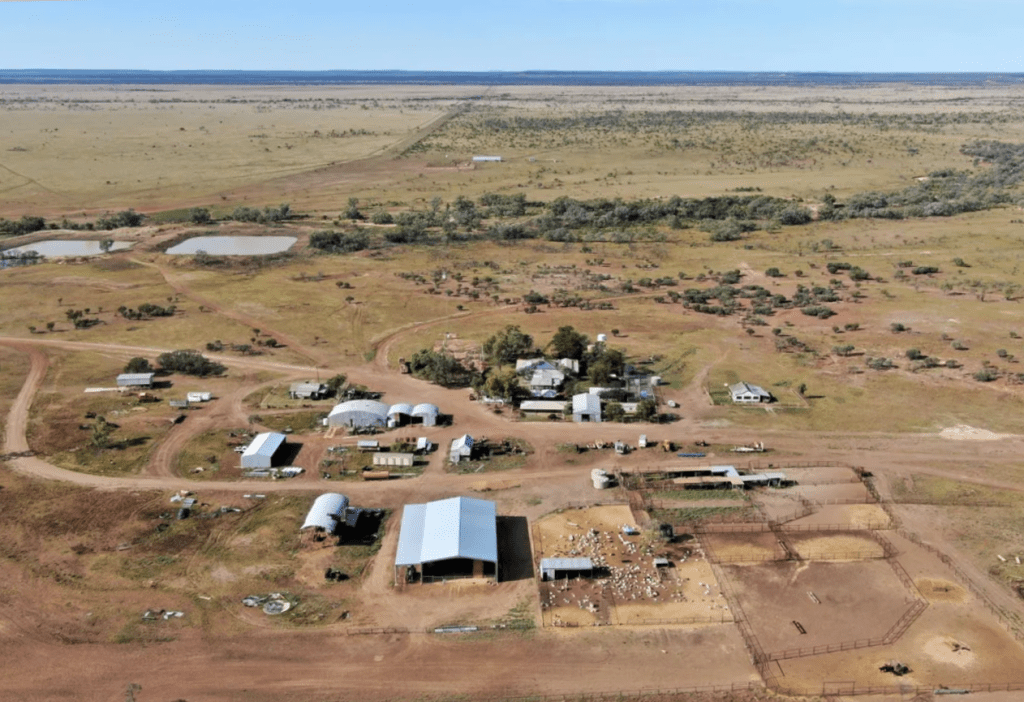 Meantime, the 138,200ha Tonkoro Station (comprising 67,400ha Tonkoro and 70,800ha Carcara) is located 245km south of Winton and 240km south-west of Longreach.
It is the first time in 121 years that the property has been offered for sale.
The safe, low-cost operation has large areas of edible mulga and the added fattening ability of channels and bluebush swamp areas.
Tonkoro is a breeder property or a backgrounding depot that has consistently carried 4500 breeders. It also has potential for organic status and a large-scale carbon project.
Over recent years, Mr Magoffin has outlaid considerable capital on Tonkoro including 65km of new boundary fencing.
There are around 10,650ha of semi open soft mulga country interspersed with channels and open bluebush swamps and 75,150ha of soft edible mulga woodlands.
The balance is stony mulga timbered country that provides water runoff to flood-out the numerous channel systems including the Farrahs, Middle, New Year and Palaparara Creeks.
There are 18 dams and 18 bores or wells on Tonkoro (eight bores were recently drilled) equipped with solar pumps, tanks and troughs.
The property is offered with around 4500 cattle and an extensive list of plant and equipment.
Expressions of interest for Tonkoro and Melrose Stations close on November 15 with selling agents Wally Cooper from RPL and Tom Brodie from Brodie Agencies.
WA grazing & carbon opportunity expected to make $35m-$40m
Between $35m and $40m is anticipated for an 8164ha grazing opportunity with commanding views in one of the fastest growing renewable energy areas of Australia.
Owned by an Australian developer, Karakin Farm is located at Lancelin, 126km north of Perth on the edge of Indian Ocean.
The aggregation of Karakin and San Angelo Farms has been run as a mixed enterprise cropping wheat, barley and lupins plus grazing.
Situated one hour from the Muchea Livestock selling centre, Karakin Farm is described as an ideal finishing block for livestock bred further north or east.
Receiving around 600mm of reliable rainfall per annum, the property is also suited to high intensity grazing, fodder crops and grain and oilseed production.
For the last six years, Karakin Farm has been leased, but has reportedly run around 20,000 ewes.
Around 5030 hectares are arable with some infrastructure in place for centre pivots. The property has five residences, four machinery sheds, three shearing sheds and two purpose built fertiliser sheds.
Lancelin has been earmarked by Copenhagen Energy for its $8b offshore wind farm due to the reliability of wind coming off the Indian Ocean, the high voltage power line that runs through the area and its proximity to Perth -reducing transmission losses.
Greg Smith from Elders said Karakin Farm has multiple revenue options.
"It offers high rainfall broadacre farming, renewable energy and urban development. It is the perfect place to harvest the wind above and produce agriculture on the ground."
Mr Smith believes the high voltage transmission lines that run through the property would enable output to be connected into the grid without the construction expense.
"Solar and carbon sequestration are possible diversified options that could be incorporated into the agricultural business. The property's proximity to the coast may even make it viable as a dedicated green hydrogen project."
Karakin Farm is being offered for sale via expressions of interest as a whole or as seven individual titles ranging in size from 383ha to 1829ha and closes on October 18.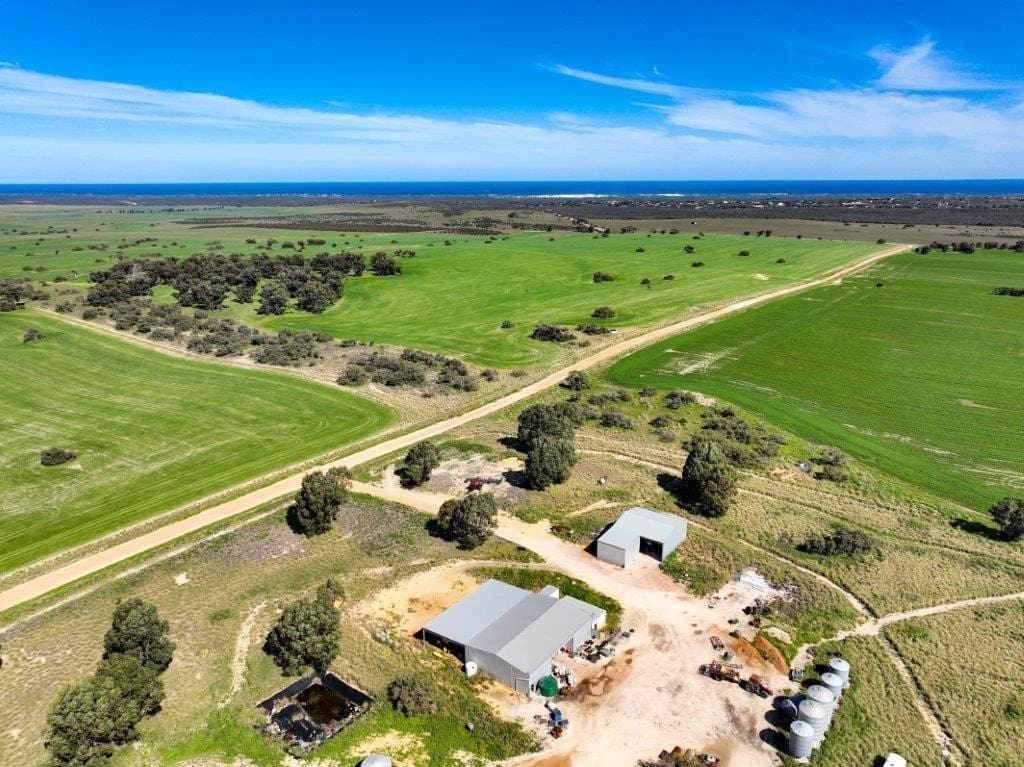 Teys family offloads CQ's Sedgeford
After 32 years ownership, the Teys family is offloading Sedgeford in Central Queensland's Barcaldine region.
Situated 35km south-east of Alpha, Sedgeford is a 48,370ha breeding and fattening cattle property with a carrying capacity of 7000 mixed cattle (up to fattening age).
In 1990, the Teys family purchased the property for $4m from Sir William Allen, a National Party figure and former Suncorp chairman.
Featuring strong cattle country, Sedgeford has gently undulating heavy black soils, fertile pebbly ridges to red sandy loams growing brigalow, blackbutt, bauhinia, box, iron bark and bloodwood.
Brad Hanson from Hourn & Bishop Qld said the property has a good belt of country running through every paddock.
"Around 36,500ha have been cleared and is well grassed with mainly buffel interspersed in some areas with black spear and kangaroo grass."
"The balance is timbered country that is covered by a PMAV but is grassed through the timber in quite a few areas," he said.
Sedgeford has 30km of dual frontage to the Native Companion Creek.
There are 51 dams – 13 are equipped with solar pumps, 10 with windmills, three with motors and 25 are open. Twenty dams have been desilted and had silt traps constructed since 2013.
An extensive water system includes 15 tanks and 14 turkey nests supplying water to 54 troughs.
Sedgeford is being offered via expressions of interest closing on November 17.
An extensive list of around 6000 head of livestock and plant will be made available to the successful purchaser.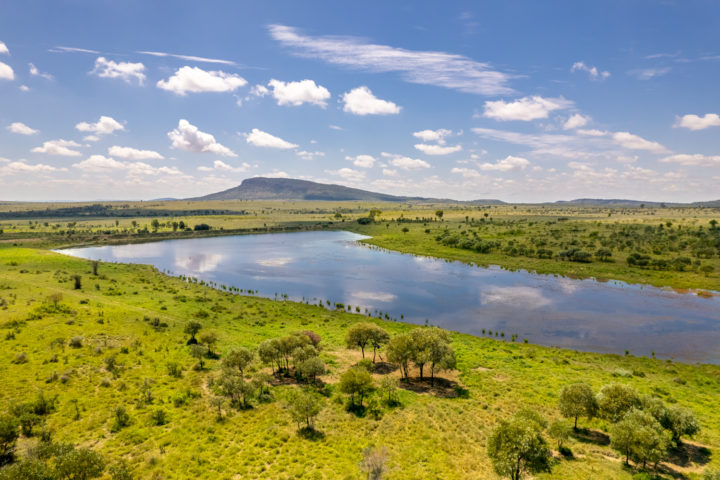 Aramac's Fortuna Aggregation offered after 45 years
After close to 40 years, the House family is selling its safe breeding and backgrounding country in Queensland's central west to enable family succession and retirement.
The 38,951ha Fortuna Aggregation, comprising Fortuna and Cherhill, are located 40km north of Aramac and 100km north of Barcaldine with good access to saleyards at Blackall, Emerald and Roma.
With an estimated carrying capacity of 1200 breeders plus progeny, the property has a reputation for producing high quality weaner cattle.
There are three sets of steel cattle yards with vet crushes and scales, however there is also sheep infrastructure including two shearing sheds and shearer quarters.
Andrew Turner from Ray White Rural Blackall is expecting enquiry from locals looking for additional breeding country and northern producers seeking expansion.
"Fortuna Aggregation is enjoying brilliant seasonal conditions and is extremely well grassed with buffel, Desert Mitchell, stylos, soft spinifex and edible shrubs."
The country on Fortuna comprises desert uplands including yellow jacket, ironbark, box and gidgee, interspersed with creek flats and jump ups.
It is well watered by 12 dams and seven sub-artesian bores reticulated to 30 tanks and 70 troughs.
The Fortuna Aggregation will be auctioned bare on November 11.
High rainfall in southern NSW tipped to make $10m+
A productive grazing operation in the highly regarded, high rainfall south-west slopes region of New South Wales is expected to achieve more than $10m when it is auctioned next month.
Part of the 2346ha Green Valley has been owned by members of the McAllister family since the 1930s. Its current owners, brothers Pat and Lachie, are now retiring.
Situated 8km south-east of Tarcutta and 53km from Wagga Wagga, Green Valley is rated to run around 500 cows or 10,000 DSE.
Located in a temperate climate, Green Valley enjoys an average annual rainfall of around 744mm.
The country is described as a good balance of highly fertile creek flats rising to open sheltered valleys and timbered ridges.
The property features double frontage to three permanent local creeks, and multiple spring-fed dams.
Sally Douglas from Nutrien Harcourts is handling the sale of Green Valley which will be auctioned bare on November 18.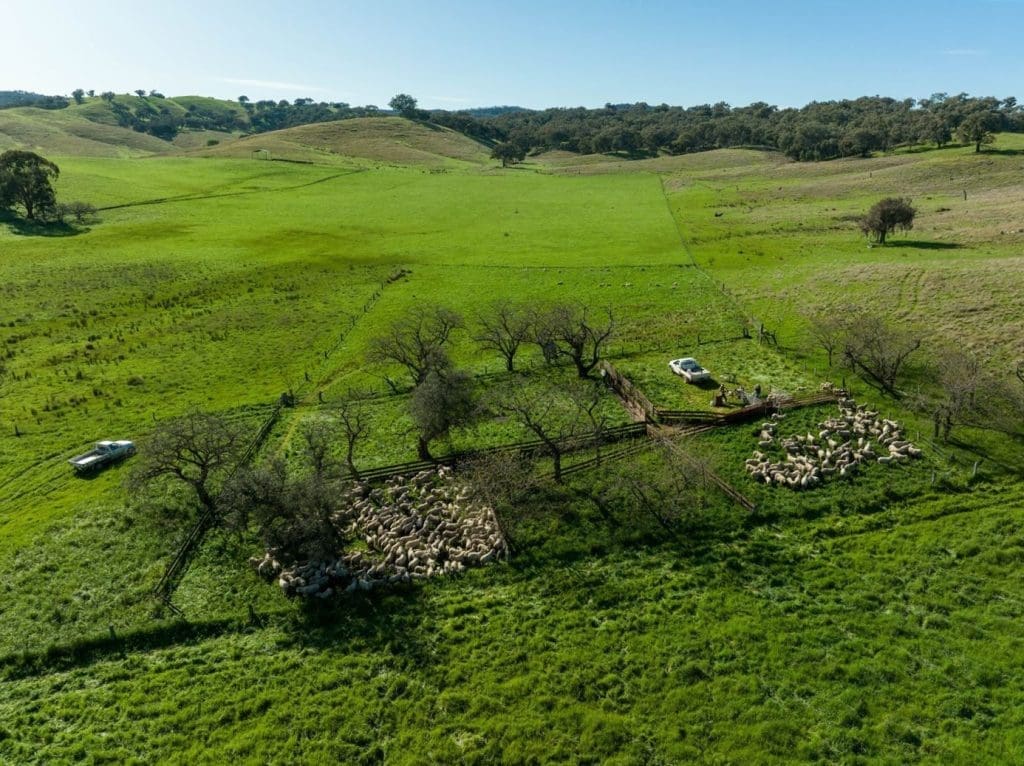 WA's mothballed Waroona Abattoir returns to the market
After four years ownership, Prime Meat Co Pty Ltd is offloading Waroona Abattoir in Western Australia's south-west.
The 22ha abattoir is situated at Wagerup, 110km from Perth, and was one of the biggest meat processing facilities in WA until it stopped operating.
Waroona has approval to process 500 cattle daily (hot standard carcase weight) or 83,500 tonnes per year, a water supply agreement, new infrastructure, a relined receival area and new dams.
The cattle line has boning and packing capacity.
The fit for purpose facility includes a new four-tower plate freezer with a capacity of around 3000 cartons, freezing capacity of 150 tonnes, chilling infrastructure, five chillers, a batching plant and a well-equipped spacious slaughter floor.
Formerly known as Clover Meats, the Waroona Abattoir was purchased by Prime Meat Co. from billionaire Gina Rinehart in 2018.
Ms Rinehart had acquired the mothballed facility in 2014 when she bought a 50 percent stake ($40m) in 470,00ha Liveringa and Nerrima Stations in the West Kimberley.
Twelve months later, Ms Rinehart became the sole owner after she purchased the remaining half from Graham Laitt's Milne AgriGroup.
At the time of sale, Waroona was surplus to Ms Rinehart's requirements.
It is not known how much the current owner paid for Waroona but when it was offered to the market in 2017, it was expected to fetch between $5m and $10m.
Waroona Abattoir is anticipated to create 350 jobs at full capacity, or 10 per cent of the local population.
CBRE's Phil Melville has been appointed to handle the expressions of interest process.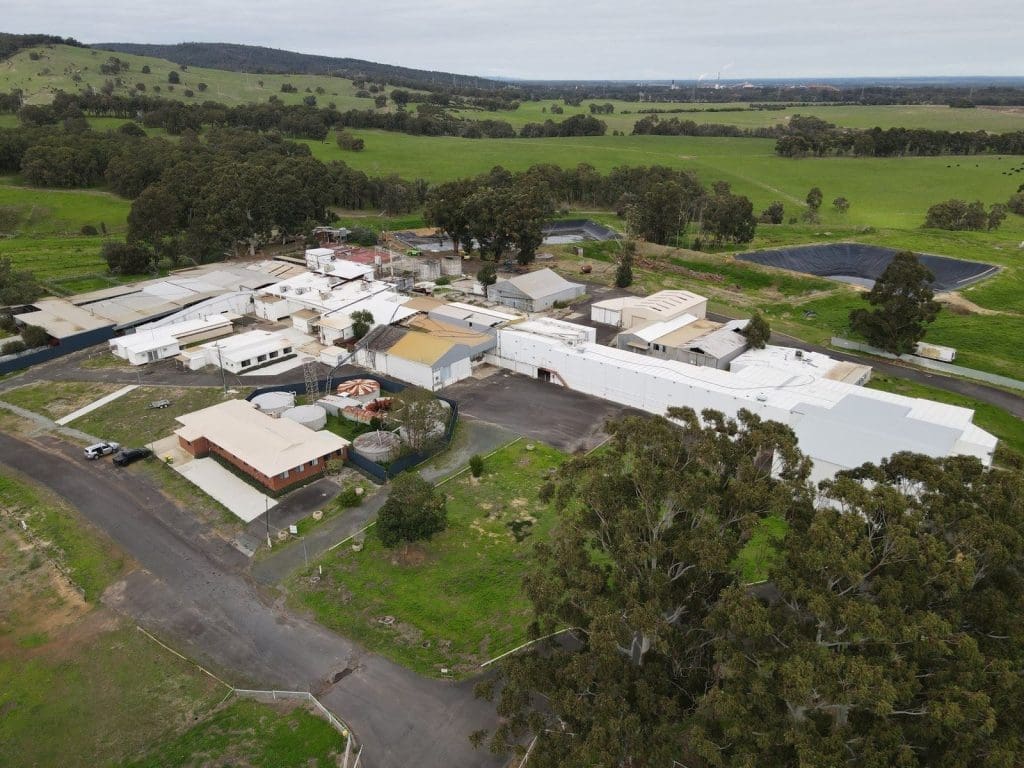 Diversity on SA finishing operation
More than $6m ($9331/ha) is anticipated for Bevan Oster and family's finishing operation in South Australia's south-east.
The 643ha Light River Stockyard is located at Lower Light, 14km north-west of Two Wells and 53km from Adelaide.
The property also lends itself to pasture silage and grain production with around 560 hectares that are arable.
Currently 87ha of beans are sown with the remainder of the property running 280 cows with followers and 1000 lambs on feed.
Phil Schell from CBRE Agribusiness said Light River Stockyard is already attracting good enquiry from local beef producers.
"The property is well located – three kilometres off the Port Wakefield Highway and close to meat processors and saleyards."
The Light River Stockyard fronts the River Light for 3km and features a mix of productive soil types including sandy loams over brown and red clay soils.
Improvements include lamb and cattle feedlots with multiple pens, separate holding yards and dual loading ramps.
Development opportunity exists along Light Beach Road with two zones across the property including a rural zone and a conservation zone.
The Light River Stockyard is being sold by expressions of interest closing on November 16.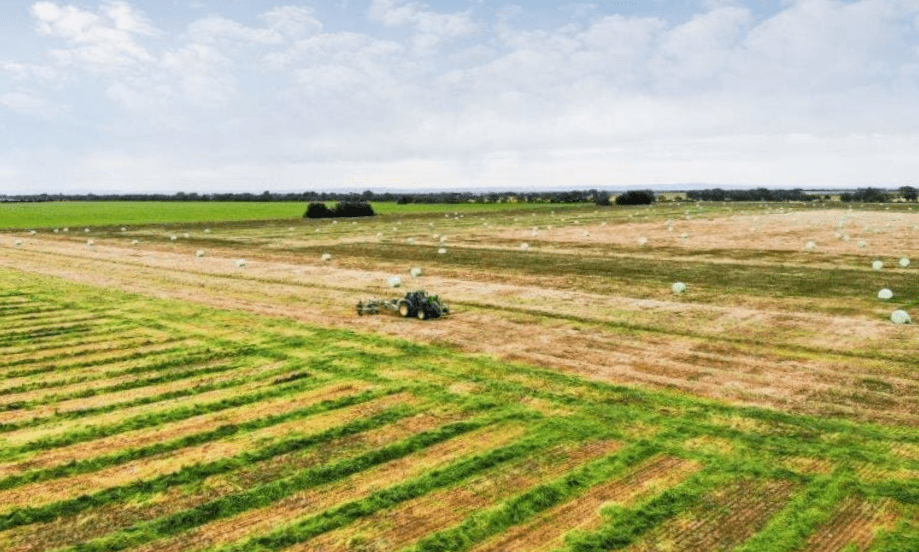 Sought-after NSW Western Division country relisted
There has been strong enquiry for a western division grazing and carbon opportunity in northern New South Wales listed with a $3.55m price tag.
The 9497ha Part Romani, comprising two western land leases, is located 90km west of Bourke.
The property last changed hands in October 2019 when a Mudgee producer paid $1.2m or $126/ha (a record price at the time) to expand his operations westwards.
After three years ownership, the vendor is now selling to assist in expanding his current grazing operations.
Expansive areas of poison point plain run into Part Romani with open flats and watercourses interspersed throughout. Areas of gidgee and belah run into some sweet harder country growing some small areas of dead finish.
Part Romani is well watered by four dams and one share dam. More than 80km of fencing has been renewed in the last 25 years.
Over the past 20 years, the country has been conservatively managed with rotational grazing. It is currently running around 3000 dry sheep equivalents plus seasonal goats.
Greg Seiler from Nutrien Harcourts said property inspections will resume next week after rain.
"Good interest is coming from across the eastern seaboard and from corporate scale investors looking at the carbon opportunity."
Mr Seiler said the additional income from carbon and goats supports a very good grazing business.
"Part Romani has a significant human induced regeneration carbon project in place that has yielded a considerable income stream over several years."
"Full details will be provided to qualified buyers and execution of a non-disclosure agreement," he said.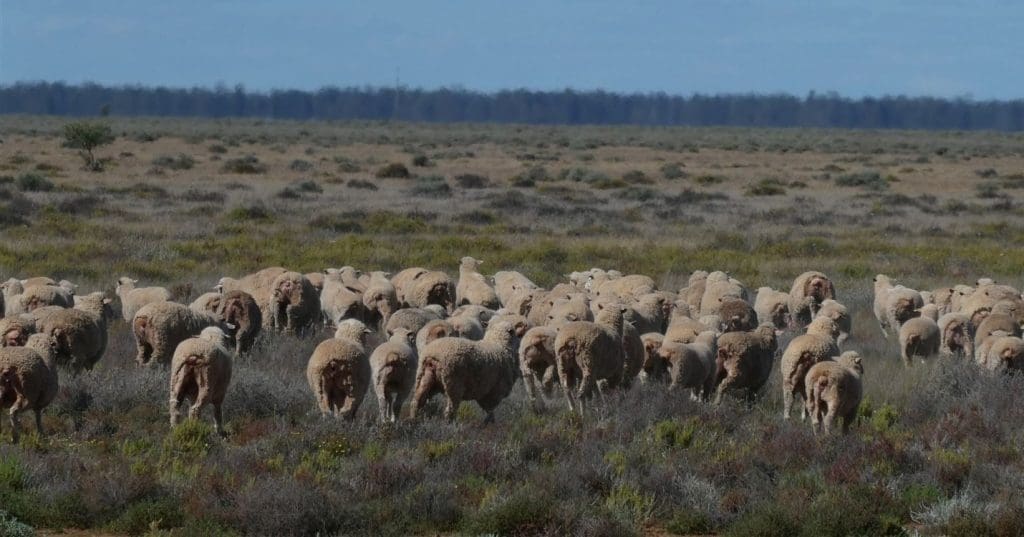 Options on Bundaberg's historic Moolyung
One of the oldest established grazing properties in Central Queensland's Bundaberg district is being offered to the market for the first time in almost four decades.
The 888ha Moolyung is 35km from Gin Gin and 50km from Bundaberg.
Previous owners include the King family who grew beef for their butcher shops and barley for their Fairymead brewery.
Today, Tom and Helen Wainwright are running a 350 head beef breeding operation and selling predominantly light feeder type Brahman/Charalois cross progeny.
Moolyung is watered by springs, creeks, dams and bores with more than 140ha of improved pastures.
Richard Brosnan from Ray White Rural said Moolyung's decomposed granite and loam soils also offer an opportunity for horticultural crops, with grapes and forage crops being successfully grown in the past.
Moolyung will be auctioned on November 10.
Tightly held northern NSW blocks to be auctioned
Tathra from McCulloch Agencies on Vimeo.
Tamworth based McCulloch Agencies is offering two well located farming blocks in northern New South Wales.
Tathra is a highly productive 432ha mixed grazing and cropping property with 360-degree views over the renowned and tightly held Liverpool Plains.
It is centrally located 30 minutes from Gunnedah and Quirindi and 50 minutes from Tamworth.
Boasting rich heavy basalt soils, selling agent George Barton said the incoming purchaser can change the current 50 percent grazing and 50 percent cropping ratio to suit their needs.
The infrastructure includes steel cattle yards, a number of workshops, machinery sheds and fodder storage (silos, grain sheds and a hay shed).
Mr Barton said Tathra is also a future development opportunity.
"Tathra is situated on two separate titles which means it can be subdivided and sold as two individual holdings."
Tathra will be auctioned on November 8.
https://vimeo.com/745199447?embedded=true&source=vimeo_logo&owner=104864846
Pontibah is an 116ha irrigation and farming block at Attunga, 22km east of Tamworth.
Situated on the banks of the Peel River, the property offers exceptional water with a 366mgl Peel River licence and a second 348mgl bore licence.
The country is described as well-balanced, ranging from alluvial Peel River flats to gently undulating arable heavy basalt country. Most of the block is arable including irrigated lucerne and oats.
There is expansive shedding including machinery and hay sheds and 150 tonnes of grain storage.
Pontibah will be auctioned on October 18.
Downsizers dream in northern NSW
McGrath Upper Hunter is offering downsizers or those seeking a rural lifestyle, a well-developed block between Scone and Tamworth in northern New South Wales.
The 346ha Avonlea at Wallabadah features productive basalt soils and sheltered and undulating grazing country.
Water is sourced from 10 dams, a creek frontage and an equipped bore supplying stock water throughout.
The high-quality structural improvements include 4km of new fencing, new steel cattle yards and ample shedding.
Avonlea has a fully renovated country homestead with sweeping views overlooking the nearby mountain ranges set in professionally landscaped and irrigated surrounds.
It is anticipated to make between $4.5m and $5m.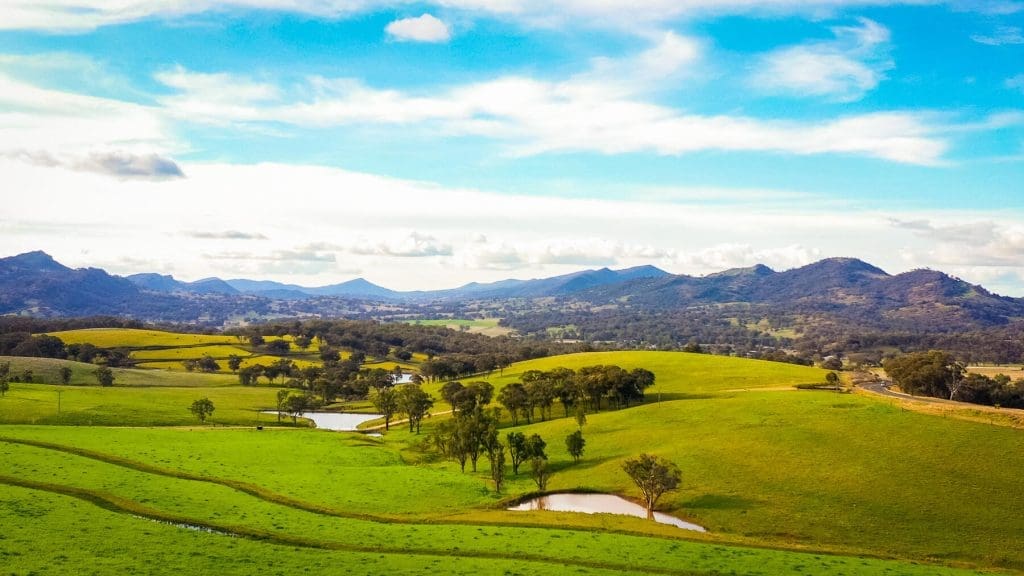 Click here to access more properties listed for sale