THIS week's property review includes this wrap-up of interesting recent listings across the country, and a separate article of recently completed sales of note.
Hughes offload western QLD country
Subdivision potential on Victorian cattle block
New England cattle grazing returns to the market
Garoo's Ellwood highly sought-after
Low-input, high-output in northern NSW
Augathella's historic Byrgenna offered
Gundabooka attracts tremendous interest
Breeding, backgrounding & fattening in CQ
Abundant feed in Miles
Diversity offered at Pilliga
Hughes offload western QLD country
After just three years ownership, North Queensland cattle producers Peter and Jane Hughes are offloading Cawnpore Station, in western Queensland.
In June 2019, the couple paid what was considered an extraordinary $11 million ($113/ha) for the 97,400ha holding in the tightly held Middleton area, 210km west of Winton.
The pressure for grass was understood to have been at the heart of the transaction, with the family's Barkly Tablelands holdings – Lake Nash, Georgina Downs and Argadargada – suffering from drought.
Cawnpore Station is a turnkey breeding and/or background depot that can run 7000 adult equivalents.
The country comprises a mix of Mitchell and Flinders grass downs, gidgee ridges and associated herbages.
It is watered by a 300mm annual rainfall, a flowing bore, 12 dams and extensive water infrastructure.
During their ownership, the Hughes have invested significant capital expenditure on roads, water, yards, fencing and the homestead.
Cawnpore Station will be auctioned by Bruce Douglas from Ray White Rural Queensland and Wally Cooper from RPL on June 3.
Subdivision potential on Victorian cattle block
More than $8 million is anticipated for Victorian high-country property Jorona Park which is being sold by Melbourne's high net worth Pulitano family.
The 405ha property was purchased in November 2011 and is now being sold to enable succession planning.
The productive Bonnie Doon grazing country fronts Lake Eildon and is 17km from Mansfield and 27km from Alexandra.
It is currently running 250 breeders on improved pastures, supported by quality infrastructure including fencing and laneways.
Jorona Park has 35 dams and benefits from a 900mm average annual rainfall.
Duncan McCulloch from Colliers Agribusiness, who has been appointed to sell the holding, said it offers scale, serenity and subdivision potential.
"It is a substantial landholding given the surrounding area is mostly rural lifestyle properties. Consisting of 15 titles with around 50ha of rural living zoned land, Jorona Park has future subdivision potential," he said.
Mr McCulloch said many developers were seeking large parcels of land near country towns that may be rezoned in the future.
"Jorona Park is perfect for a high-net-worth property developer who wants to get into agriculture and run some cattle. Located less than two hours from Melbourne in a growing lifestyle and hobby market, the property is a long term land bank and development opportunity."
The sale has already received good inquiry from a variety of interested parties, including agricultural operators, large property developers, high net worth individuals and land bankers.
Jorona Park is being offered for sale by expressions of interest closing on June 2.
New England cattle grazing returns to the market
The historic high rainfall grazing property Stony Batter, located in the renowned New England region of New South Wales, has returned to the market, listed at $13.5 million bare.
The 1696ha Bundarra property was offered as an aggregation with the 1509ha Arabanoo at Bingara, which is currently under offer.
Put together more than 15 years ago by Sydney-based businessman Chris Nivan, the two properties are being divested due to family succession.
In February, the 3200ha turnkey high rainfall cattle breeding and finishing business was expected to make around $20 million walk-in, walk-out. However, the geographic challenges of the two properties, separated by 100km, are believed to be the reason behind the separate sales.
The picturesque 1696ha Stony Batter, situated halfway between Uralla and Bundarra, was taken up as a pastoral station in 1835 and boasts a circa 1887 homestead.
Featuring a 7km Gwydir River frontage, the property is watered by a 16 megalitre water entitlement for irrigation, two solar pumps supplying 36 water troughs, 50 dams and two creeks.
Stony Batter has grassy box woodland areas which are equally suited to cattle and sheep.
The sale of Stony Batter is being handled by Col Medway from LAWD (Land, Agribusiness, Water & Development) and Daniel McCulloch from McCulloch Agencies.
At the asking price of $13.5 million, Mr McCulloch said Stony Batter represented some of the best value high rainfall dry sheep equivalents in New South Wales.
"In a reasonable season, the property is capable of running 13,500 dry sheep equivalents. At less than $1000 bare, it represents compelling value," he said.
Mr McCulloch said the vendor has maintained a 600 head cattle breeding herd even through the 2018-19 drought.
"In addition, trade cattle utilise excess feed depending on seasonal conditions. There is considerable uplift potential from further investments in fertiliser and the continuation of the current pasture improvement program."
Garoo's Ellwood highly sought-after
After one week of marketing, negotiations are underway on Ellwood in the highly-regarded beef cattle producing area of Garoo, in northern New South Wales.
The 453ha property, 30 minutes south of Tamworth, once formed part of the historic Goonoo Goonoo Station.
Ellwood has the ability to breed or fatten stock. In the past, it has been run as a steer fattening operation and also as a Poll Hereford Stud carrying 150 cows and calves, replacement heifers and bulls.
The soft and undulating open grazing country is currently carrying an abundance of quality feed, with the vendor paying careful attention to weed management and fertiliser application.
The property is watered by 20 dams and four bores.
Michael Burke from McGrath Upper Hunter has listed Ellwood with expectations of more than $5 million, the equivalent of  $11,100/ha.
Low input high output in northern NSW
A low-input, high-output cattle breeding operation in northern New South Wales is attracting good inquiry from locals seeking expansion and those wanting to diversify current operations.
Located at Ashford, 60km north of Inverell, Albertina ranges from rich alluvial flats along its 7km frontage to the Severn River and runs back to granite and soft trap hills.
For the past 24 years, the 2116ha holding has been owned by Stanthorpe's Graeme and Lorraine Olley who are now retiring to the coast.
Albertina has been run as a cow depot, however Bruce Birch from Ray White Rural said there was scope to farm oats, lucerne and fodder crops.
"Over 16km of exclusion fencing has been completed, delivering increased stocking rates and weaning weights. Under the current management, Albertina is running 850 breeders which will be made available to the successful purchaser."
Mr Birch said Queensland producers have been largely absent from the buyer inquiry, with most of the interest coming from locals and further west.
"Some are core cattle breeders seeking to expand their cow herds with lower input breeding country (district sales range from $9000 to $15,000 per cow area depending on the level of structural improvements), while others want to run cattle alongside their current farming ventures."
Albertina will be auctioned on May 20.
Augathella's historic Byrgenna
The historic Augathella district property Byrgenna has hit the market after 55 years of ownership by the Ross family.
The 11,548ha property, plus a 1100ha term lease, are situated on the Ward River, 70km north west of Augathella and 80km south of Tambo.
Keith Richardson from Elders said Byrgenna was boasting a big body of feed.
"After beneficial rain and many years of conservative stocking, Byrgenna is carrying a huge body of soft natural grasses including Mitchell, Flinders and buffel."
Mr Richardson said Byrgenna is a productive livestock property in a sought-after district.
"It would be a perfect addition to an existing regional holding and is ideally located to provide strategic finishing and fattening in a vertically integrated beef production portfolio."
The country is a mix of undulating soft red and black soils interspersed with creeks and run-off flats. It is watered by semi-permanent water holes in the Ward River and the Bayrick, Byrgenna and Alarm Creeks, as well as nine dams.
Byrgenna features a large 117-year-old homestead with polished floors, fully gauzed with an established garden.
It is being offered for sale bare of livestock and plant, via online auction on May 31.
Gundabooka attracts tremendous interest
After 93 years of family ownership, Tony Falkenhagen is selling Gundbooka in New South Wales' north west.
Located 40km north east of Louth and 60km south west of Bourke, Gundabooka spans 16,371ha – most of which is western lands lease (8.4ha are freehold).
A feature is 21km of Darling River frontage running onto heavy black country that floods out at times. This country grows a good body of grasses and herbages in season.
The red country is open to semi-open with areas of woody shrubs and is carrying a good body of grasses, herbages and salines.
Greg Seiler from Nutrien Harcourts Bourke said there had been tremendous interest from different levels of the market.
"Some interested parties are looking at production, others to expand their existing operations, while there is a portion seeking a lifestyle change."
Gundabooka is well watered by the Darling River, dams and numerous tanks. It has been lightly stocked over recent years but is rated to run 4040 DSE.
The property will be auctioned on May 27 with bidding expected to start at $3.5 million.
Breeding, backgrounding & fattening in CQ
After 18 years, Vic and Jan Appleton are auctioning Kulumur in Queensland's Central Highlands to enable succession planning.
The 14,131ha breeding, backgrounding and fattening property is situated 60km south west of Emerald.
Kulumur is currently running 3600 branded cattle plus calves that are EU accredited.
Tony Hoch from Hoch & Wilkinson Livestock & Property said the listing has generated good interest from locals and from wider away.
"Kulumur presents in reasonable state, with in excess of 30mm of rain over the weekend and it is still raining," he said.
Kulumur has fertile river flats along the Nogoa River rising to undulating developed brigalow, bottle tree and softwood scrub to ironbark, box and bloodwood forest country.
In the past five years, the vendors have applied 50,000kg of pellets at a rate of 12.5kg per hectare (around 4000ha) as part of a development program for regrowth control, in addition to regrowth pulling.
The well-watered property includes a bore, 28 dams and permanent water holes in the Nogoa River.
Kulumur will be auctioned bare on May 30.
Abundant feed near Miles
One of Miles' best kept grazing secrets will be auctioned by Nutrien Harcourts GDL on May 26.
Held by the Gilmour family since 1953, the 1900ha Moorlands is situated 120km west of Dalby and 140km east of Roma on Queensland's western downs.
Selling agent Andrew McCallum said it was an excellent parcel of country with a strong production history.
"Presently supporting a large body of pasture in a splendid condition, it is attracting interest from all sectors of the market, including western producers looking to come in closer and add to their existing western and northern holdings."
Moorlands comprises around 1500ha of open grass country with the remainder renovated to bambatsi and well established buffel, Queensland blue grass and herbages in seasons.
Well-watered, Moorlands has a 4.5km of Dogwood Creek frontage, three dams, nine troughs and five storage tanks. There is a licence to construct a weir on the Tomahan Creek that runs through the property.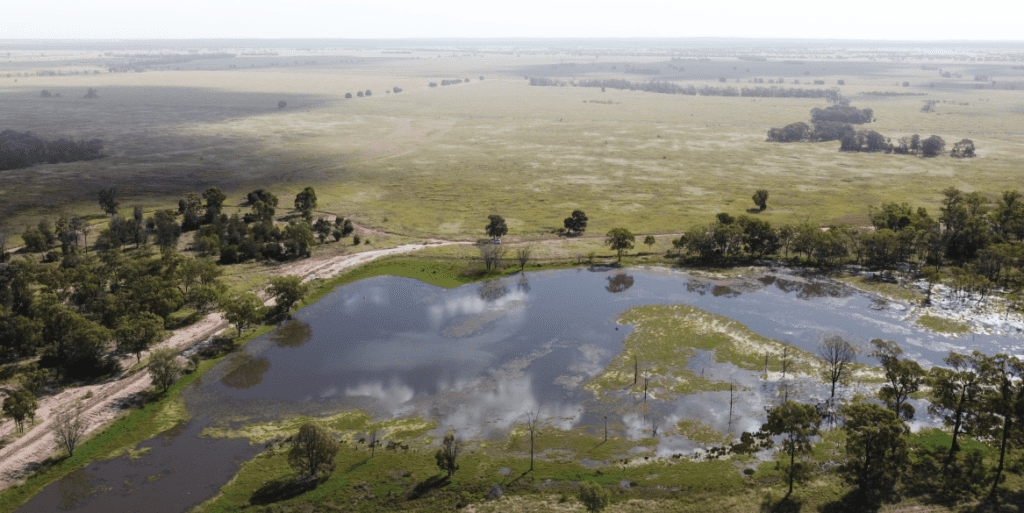 Diversity offered at Pilliga
After 25 years, the Ferguson family is selling the well-grassed Mouquet Farm and Salt Bush in New South Wales' north west.
Located 8km west of Pilliga and 85km north of Coonamble, the 2173ha property featured grazing and farming country suited to both sheep and cattle.
It is currently being run as a wool and lamb enterprise, conservatively stocked with 1600 ewes and lambs and 800 wethers.
Bob Coote from Colliers Agribusiness said Mouquet Farm and Salt Bush was also an amazing fodder, grain and pasture cropping opportunity.
"With slightly sloping brown loam soils, the property can grow oats and lucerne. There has been good interest from locals and from producers in Queensland's south and west."
Mr Cootes said the holding was easily managed in a highly favourable area.
"Mouquet Farm and Salt Bush feature exceptional fencing and infrastructure, allowing the high capacity grazing country to be easily managed through the large growing season."
Water is secured by 16 dams and three seasonal creeks.
Expressions of interest close on May 12.
Click here to access more properties listed for sale